First comes an idea, than research to test it, labs, scouting for a manufacturer and financing, contracts with pharmacy chains. Kavaliauskas had to go through all this in three years, before his new herbal food additive "Dolosan" appeared on the shelves of one of Lithuania's major pharmacy chains.
"It wasn't that I dived head-on into unexplored waters," the young man says. After graduating from the Faculty of Medicine in Vilnius University, he worked as a manager in two pharmaceutical companies. Not only did he earn part of the funds to launch his own product, but he also developed a network of contacts, accrued enough experience, and, most importantly, tested his own capacities. These proved to be sufficient.
A free niche
"You could say that the idea for "Dolosan" was inspired by pain that I have often experienced myself," Kavaliauskas grins. "I would take chemical painkillers and wonder – why couldn't they be natural, i.e., herbal.
"I started reading scientific literature – perhaps, I thought, it was simply impossible to make an effective painkiller from herbs? Nonsense. For some unknown reason, the herb potential has not been tapped in this area. The niche is free, so one can try and put a foot in it."
In his free time, Kavaliauskas immersed himself into research. He would carry on with the project on and off, until one day he realized he would not make anything unless he dedicates his full attention. And so he put a stop to his career at a pharmaceutical company a year ago.
Six months of free tests
At first, Kavaliauskas picked eight herbs that seemed effective enough in suppressing pain. After that he started looking for a laboratory where he could test if these herbs were as good as it was claimed in the literature he studied.
He was referred to one in France. Lab managers believed in the ambitious Lithuanian and agreed to help him develop a "green" tablet formula.
"At first, the laboratory did not receive a cent for their work. The condition was that I manufacture the product at their partner's – one innovative French drug factory. So essentially I wouldn't have to pay money until the production started. Of course, I couldn't have dreamed of such terms without references from people I knew," Kavaliauskas admits.
Three plants
Laboratory tests took six months – rather more than the two months that the young pharmacist had expected. In the end, less effective herbs were crossed out from the list, keeping just three: the white willow, the tansy, and the grapple plant.
"The white willow bark contains natural salicin. It was used to synthesize aspirin 115 years ago. But they don't use willow bark any more – chemistry reigns now. My idea was to return to the sources and use it as a basis for a painkiller," Kavaliauskas explains. "The tansy is a pretty flower that has been used in folk medicine for centuries to treat headaches and inflammations.
Another ingredient – the grapple plant – does not grow naturally in Lithuania, since it is a desert plant. The medical literature claims that it alleviates rheumatic pains."
Through complex laboratory processes, he extracted active substances from the plants and sent them to the factory. It was time to pay the bill.
Finding a business angel
How much did it cost? "A six-figure sum. Let me remind you that a million has seven digits," Kavaliauskas smiles, cryptically.
He covered half of the expenses of the project from his own pocket, but that was not enough: "I tried using various state and banks' business promotion schemes. I failed, since I couldn't guarantee that my product would be profitable. So I went to "angel investors." They were interested, but perhaps due to lack of experience in the market, they decided not to take part. In the end, I found one man, my own business angel, who agreed to contribute. And in June, I could finally say – I did it!"
A series of noes
It would seem that he is a minion of fortune who cracked the biggest of obstacles without much effort. However, Kavaliauskas had his fair share of troubles on his way to success.
"No one can begin to imagine how much planning, patience, and determination it took to find financing. There were moments when I though I wouldn't finish my work – all I would get was a series of noes from everywhere."
"That was unsettling," Kavaliauskas admits. "I would receive offers from pharmaceutical companies to come work for them. Turning the offers down was painful, since even people closest to me started doubting at one point whether I was heading in the right direction – creating something that might not succeed or be marketable. I had to clench my teeth and keep telling everyone: All will be fine. Even though I wasn't sure about it deep inside."
Drug market over-saturated
Since Kavaliauskas registered his herbal product as a food additive, there was no trouble with selling it in Lithuania – he could go right ahead and market it.
"All the herbs have been extensively described in encyclopaedias and official documents and clinically tested, so I did not need any additional lab trials," the young pharmacist relates.
He approached Lithuanian pharmacy chains over selling his additives back in spring, since he knew from experience that the Lithuanian drug market was over-saturated and selling something new was extremely difficult: "Pharmacy chains usually decline 90 percent of all offers instantly and they consider the remaining 10 percent. I was lucky to land among the 10 percent. One big chain saw the potential of the young pharmacist and his new product."
He will be able to make first assessments of the sales by the end of September. "So far so good, it seems. Sure, I do have a point of reference – when I was working with one pharmaceutical company, I introduced one new product to the Lithuanian market. I know how difficult the first steps are. But I hope these steps will be easier this time," Kavaliauskas says.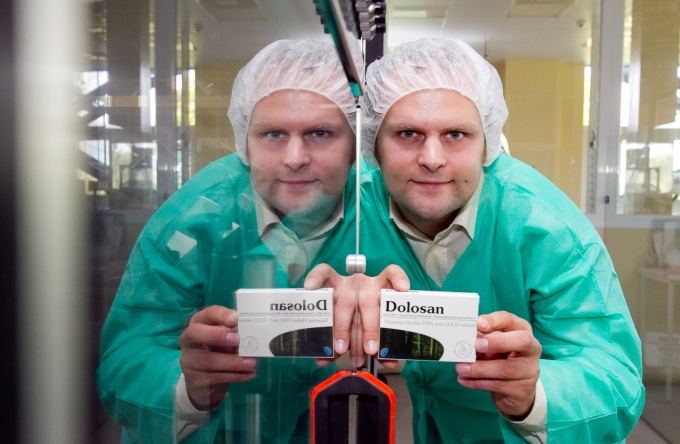 Irmanto Gelūno/15min.lt nuotr./Pharmacist Andrius Kavaliauskas and his herbal drug