Several weeks ago, Jekaterina Rojaka, economist at DNB bank, presented a report, arguing that basketball in Lithuania is a great investment that generates a return of 40 percent – about one billion litas of added value per year.
The report has not escaped criticism. In his blog, business journalist Andrius Tapinas has argued that one must only throw a glance at mounting debts of Lithuanian basketball clubs, half-empty arenas in smaller towns, and the perpetual need for municipal subsidies to be persuaded that basketball is in fact a loss-making enterprise.
Economists agree, however, that while basketball might be far from a self-supporting business, state subsidies to the sport help create added value in service industries: basketball fans readily spend their money in cafés and restaurants with TV screens, buy beer, basketball memorabilia, trainers, stay in hotels during championships. Moreover, basketball successes play a role in promoting the country as a whole.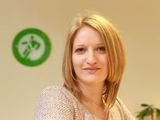 Jekaterina Rojaka
The question remains, though: Would it perhaps be more profitable to take the money that the state now pours into basketball and invest it into other sports or even other industries?
Doubts about bias
DNB bank, which presented the report on basketball's benefits to the national economy, has long been one of the main sponsors of the Lithuanian national team. Calculating the added value created by basketball or any other sport is tricky, since there are precious few studies done on the subject in Lithuania. Nor is there a wealth of reliable research in the world – most of it is funded by the industry lobby that is interested in showing the benefits of its sport.
Rojaka, who did calculations for the DNB report, admits that there is an inescapable ingredient of subjectivity in trying to assess the value of basketball – for one, she had to rely on surveys conducted by DNB analysts themselves, because the Lithuanian Department of Statistics has little data on the subject.
Asked whether it makes sense to talk about sport as an investment, when all Lithuanian basketball clubs are in the red and require public subsidies, she explains that the purpose of the study was not the assess the sport in terms of investment return but rather to calculate its contribution to the Lithuanian economy.
Moreover, she says, the money that the state or municipalities give to basketball stimulates consumption and eventually return to public coffers via taxes.
Rojaka agrees that this would also be the case, were the money given to other sports, but Lithuania has a strong basketball tradition which provides greater opportunities for this particular sport.
"Each country has a relative advantage of some sort. Our advantage is basketball," she says. "We could develop other sports, too, but that requires time. As things are now, basketball already has a great base and what has been built must be used."
No additional funding for sports
Commenting on the DNB study, Gitanas Nausėda, economist at SEB bank, notes that some points in the report follow over-optimistic assumptions: "I would caution against optimistic conclusions. If basketball can generate so much revenue, why isn't it a profitable sport and why can't it attract capital investment? However, we do need to put public money into sport, because not only does it generates income for service and other industries, but it also represents our country to the world."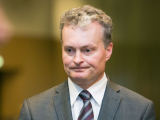 Gitanas Nausėda
According to Nausėda, Lithuania could be more diversified in its sport funding – is it really necessary to assign so big a share to basketball?
The economist doubts if the government will be able to increase its support for sports, as most of the national budget will go to pay pensions and benefits. The state, however, does have the means to help sports.
"The biggest untapped reserves might be opened up by creating legal base for private capital to fund sports – by providing tax breaks for companies and people who support sports," Nausėda says.
Problems of a small country
According to current rules, sport sponsors are exempted from profit tax (15 percent in Lithuania) on profit share equal to the donated sum.
Paulius Motiejūnas, CEO of Žalgiris Kaunas club, says that businesspeople who support sport could be exempt from profit tax on all of their profits. "Everyone gives support out of self-interest, so if a sport-sponsoring company could forgo the tax, it would support sport more, because it would be getting exposure in return," he speculates.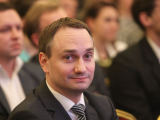 Mindaugas Balčiūnas
Mindaugas Balčiūnas, secretary general of the Lithuanian Basketball Federation, thinks that sport sponsors could be exempt from, say, taxes on real estate.
"In a small country, tax breaks are essential. We do not have opportunities of attracting as much capital as do clubs in big countries," Balčiūnas believes.
Promotion in the Philippines
Meanwhile Žygimantas Mauricas, economist at Nordea bank, believes that one should make an important distinction between state investment into promoting sports on the one hand and funding for professional sports on the other. In the former case, doing sports should be promoted, he says, adding that he has reservations when it comes to pumping public money into clubs and providing tax exemptions. Oftentimes, basketball clubs use the funding to purchase players from abroad – thus the money leaves the country.
As to the benefit that basketball brings to the national economy, Mauricas notes that added value should not be confused with turnover – if restaurants and bars experience a hike in their turnover during basketball season, it will go down eventually, while the money poured into the sport will be spent elsewhere. He says that it would only make sense to speak about added value created by foreign tourists who come to Lithuania.
Žygimantas Mauricas
"One should look at substitutes of basketball, at sectors close to sport. Like culture, the arts, theatre. We can promote Lithuania in other areas, too, in some respects it would be an even better strategy, since, for example, culture attracts better-off people. Achievements in sports tell us little about customs and culture of the country," Mauricas speculates. "But if we reminded everyone more often that Lithuanians were one of the first European champions, put more emphasis on historic continuity and used this sport in promotion, we could profit from it."
He speculates how successes of Lithuanian players could be used to promote Lithuania in countries like the Philippines, with a population of over 90 million people who also adore basketball, or the US.
How the Chinese discovered Lithuania
Mindaugas Špokas, former executive director of the organizing committee of EuroBasket 2011 and now general secretary of the Lithuanian Swimming Federation, says he has no doubts that money invested into basketball brings luscious dividends.
The point here, he says, is not the money that returns to the budget, but the image the sport creates for the country. Špokas notes that, for example, it was thanks to Jonas Kazlauskas that many people in China first learned of Lithuania – when the Lithuanian coach trained the Chinese national basketball team.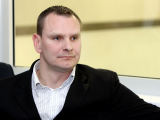 Mindaugas Špokas
"Since basketball is a team sport that represents the country, it could be financed under the tourism development programme," Špokas suggests.
According to him, the best example showcasing returns on investment in sports is swimmer Rūta Meilutytė's perfromance at the World Aquatic Championships.
"The event was broadcast in 211 countries. Meilutytė, a rising star, was one of the most popular athletes with the media. Let's recall how many times Lithuania's name got mentioned when Meilutytė won Olympic gold, how many stories about her were broadcast on channels like the BBC."