Noel Attard, head of Kempinski Hotel Cathedral Square Vilnius, does not reveal the exact investment in the hotel, but notes that in current prices, it takes about 400 to 500 thousand euros to upholster a room in a European five-star hotel. Therefore, the 96 rooms and suites in Kempinski Vilnius alone could have swallowed about 40 million euros or 138 million litas.
It promises to be the most luxurious five-star hotel in Lithuania. 96 rooms, including simple and presidential suites, conference halls, a business centre, a restaurant, a bar, an indoor swimming pool, a sauna, a SPA centre. The presidential suite shall be unequalled in the country as well. Its windows will open to a view of the Cathedral Square.
Staying one night in the hotel will cost between 160 euros (550 litas), if pre-booking a standard room, and 2,300 euros (8 thousand litas) for a presidential suite without booking.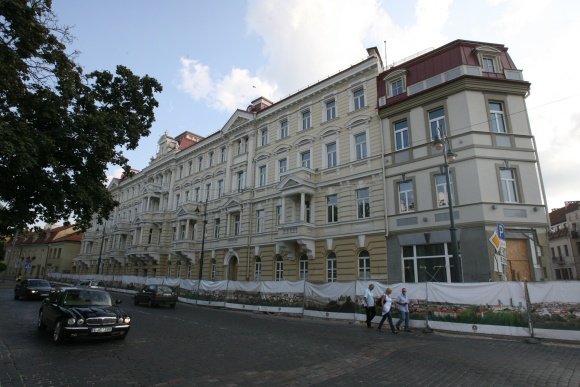 Viešbučio nuotr./Kempinski will be housed in former telegraph building
Three years to establish itself in the market
The grand opening of Kempinski hotel in Vilnius has been postponed several times. According to Attard, the opening date has little effect on the success or failure of a hotel, since there's a market for luxury hotels in all countries of the world – Vilnius, he expects, is no different in that respect. To decide on the opening date, the hotel had to take into account recommendations from investors in the local market regarding the situation of economy and infrastructure.
"In 2009, when we initially planned to open the hotel, we decided together with investors that, due to the global economic crisis and fewer airline flights to the country, it was not the best time to open," Attard recalls.
He says it might take a while for Kempinski to establish itself in the market: "Habitually, when a new player comes into the hotel market, it takes one to three years to take up the desired position. During the first year, demand should be secured by Lithuania's presidency in the EU, but we mostly put our hopes in Scandinavia, Germany, Great Britain."
The opening itself, however, will be rather modest with a symbolic ceremony and little else.
Sign of quality
Evalda Šiškauskienė, president of the Lithuanian Hotel and Restaurant Association (LVRA), is jubilant about the new hotel: "It is a sign of quality for Lithuania. Not every country has a Kempinksi hotel and here, it is housed in a historic site, a special building. Besides, the hotel will invest a lot into training and quality. It will be a true five-star hotel."
As to what will make the hotel stand out, the LVRA president points to spacious halls in Kempinski that no other hotel in the oldtown of Vilnius can even approach. It will be a great asset during Lithuania's presidency over the EU, she says.
Kempinksi Hotel Cathedral Square Vilnius is expected to broaden the market and improve environment for competition, especially for other nearby hotels like Stikliai and Narutis.
Šiškauskienė is most enthusiastic about the new opportunities for conference tourism, yet Kempinski also highlights the SPA centre that should dip into an under-exploited market niche in Lithuania.
European prices
There are currently seven five-star hotels in Lithuania. Five of them are based in Vilnius (Stikliai, Narutis, Radisson Blu Astorija, Ramada Hotel and Suites Vilnius, and Le Meridien Villon Resort & Convention Centre) and two in Palanga (Auska and Palanga).
"Palanga is much liked by Russians," the LVRA president notes. "Particularly hotel Palanga that has built a separate building for its SPA. So they have put their five stars – absolutely indispensable for Russians – in a right place and they're offering right prices. Even though the prices are high, these hotels are doing best in the market, since 2 or 3-star hotels can hardly compete with private room and apartment rent."
According to Šiškauskienė, Lithuania's luxury hotels are doing a solid business, even though so far, they haven't been able to raise the prices. "Whatever we charge in litas, other EU countries charge in euros – for both catering and hotel rooms. We therefore lose a great deal. Lithuanians pay no less than others in investment and project development, and food is even more expensive."
Prices at Kempinski Hotel Cathedral Square Vilnius will truly be European. As the LVRA president puts it, its clientèle won't be tourist groups but rather high-earning business clients able to afford staying there.
Attard believes that if Lithuanian had a national air carrier and more international airlines flying to Vilnius, it would instantly increase tourist flows to Kempinski. And would guarantee revenues for Lithuania as a whole.
Luxury brand
Kempinski hotels are one of the oldest luxury hotel chains in Europe. It was founded in 1897 in Berlin.
Currently, Kempinski owns 74 hotels in 31 countries. Five new Kempinski hotels are to be opened soon, including the one in Vilnius.