These are impressions of a Minsk resident who has recently visited the new store owned by brothers Gintaras and Mindaugas Marcinkevičius. The Lithuanian entrepreneurs entered the Belarusian retail market with a shop in Minsk, right next to the Kamenaya Gorka metro station.
The Lithuanian invasion
Lithuanian entrepreneurs are currently engaged in a race – who will manage to open more supermarkets in Belarus and claim the lion's share of its retail market.
Until recently, an undisputed leader was Sosiedi – a chain with traces of Lithuanian capital – but it now faces growing competition.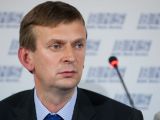 BFL nuotr./"Norfos mažmena" head Dainius Dundulis
Besides the Marcinkevičius brothers, others lining up at the gate are Dainius Dundulis, co-owner of the retail chain Norfos Mažmena, Nerijus Numavičius of Maxima Group, and one more unidentified entrepreneur. According to sources in Belarus, the latter is a close friend of the Alexander Lukashenko circle.
"The Lithuanians budge up only now, as the phase of aggressive retail expansion in Lithuania is at its close and Belarus is the nearest empty market," says Vyacheslav Pavlov, executive partner at law firm Pavlov & Mamontovas.
According to him, Lithuanian retailers are not the only ones tempted by the promises of the Belarusian market. For instance, Projestos Projektai and their partners have been successfully designing and building modern shopping malls for Belarusian businesspeople. The Lithuanians landed the deal thanks to their experience, quality execution, smooth management of construction work, short deadlines, and their ability to find the language that local partners understand.
The secrets of Marcinkevičius bros
In late November, news portal zautra.by included the projects by the Marcinkevičius brothers and Dundulis into its list of top 10 new Lithuanian investments.
The article refers to Gintaras and Mindaugas Marcinkevičius as the "mysterious Lithuanian investors" who have been signing investment agreements in Belarus for the last several years and buying up land lots suitable for new stores.
The two former shareholders of Vilnius Prekyba are no less mysterious talking to the Lithuanian media.
"I do not have enough experience to be able to talk with any authority on Belarus," Mindaugas Marcinkevičius justifies his cryptic behaviour.
However, the two have another sensible reason to be secretive. Stormy clouds are still hovering over the "big nine" of former shareholders in Vilniaus Prekyba, all of whom refrain from sharing their investment and business plans.
On the one hand, though, the Marcinkevičius brothers have nothing to hide as their first store in Minsk is already up and running. On the other hand, they seem to be simply reluctant to try their luck.
Therefore the Belarusian media is the only source of information on their business ventures. According to zautra.by, there are plans to open at least 35 Mart Inn stores in Minsk and other towns in Belarus over the coming two years.
The first Mart Inn began business this summer and has been met with mixed feelings. Some consumers complain it is too small for the neighbourhood it is located in. Local shoppers tell 15min that the arrangement of shelves is ill-considered and it is impossible to access products when queues at the counters are long enough.
Others complain about discrepancies between the quantity of products like cheese as shown on the package and the actual weight. Others yet say they are repulsed by "aesthetically displeasing" sign of the shop. But there are great many customers who praise Mart Inn for installing as many as ten counters, significantly more than the four in the previous store. Moreover, they are pleased that information on labels is presented in their native tongue.
Norfa to invite partners
The feedback of Belarusian consumers on Mart Inn might come in handy for Mr Dundulis, who is currently wrapping up real estate deals and is planning to open his first store in 2015: "We are already working in Belarus, even though one has still to feel up the market."
Dundulis says he has to rely on local architects to design the stores as some regulations effective in Belarus have long been repealed in Lithuania. The entrepreneur expects to receive construction permits within 3 to 4 months and move ahead with works.
Dundulis, head of the Norfa chain, explains he might be hiring Belarusian construction workers, too, as Lithuanian labour is rather expensive – the difference might be as much as 60 percent. According to him, one must make right decisions regarding construction, as these have a bearing on the quality of work.
"As for the name of the stores, we are considering several alternatives. Norfa is one of them. One thing is certain, though: all our outlets in Belarus will come in two sizes: 2,000 and 4,000 square metres. We are learning from our experience in Lithuania, where our Norfa stores vary in size," Dundulis explains.
He makes no secret of the fact that Lithuanian stores do not mean a gateway for Lithuanian food producers, as government policies favour local suppliers. Moreover, Belarusian consumers are used to a wide variety of choice.
"The range of brands in Belarusian grocery stores in greater than, say, in Germany. So we will have to adapt to local tastes in this respect, too," Dundulis says.
He notes that the range in Lithuanian supermarkets is narrowing as everyone is trying to cut costs. "Servicing a wide range of assortments is costly, so the fewer brands a shop can get away with, the more profitably it operates."
In its Belarusian ventures, Norfos Mažmena (Norfa Retail) is going to cooperate with a local grocery wholesaler. The two will run the future chain jointly. The Lithuanians will manage real estate, business ideas, and finances.
Zautra.by also reports that Norfos Mažmena and its partner will invest 8 million US dollars into the chain which will start in Maladzyechna and then expand to Minsk.
Dundulis tells 15min that the venture will be financed through investors' own funds initially, before turning to banks at a later date.
Maxima getting ready
As news keeps coming about Lithuanian entrepreneurs venturing into the Belarusian retail market, one inevitably thinks of the Maxima Group which already runs a chain of stores in all the three Baltic States as well as Bulgaria and Poland.
Last year, Maxima opened 35 new outlets, 7 of them in Lithuania, 6 in Latvia, 11 in Estonia and Bulgaria each. All in all, Maxima Group owns 485 supermarkets (data from March 2012), most of them in Lithuania and quite few in Poland.
"Belarus is a close neighbour, therefore it is of interest to us. We have already registered the Maxima brand and are exploring business opportunities," Maxima Group CEO Mindaugas Bagdonavičius tells 15min.
He cautions that it is too early to talk about Maxima Group expansion plans in Belarus.
Lithuanian forepost
Belarusian President Alexander Lukashenko's government is managing international investments in a way that prevents his country from becoming dependent on any single foreign state. However, the Lithuanians seem to be ready for an aggressive expansion.
And circumstances are in their favour. There are but a few retail chains with foreign capital in Belarus at the moment. Moreover, the Lithuanians have plenty of experience in developing retail trade in the Baltics, while geographical proximity allows them to have an accurate grasp of the needs and behaviours of Belarusian consumers.
A good case in point is the success of the Lithuanian-capital Sosiedi chain. Its founder and manager Alma Jauncemienė – who is a daughter of Juozas Budrikis, founder of the once-prominent chain Pas Juozapą – was ranked 29 in the Top 200 of Belarus's most successful and influential entrepreneurs.
"At the moment, Belarus is marking out relatively many plots for building retail outlets, land allocation and planning works are underway, so we will know with whom Lithuanian businesses will have to compete – one another or the Belarusians – once today's seeds are bearing fruit," says Pavlov of law firm Pavlov & Mamontovas.
He notes that the terms of investment contracts are quite strict in Belarus: should one fail to meet its conditions, the contract can easily be declared null and void and land plots seized. The investor also loses everything on it – all structures built on seized land will become property of the state.
The proceedings are carried out in consultation with the investor, he is forced to sell to third parties or tear the construction down at his own expense. Local authorities have particularly little tolerance to infringements committed by investors when works are still in the designing phase and no actual construction has been started.
"Interesting to note that Lithuanian investors take on such commitments far more readily than Belarusians themselves. Local businesses often summarily declare that deadlines put forward by the authorities are unrealistic in order to finish the particular investment project," Pavlov says.
He adds, though, that Lithuanians also have more measures at their disposal to protect their capital in Belarus than local entrepreneurs – so much so that sometimes Belarusians themselves invest into their own country from Lithuania.
For instance, one Belarusian national, who is based in Lithuania and does not even have the right to enter his country, successfully manages retail trade in Belarus from here.
"When we speak to Lithuanians about possible risks in Belarus, we always underline that Lithuania has a range of international instruments to protect its investments in this country," Pavlov says.
Some rules to be observed in retail trade in Belarus:
70-80 percent of products must be locally produced;
Regional authorities impose an additional list of products that must be on the shelves in every store;
There is no shortage of imported goods, yet due to trade barriers their prices are punishingly high;
Prices of certain categories of foods are regulated by the state. It is the so-called social package. It includes milk, meat, pasta, bread, etc;
There are regulations on how local products can reach supermarket shelves, on granting discounts, there are certain rules on payment and supply;
Logistics is very underdeveloped;
There are marked regional variations in people's purchasing power.