"It is an intermediate victory, we can applaud it, but it is not the final triumph," he said in an interview to Žinių Radijas news radio on Wednesday.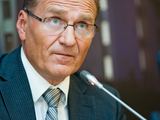 BFL/Tomo Lukšio nuotr./Algis Čaplikas
"I think the war is not over yet. (...) Since we're dealing with energy monsters, such as Gazprom, I do not think everything will end this way. Especially since we're not talking about one or two million litas," said Čaplikas, member of the ruling Liberal and Center Union.
On the other hand, he said Lithuania's natural gas restructuring was too hasty.
"From my point of view, a somewhat hasty restructuring of natural gas sector has not brought benefits to end users. It is important to make things better for people. We shouldn't have rushed (…). Prices should be lower," the Seimas vice-speaker said.
On Tuesday, the Stockholm Arbitration Institute on Tuesday turned down claims by Russia's gas giant Gazprom against Lithuania. Lithuania's Energy Minister Arvydas Sekmokas said the institute's decision has proved once more than issues pertaining to the activities of Lietuvos Dujos (Lithuanian Gas) and the implementation of EU 3rd energy package in the gas sector should be dealt with through negotiation instead of arbitration.
In June 2011, Gazprom filed its first complaint with Stockholm Arbitration Institute, asking it to prohibit Lithuania's courts from hearing a case over investigation initiated by the Energy Ministry into operations of Lietuvos Dujos, but a special arbitrator rejected the complaint later. The Russian company went to the institute again in late August, asking it to launch arbitration proceedings.
Gazprom wants the Energy Ministry's court action against Lietuvos Dujos and its management be qualified as violating the Lithuanian company's shareholder agreement and seeks compensation for losses incurred as a result of that.
The Vilnius Regional Court still continues to hear a claim lodged by the Energy Ministry against Lietuvos Dujos.
Gazprom holds a 37.06 percent stake in Lietuvos Dujos and E.ON Ruhrgas International owns 38.9 percent of shares in the Lithuanian gas imports and transportation company. The Lithuanian government owns 17.70 percent of Lietuvos Dujos, which is listed on the blue-chip Main List of the NASDAQ OMX Vilnius stock exchange.
Lithuania proposes talks, not war
Lithuania's proposal to the Russian gas giant Gazprom is talks, not war, Lithuania's President Dalia Grybauskaitė said on Wednesday in comment of the decision by Stockholm Arbitration Institute.
"We expected such a decision, because we think we're right. I think that negotiating and talking – what Lithuania's government has always proposed to Gazprom – is better than war," Grybauskaitė told journalists in Klaipėda.