Rosatom, builder of the Baltic Nuclear Power Plant (NPP), keeps organizing events for Lithuanian and international reporters – a trip to Saint Petersburg to show off the ageing Leningrad Plant, a conference on nuclear energy in Moscow. Last week, a group of Lithuanian and Polish journalists were invited to see the construction site just outside Neman, Kaliningrad Oblast, where the company had laid foundations for the future plant this February.
Bumpy road
The state has nationalized a 259-hectare lot between the rivers of Šešupė and Įsrutis, about 140 kilometres from the city of Kaliningrad. One can hardly imagine the importance of the planned construction before one sees the site, as nothing suggests one is approaching an object of national importance until it is there, before one's eyes.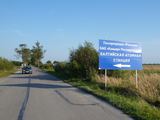 Eglės Digrytės nuotr./Sign showing to the Baltic NPP site
On our way, we pass neglected and almost wild fields, small towns, making jokes about how they are going to transport massive reactors. The asphalt road is narrow and bumpy, our bus is jumping up and down all the way.
Of the extensive land lot, only 90 hectares will be occupied by the plant itself. The only construction that has already been completed is an administrative building. "And this was a completely empty field," Alexander Gulyayev, deputy construction manager, says proudly, taking us to the pit dug for the first of the reactors.
About 700 people, in two shifts, work on the construction site. In 2014, the peak year, the number should grow ten-fold. A separate district is envisaged to be build in near-by Neman to accommodate power plant employees, complete with new schools, medical institutions, and other facilities. The district is planned for 8 thousand people and should revive the slumbering town of 10 thousand.
The Baltic Power Plant should consist of two VVER-1200 (two-circuit water-water) reactors (водо-водяной энергетический реактор) that were initially developed to power nuclear submarines. The first ever reactor of this type will only be turned on next year in Novovoronezh Nuclear Power Plant. Each Baltic NPP reactor will have the capacity of 1,150 megawatts and should be turned on in 2016 and 2018. The turbines will be French-made Arabelle. The envisaged life-span of the power plant is 50 years.
The nuclear facility will be located less than 20 kilometres from the Lithuanian border and the river Nemunas. Its waters are to be used for cooling the reactors. According to Kaliningrad Oblast Infrastructural Development Minister Alexander Rolbinov, the plant builders carried out an environmental impact assessment three years ago and held public hearings of the report in Neman. The report, he says, has since been handed to Lithuania.
However, Lithuanian environmentalists fear that the project can bring major negative effects on the river's ecosystem. Rosatom and Kaliningrad leaders reply that there will be none; neither side gives concrete projections, confining instead to abstract speculations. "It is impossible for radioactive elements to leak into the environment," Gulyayev claims.
Who is taking care of nuclear waste?
Several weeks ago, Rosatom head Sergey Kiriyenko made a public offer to Lithuanian officials to hold consultations on the project. He said the company was observing the UN (Espoo) Convention on Environmental Impact Assessment in a Transboundary Context, even though Russia had not yet ratified the treaty and therefore could apply its own standards.
In 2009, all countries bordering the Balic Sea, the EU, and Belarus were given the environmental impact assessment report and invited to participate in consultations. Only Lithuanians, according to Kiriyenko, refused to talk.
The Lithuanian Ministry of Foreign Affairs retorted that Russia had failed to explain why the power plant was to be built so close to the border and to carry out seismic analysis. The environmental impact assessment was based on old sources: the 1983 tectonic map and the 1999 seismic hazard map. An earthquake recorded in 2004 was stronger than previously anticipated.
Moscow has also failed to explain how it is going to cool the reactor, how it will affect the river Nemunas and surrounding territories; it has not provided a detailed emergency plan and has not carried out stress testing.
During their meeting with Lithuanian reporters, Rosatom representatives reiterated Kiriyenko's words: all the necessary information and latest data had been provided; it was Vilnius that refused to hold public hearings and was, essentially, ignoring common sense. The location, they said, was picked from three sites. According to Alexander Yermishin, Baltic NPP deputy head for physical security, the other two sites were rejected specifically due to negative seismic assessment results.
"We have been raising these questions with the company for a long time now. We care even more about security. Security must be guaranteed, any accidents must be prevented," says Kaliningrad Oblast Agency for International and Interregional Relations head Ala Ivanova. "We are happy with our mutual cooperation. We have seen big charts of what has to be flooded."
Asked to comment on the emergency plan, Ivanova says she believes there is one: "When one develops a project like that, one must have these plans. The scheme itself does exist, it must now be customized to suit this particular structure."
According to Gulyayev, no other nuclear power plant in Russia has security plans like the ones in Kaliningrad. However, in a similar plant currently constructed near Saint Petersburg, Leningrad NPP-2, protective barrier structures (a key security element) collapsed last summer.
Another problem that has not been solved is what to do with spent fuel that will probably have to be transported to "Big Russia." Asked whether the issue had been discussed with Lithuania, Gulyayev responded that many nuclear energy-using countries do not have their own means to take care of radioactive waste; therefore, he said, it went without saying that a solution would be found eventually. "Rosatom is a company in charge of running facilities. I do not know what regulatory documents they use, but I am certain that these questions are being dealt with. International practise suggests that there is no problem," he said.
Lithuania's Visaginas Nuclear Power Plant people – who proficiently reply to every opposing argument with a figure proving future economic benefit – would beat their Russian colleagues in this competition instantly. Rosatom representatives emphatically defend their project, contrasting it to Visaginas NPP (usually to the latter's disadvantage), yet public officials openly admit they do not know answers to many of the questions they themselves care about.
Export only via Lithuania
Russia's then Prime Minister Vladimir Putin put his signature under the decision to build a nuclear facility in Kaliningrad Oblast back in September 2009, only months before reactor two at Lithuania's closed Ignalina NPP was permanently shut down.
Moscow explained the decision by saying it was meant to secure energy independence for the Russian enclave. However, there are still no calculations of how much it might cost to upgrade the local electricity grid. According to estimates by Danish analysts, Kaliningrad Oblast will require up to 6 terawatt-hours of electricity a year in the future. The new plant alone will generate three times as much.
Rolbinov admitted to reporters that Kaliningrad's current electricity generating capacity, about 1 TW, was more than enough for current needs. "Maximum consumption, peaking in February, was 728 MW," he said, adding, though, that demand grew 5 to 6 percent annually.
Up to 80 percent of electricity generated at the Baltic NPP will have to be exported. A company in charge of that is Inter RAO Lietuva, subsidiary of Inter RAO JES. According to a contract signed a year and a half ago, starting in 2017, electricity export via Lithuania to other Baltic countries will total one thousand megawatt-hours annually.
Rosatom engineering programme director Sergey Boyarkin said several months ago that by 2020, the region would be consuming so much electricity (1.2 GWe or even 1.6 GWe) that there would be enough space for three nuclear power plants: Visaginas NPP, Baltic NPP, and Astravyets NPP in Belarus.
Kaliningradians, however, have other thoughts. "The Baltic NPP will be built sooner. Perhaps there will be no need for Visaginas at all?" Rolbinov addressed a rhetorical question to reporters. "Let's forget politics and follow common technical sense: Not only will Visaginas NPP and Baltic NPP have to be friends, they will have to share a house. If either has its operation interrupted, the other will have to cover for it," according to Andrey Timonov, PR head at Rosatom.
For some time now, Russia has been voicing desire to supply electricity to Lithuania, Poland, and Germany which announced intentions of closing down all of its nuclear facilities in the aftermath of Fukushima disaster. The problem is that the only external connection Kaliningrad electricity grid has is with Lithuania – and the link is far too weak to support massive electricity flow. Russia is dreaming about electricity transmission links with Poland and Germany. They are also tempted by Lithuania's connection to Sweden and Poland as well as the new cable between Estonia and Finland.
Since the Soviet times, Lithuania's electricity grid has been connected to Estonia, Latvia, Belarus, and Russia – the latter manages the entire network, referred to as BRELL (after each country's first letter). In that way Lithuania is connected to an extensive network, IPS/UPS, going all the way to Kazakhstan and Mongolia.
By building connections to Sweden and Poland, Lithuania will be integrated into the European electricity transmission network UCTE, leaving Kaliningrad Oblast utterly isolated, unless it also follows the suit. But with a new player in the market, Visaginas NPP might indeed become financially unviable.
Construction without investors
Lithuania's Parliamentary Security and Defence Committee chairman Arvydas Anušauskas has called the above-mentioned Kiriyenko's letter a desperate PR stunt aimed at covering the fact that Russians cannot find investors.
While democratic societies make important decisions by engaging in discussions, the Baltic NPP project is done the other way round: Putin signs a decree first and then licences are issued, based on the assumption that there must be a nuclear power plant on that particular spot. The massive electricity giant was planned and started without either proper transmission links or, even more importantly, investors to supply funds and export routes.
Russia invited Lithuania and Poland to join the project in Kaliningrad, but the two declined.
Rosatom would like to keep 51 percent of shares in the facility, while the rest should be sold. However, there do not seem to be any interested buyers. Previous media reports mentioned a number of Italian, Spanish, Czech, and German companies allegedly interested in the project. Asked to comment on investors last week, Timonov noted, twice: "Right now, as we speak, talks are underway with a Western company." No further details.
The Baltic NPP will cost 5 billion euros to build, Rosatom claims. Surprisingly little, bearing in mind that Lithuania might struggle to build a single reactor for the same sum. However, Gulyayev, one of construction leaders, responded to doubts with "What's so surprising?" But later he added that the sum was but a current estimate. A connection with Poland would cost another half billion euros, a 600-1,000 MW cable to Germany would add 1-1.2 billion.
Moscow claims there are no problems with financing – Rosatom will cover at least the first stage of the project. And if there are still no investors, Russians promise to find the money in their own coffers and transport electricity to "big" Russia. Again, via Lithuania, which is about to join the European network.
Nuclear race
Three nuclear power plants, designed by Lithuania, Russia, and Belarus in close proximity, should start operating at around the same time.
Lithuania's Visaginas NPP should be located near the decommissioned Ignalina facility. The project also involves Latvia, Estonia, and potentially Poland that had left negotiations before hinting about possible return. A strategic investor and supplier of nuclear reactor is US-Japanese company Hitachi. Visaginas NPP should consist of one 1,350 MW advanced boiling water reactor (ABWR). Lithuania plans to build electricity transmission links with Sweden and Russia by 2016. Construction works are scheduled to start in 2014. The plant should start generating electricity in 2020. The project's total cost is estimated at about 5 billion euros.
Belarus says it has already started construction works for Astravyets NPP. It is to be located merely 20 kilometres from the Lithuanian border, 50 kilometres from Vilnius. Belarus' power plant is built by the same company as in Kaliningrad – Russia's Rosatom. It has been reported that Russia extended a loan of 10 billion US dollars for Astravyets NPP. It will be identical to the one in Kaliningrad: 2,400 MW, two reactors. Block one is to be turned on in 2017, block two in 2018.