Vilnius dreams about trams
Vilnius does not have a metro nor a tram network. Yet there has been much talk that the Lithuanian capital could introduce these new means of public transport. Talks notwithstanding, the actual system is not much different from twenty years ago – buses and trolleybuses on the bumpy streets of Vilnius. There are also shuttle cabs, but these are being pushed out of the city into more remote quarters.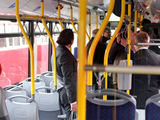 Eriko Ovčarenko/15min.lt nuotr./Vilnius
That might be the reason why public transport is a constant topic of conversations among Vilnians and an object of scorn. Many buses and trolleybuses are old, uncomfortable, they drive slowly. There are very few lanes reserved for public transport, so it does not always make sense to evade traffic jams by taking a bus rather than driving one's own car.
The city municipality is promising a new type of public transport by the end of the year – fast buses. The public transport authorities are to select seven existing routes – they could be slightly re-drawn – where new and modern vehicles will operate. They will be sort of a spine of Vilnius public transport – these buses will be taking passengers to transport hubs, where they will be able to change to other buses or trolleybuses.
These fast buses will operate more frequently and will not be stopping at every stop. Currently, the city has no other means to increase their speed, even though there are plans to build extra lanes reserved for public transport and adjust traffic lights. Moreover, there will be more vehicles operating on these routes, so people should not have to wait long. Schedules of other buses and trolleybuses will have to be adjusted, so people can catch them in the nick of time after leaving a fast bus.
But all these are plans for the future. As things stand now, Vilnians are irritated by radical changes to the ticket system. On 15 August, Vilnius public transport introduced e-tickets that are supposed to gradually push out previously used paper tickets. The latter are to become obsolete after the New Year.
The beginning of changes has been less than smooth. On the morning of 15 August, most press stands (which is where public transport tickets are sold) did not have the new travel cards. And even those that did experienced hiccups when people wanted to top them up. Card readers inside buses were not running smoothly either – some passengers complained they were charged double fares.
The city municipality claims it is working to solve technical issues and, in the mean time, press kiosks will continue selling old paper tickets until the end of the year. These are still considered cheaper by many, since single-fare paper ticket costs 2 litas (0.6 euro), while the lowest-fare e-ticket, valid for 30 minutes, costs 2.5 litas (0.72 euro). The trouble is that the paper ticket becomes invalid once you change buses, whereas with the e-ticket you can change as many lines as you need within the duration of thirty minutes. An hour-long trip sets you back 3.5 litas (1 euro).
There is also the option to buy a ticket from the driver. That, however, costs 3.5 litas, significantly more compared to 2.5 litas before 15 August. These types of tickets, too, are only valid on the line they were purchased.
Monthly tickets have changed, too. Until 1 September, monthly tickets were just that – they were valid from the 1st to the last day of any given month, irrespective of when they were purchased, whereas now they are replaced by 30-day tickets valid from the day of activation.
That sounds like an improvement, yet the new system does not please everyone. The authorities scrapped cheaper monthly tickets that were valid only in one type of public transport – buses or trolleybuses. So residents of remote neighbourhoods without trolleybus lines will still have to pay the full fare. Before, the bus- or trolleybus-restricted monthly ticket cost 85 litas (25 euros), as opposed to 110-litas (32 euros) for a combined fare. Now, one 30-day ticket works for both and costs 100 litas (29 euros) or 90 (26 euros) for workdays only.
Tallinn's jams for free
One thing that residents of the Estonian capital know for certain is that they will be able to use Tallinn's public transport for free. When it comes to details, they are still quite confused, even though the media has covered the issue extensively.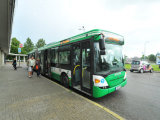 15min.lt/TVNET/DzD/Tallinn
For instance, some people could not say when the free transportation comes into effect. According to previous reports, Tallinn's public transport becomes free – for all residents of the capital city, pensioners and students, and even those who do not reside in Tallinn permanently – on 1 January.
However, there was more confusion when the city authorities announced about a new ticket sale system coming into effect on 21 September.
The new system involves new travel cards that will cost 2 euros. Passengers will have to scan the card upon boarding the bus in order to register for the trip – much like in Vilnius. The ride itself will be free, but the authorities want to keep track of passenger flows in order to determine the demand for different routes.
Opposition at Tallinn Municipality instantly raised concerns that the company making and administering travel cards would have access to information about where and when Tallinnians travel.
Some feel uneasy about the big brother tracking their movement, yet the city authorities do not see it as a problem.
The 2-euro travel cards will have to be purchased even by those passengers who could use public transport for free even before the change, like retired people. The municipality has promised 150 thousand free cards for disabled children, kids from big families, orphans, etc. After purchasing the card, people will have to personalize and then activate it. Only then will they be entitled to free rides.
Even though the price for the travel card is not much of a problem, but the new system reminded everyone of another recent city initiative – Tallinn Municipality urged everyone to get a "Tallinn ID card." To qualify, one had to live and be registered in Tallinn. The card offered a lot of attractive discounts. Tallinn ID cards are still valid until March next year. Ordinary people now joke – when will the authorities quit shoving various plastic cards on us?
However, the real victims of the free public transport are private car drivers. The municipality has radically changed traffic scheme in and around central Tallinn. There are now many lanes reserved to public transport only and whoever takes it, gets instantly fined – offenders are captured by special cameras that are installed on almost every crossing.
Traffic jams and accidents were the hottest topic in the Estonian media last summer. If one tram gets into an accident, the entire city centre traffic comes to a standstill for two hours.
If that weren't enough, bus drivers are using whichever lanes they like, thus making life even tougher for private vehicles.
Everyone was looking forward to 1 September to hear it announced officially – city traffic is paralysed and total chaos reigns. On that Saturday, however, a happy message came from the municipality: there were no traffic jams and the vice-mayor himself took a bus and bragged how it overtook several cars. The message sounded comical, as reporters filmed massive jams from a helicopter. While Tallinn is actually jammed, the official version claims the opposite.
No one has yet replied to the central question either: Who is paying for free transport? The authorities do not disclose where the money will come from – and it will have to come from somewhere. Simple drivers suspect that they will have to carry the load of populist politicians who want to buy the favour of poorer voters. For instance, in the form of ballooning car parking rates.
Modern transport and free rides for kids in Riga
The Latvian capital has long been praised for its good transportation system. The public network includes buses, trolleybuses, and trams. The only things that is missing is a metro, but otherwise Riga's public transport looks new and shiny.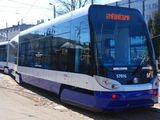 15min.lt/TVNET/DzD/Riga
A fair indication of its quality are air conditioners that get turned on in sunny summer days. Entire streets are remodelled to accommodate new tramlines.
There is also a network of shuttle cabs. Regular cabs, however, are often cheaper than taking a bus.
Electric trains, too, operate in some areas, making life much easier for residents of some remote residential districts. Riga, after all, is the biggest of the three Baltic capitals with a population accounting for half of the country's residents.
Riga's public transport has become increasingly expensive. Back in 2007, single fare was 0.2 lats (0.29 euro). After that it rose to 0.3 euro, then to 0.6 euro, and now it stands at 0.72 euro. Such is the price if you buy an e-ticket in press stands. However, if you buy 20 fares at once, one costs 0.6 euro. Buying a ticket form the bus driver costs 70 santimi, or 1 euro.
Riga has many types of monthly tickets that cost from 14.2 lats (20 euros) to 45.9 lats (66 euros), depending on the means of transport one is using.
Just like in Vilnius, passengers have to scan their travel cards inside vehicles. Previously, conductors used to work on every bus and trolleybus, but now they only perform random checks with the police, to catch free riders.
The authorities have recently decided to raise the fine for riding without a ticket to 45.9 lats, the amount of the top-priced monthly ticket. The motion is still in hearing, but it is likely to pass, since current fine is just 5 lats (7 euros). The Riga people are quite prone to free-riding. Almost 70 thousand free-riders were caught last year alone and they paid over one third of a million euros in fines.
But bigger fines present another risk, corruption, so the authorities will have to introduce extra measures to control public transport conductors themselves.
School students can use Riga public transport for free, but only starting from 1 September. The city budget allocated 1.17 million lats (1.68m euros) to that end. There are no talks of free transport for everyone, yet Riga is following developments in Tallinn very closely. Currently, everyone can ride for free on holidays, like Latvia's Independence Day.