Some structures are in a process of ruthless demolition, others are rising up. Tankiewicz pours figures on investment and cargo, pointing at warehouses to be torn down and new ones to be erected. He draws our attention to the recently remodelled Dutch Quay – it has shed the last traces of a bomb dropped here by the British in World War Two. And to the Emigrants' Museum to be housed in the oldest building of the harbour.
We ask him what the sea means to him personally and his reply comes a little as a surprise: "I am a man of the land, from around Vilnius. Though I do, for some unfathomable reason, prefer walks along the shore more than anywhere else and my favourite spot is a beach between Orlov and Sopot. To cut long story short, I am not a sailor, I've no particular connection to the sea. For me, Gdynia is more of a spiritual place – just like Vilnius. It is a port city, built from scratch and relatively recently, it was only last year that we celebrated the 90th anniversary of the harbour."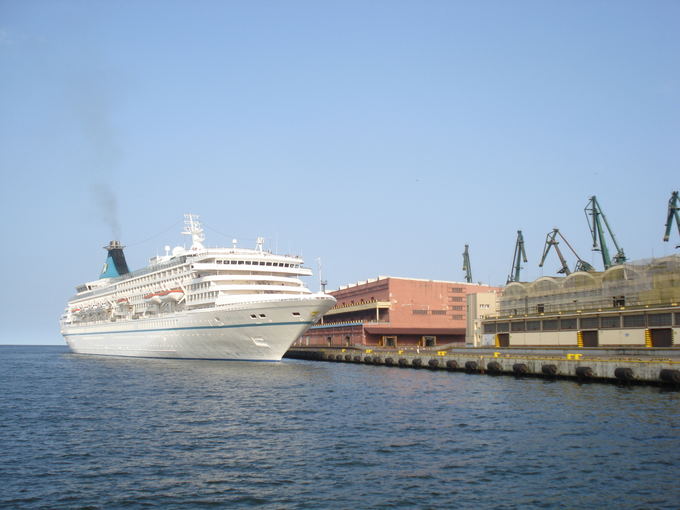 R.Celencevičiaus nuotr./Gdynia Port
Borders of the past
Tankiewicz's personal history, however, is just as impressive as Gdynia's.
He was born in Grodno. He was only one when his parents moved to Vilnius. He went to Pavilnys School, then the 11th Secondary School (now Adam Mickiewicz Gymnasium) and in 1979 he followed his parents to Gdynia. He graduated from Gdansk University in 1988 with a degree in law but has never worked as a lawyer in Poland. Attraction to return to Lithuania was too great. Walery went back to Soviet-occupied Lithuania, to his sweetheart Anna. Teacher of Polish.
"When I was crossing the border, Polish border guards wouldn't let me out: 'What, to the Russians? For good? Are you crazy?' – 'I am not crazy, I married a Vilnian, I am going to my wife'," Tankiewicz recalls his journey to Lithuania. "In that case, we're going to arrest you, mister, and you'll be able to tell your wife we didn't let you through," the Polish officers made the last attempt to make him come to the senses.
Walery, however, was determined to reach Vilnius. To settle there permanently, as he thought at the time. For him, it was a return to the land of his childhood. What did he do in Lithuania?
When the Sąjūdis liberation movement started in the late 1980s, Lithuania's Polish-language schools started teaching History of Poland. Recently repatriated Tankiewicz became a History teacher at the 19th Secondary School (now Wladyslaw Syrokomla School).
Two years later, however, he realized that school teaching was not really his calling. He started a collaboration on Polish-language broadcasts on the Lithuanian Radio. When Česlavas Okinčicas, one of the signatories of the 11 March 1990 Independence Act, set up a new radio station, Znad Wilii, he appointed Walery to run it. Two years were spent at Znad Wilii.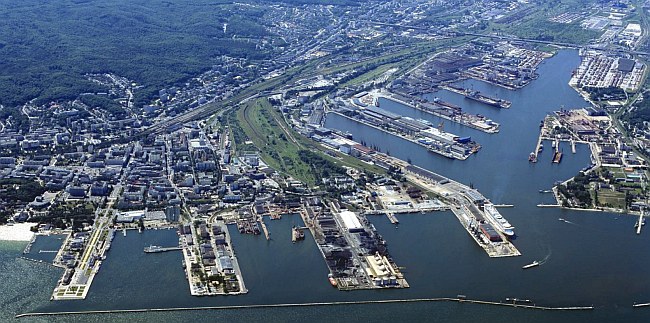 Gdynia Port
Emigrant wife
However, after six years in Vilnius, Walery started longing for Poland. And he finally managed to convince his wife, who previously would not hear of leaving Lithuania. "In 1994, we came to Poland – for me, it was a return, but for my wife and Lithuanian-born Przemek and Ewa, it was emigration."
He looked for a job as a journalist, without success, and took a job in a factory. For the last thirteen years, though, he has been with the harbour. And so we return to the topic of the sea. What is it about Gdynia that trumped the pull of Vilnius in Walery's life?
"Very many people here are able to say: my grandfather built this harbour, these quays, and my grandmother worked at that shop over there, and I was born in that building adjoining the shop. After the war, when residential space was in short supply, many people lived in the harbour. So there's a deep emotional connection, despite the fact that Gdynia is 600 years Vilnius's junior," Tankiewicz reflects.
The vice-president of the Seaport Directorate believes that the emotional connection is of paramount importance: "The building of Gdynia right after regaining independence was a way to reclaim its pride for Poland which had lost all wars and uprisings, had been trampled by foreign armies from both sides since the 17th century, had almost been destroyed – and now managed to build a port city."
On the eve of World War Two, Gdynia had become number-one Baltic Sea port in terms of cargo. "So there was a long way between 1922, when they started building the harbour, and 1939. This place is special," Tankiewicz concludes, turning into yet another street in the harbour.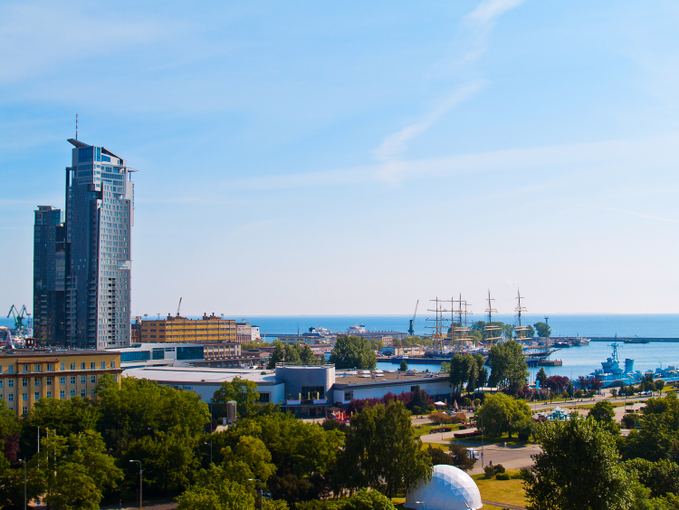 123rf.com nuotr./Gdynia
Vilnius is an emotion
– What then is Vilnius, how does the spirit of Vilnius differ from Gdynia? – we would not let the subject drop.
– Everyone sees it differently, but we know from Polish literature and history that there are only three cities that hold spiritual importance to us. And these are Krakow, Lvov, and Vilnius. Poet Adam Mickiewicz wrote "Lithuania, my fatherland." All Polish students have to learn this line by heart, though perhaps few of them still understand, why this Mickiewicz is calling Lithuania his fatherland.
Vilnius is emotions coming from books and my childhood.
I came back to Vilnius in 1988, when Poland was still a deeply communist country and few believed it would fall soon. Even my father, who used to repeat that all empires fall, would always add that the Roma Empire held out for a thousand years. My last emotion as a student before coming to Vilnius was from a May 1988 strike which ended in defeat. That feeling penetrated into my bones – we were all resentful that the same rotten nonsense would go on for years to come.
Vilnius is emotions coming from books and my childhood.
That situation left a mark on my life, my love, because my wife didn't want to leave Vilnius. And also on my longing, because I had left Vilnius in 1979 and they closed the border in 1980, leaving no possibility even to enter Lithuania for eight years.
Once I was back in Vilnius, the most important events of the era started there, the entire Soviet bloc and the Soviet Union started crumbling, which seemed unreal.
The opportunity to observe how Lithuania was going through a rebirth, changes, and at the same time seeing on TV that similar emotions were enveloping Poland made me miss that country several years later. Just like I had been longing for Vilnius in Poland, so now I longed for Poland in Vilnius.
River of one thousand springs
– You came back to Gdynia and, for the last 13 years, you worked on developing infrastructure in the harbour. What's special about Gdynia port?
– All seaports have comparable strategies. Each port on the Baltic Sea seeks to be a big cargo hub, receive huge ships straight from China. So far, only Gdansk has achieved it, only in Gdansk do 400-metre ships arrive with 15 to 18 thousand containers.
Gdansk has built a new terminal designed specifically to accommodate ships that size. Whereas we are still working to be able to receive such ships. Of course, high turnover can be easily assured by oil and coal. This kind of cargo, however, has a political aspect. One decision by Orlen or Gazprom can cut your revenue from millions to zero in one day.
Whereas containers represent thousands of clients and goods of all possible varieties. We do not even know what's inside – it's customs officers' business. This kind of cargo is stable enough, unperturbed by one client and one decision. It's like a river of one thousand springs.
When I started my job at the harbour, our container terminal was unmatched in equipment and size. The entire Gdansk Bay serviced 300 to 330 thousand containers. By comparison, last year we had 1.6 million. Our analysts predict a growth of 200 to 300 percent over the coming 15-20 years. They only disagree on whether the turnover will even out at 3 or 5 million containers and whether this will happen by 2020 or 2025.
All Baltic seaports seek to be middlemen for Russia.
So our strategy is rather straightforward – we must expand and upgrade our infrastructure. Five years ago, we had a depth of 11-12 metres and that only at one wharf. Now, the entire harbour has been dredged to 13.5 metres and we're already preparing to make that 16 metres. For a harbour like ours that means enormous investment and huge money.
Another goal is making full use of EU funds. We will have access to them until 2020. We're hoping that our indicators will be so good by then that our achievements alone will disqualify us from getting EU support. We're using co-financing up to 85 percent. That's a fantastic opportunity. Say, for the Swedes to get 15-20-percent EU funding is a huge victory.
– Is the port of Klaipėda a competitor to Gdynia?
– No, it is not. But it can be. Because all ports that have enough ambition and opportunity to receive container ships from China compete with one another. Klaipėda does have plans and ambitions to do that. In general, all Baltic seaports seek to be middlemen for Russia.
Russia has its own ports, but most of them freeze in winter. At the moment, Gdansk alone boasts profits from containers headed for Russia – it handles 0.5 million Russia-bound containers.
Cargo from Gdynia goes southwards – destinations throughout Poland, some to Slovakia and the Czech Republic. We have ambitions to take containers by railway to Russia and Ukraine. But even if we succeed, that won't be huge quantities. Because the railway infrastructure is not adapted for that and, moreover, we've still different gauge railroads, which translates to extra cost and time.
At the moment, we hardly serve any shipments that are not going to Poland. This is the so-called sixth Pan-European transport corridor. So we do not compete with Klaipėda. If the distance from one port to the final destination is 300km and from the other, 500km, there is little chance of taking over the shipment.
Once upon a time, ships would have to wait 2-3 weeks in the harbour to be unloaded. Now they wait 2-4 hours.
– In Lithuania, whenever we elect a new government, the new transport minister appoints a new chief to run Klaipėda port. How does it work in Poland?
– Essentially the same. But since we've got three ports and three managers, there's more nuance. The companies managing the ports are mostly owned by the State Treasury or the minister of finance, but local municipalities also hold stakes – the cities of Gdynia, Gdansk and Szczecin, and Swinoujscie.
True, Gdynia owns only a 0.04-percent share in the port, but the law guarantees the municipality a seat in the supervisors' council – of its nine members, five are appointed by the minister of finance and four by the president of Gdynia.
There are three of us on the board of Gdynia Port. But we've been there for a long time, so political change has had little effect on us. The director of Gdynia Port has been working for the company for 35 years, 20 of them he has been on the board. Another colleague has been working here all her life. Our combined work experience adds up to almost 80 years. So we're an exception, compared to Gdansk and Szczecin. This must be credited to political and diplomatic ability of our city's president Wojciech Szczurek.
– Would it be accurate to say that the port is the biggest employer in Gdynia?
– No, the port does not have a big company. In 1989, there were 6.5 thousand people working in the port. Now the port company employs a staff of 1.8 thousand. They do the same job as before, while the cargo flow has gone up. In the early 1990s, cargo was down to 6-7 million tons per year; now we have some 16 million tons.
Once upon a time, ships would have to wait 2-3 weeks in the harbour to be unloaded. Now they wait 2-4 hours, container ships up to eight. If a huge ship with, say, 70-80 thousand tons of coal docks, it stays for no more than four to five days. So people who wander into the harbour often say – how come there are no ships, do we do anything at all? In fact, Gdynia receives over 3 thousand ships a year.
There are a number of companies that work with the port, ship servicing, truck and railway companies. We invest a lot into construction. Since 2003, we've invested one billion zloty into quays and roads. It was all the port's money as well as income from privatization. Ports do not have to pay dividends to the state, if they invest their revenues into infrastructural development.
– So you don't pay dividends to Poland's treasury?
– No. All revenue from privatization of companies was kept and invested. One can economize on the upkeep of infrastructure like roads, railways, and ports for years, not spending a dime on mending or modernization. Such used to be the case in Poland once. But if you make no repairs on something for 20-30 years, you have to build it anew. So we're almost done rebuilding all the streets in the port, all quays are new or renovated, the railway infrastructure has been upgraded.
– Was the port hit hard by the global financial crisis?
– The crisis had little impact on us. Of course, different terminals felt the effects differently. Those servicing container ships – and shipments from China fell 20 percent – did feel the impact. The port itself, however, receives almost half of its revenue from renting real estate to terminals. This line in the balance sheet did not change. A terminal must pay its dues, otherwise it will lose everything.
We get about 20 percent of our revenue from port fees collected from incoming ships. This area is more sensitive to market fluctuations.
But in all, we did not feel the crisis. True, cargo shipments did go down a little – in 2007, we experienced the greatest growth, up to 17 million tons, while there were only 15 million in 2008. Last year, we processed 16 million tons and are expecting to return to 17 million this year.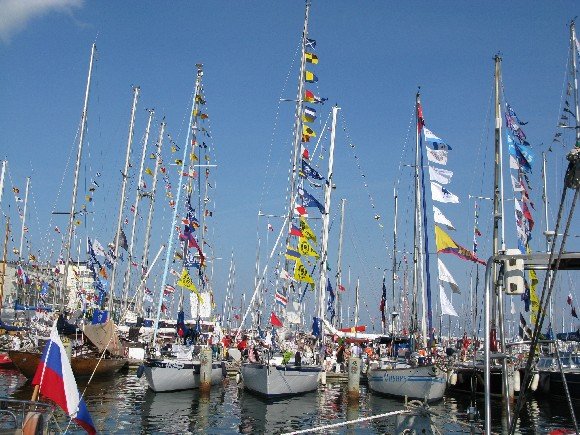 G.Simučio nuotr./Gdynia
***
Tankiewicz concludes our tour around Gdynia Port and remembers Vilnius once again.
"Five years ago, I took my father to Vilnius. The last time he had visited it was in 1990, when it looked much the same as in 1979, when we left. But in 2006, when we went to Belmontas, where we used to live before moving to Poland, to see the waterfalls where I'd play as a kid, when father walked around the town, he said: 'Vilnius has become very beautiful.' The city has changed wonderfully after the Independence," says Walery from Vilnius who now runs 60 hectares of infrastructure in Gdynia. And bids us farewell.