It is not only the Church liturgy that attributes particular importance to the Holly Week. It also had a place in Lithuanian ethnic traditions. Every self-respecting Lithuanian would celebrate Easter having cleaned the barn, the stables, the house, the yard, and the orchard. The Good Thursday was the main day for cleaning that villagers used to call the Green or the Clean Thursday.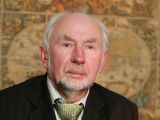 Šarūno Mažeikos/BFL nuotr./Libertas Klimka
Libertas Klimka, ethnologist, says that people had to get up very early on the Good Thursday - in order to be up and running by sunrise.
"According to an old custom, one had to find a creek running eastwards and clean oneself with its water. It was said to turn golden and thus would confer good health upon you for the entire year. People would bring water from such creeks to sick people so they could convalesce," Klimka says.
Master of the house would also take horses to the creek: comb them, check how they got through winter, even bathe them. "They used to comb their sheep and even cleaned piglets in the barn. Northern Lithuanians had a tradition of bringing twigs from an ant hill and putting them, cross-shaped, in the barn. This was intended to increase livestock - so they are as numerous as ants."
Man in the garden, wife in the house
After the barn was finished, the master would then go to the garden: to inspect apple trees, trim off dry branches.
Children would meanwhile go to the woods, to look for grass to be used to decorate Easter table. They'd pick everything that was still green after winter. Cranberry leaves, lycopodiophyta plants, bearberries. In the south of the country, they would also use mistletoes to decorate the table.
Mistress had to take care of the house. Women would start their chores early on Thursday morning. "Under serfdom, peasants used to live in cottages without chimneys, so walls and ceiling would be all sooty. Not only did women have to mop up the floor, but take down all cobwebs with a damp rag," Klimka recounts.
One of the more important tasks for women was to dust winter coats, hang them outside for a while and then put them away until next winter. They also had to change the bedding.
Rituals and mythology
In the evening, when the house and the garden were clean, everyone would go to a sauna - at least in regions with strong bathhouse traditions.
The process of lighting fire in bathhouses was something of a ritual, infused with mythology. "It was believed that one had to steal at least a few twigs from a neighbour to light the fire. The mythological subtext - intertwining what is one's own and what is alien. And alien things come from the spirits, the metaphysical world," he says.
Also, people would throw a piece of firewood onto the roof. Doing so, it was believed, prevented chicken from wandering off into neighbour's lands and nesting there - so they laid eggs in their own yard.
"In the north east of Lithuania, people believed that a certain ritual could help find wild birds' nests. This was particularly relevant for young shepherds. Therefore, on the Big Thursday, they would take pieces of wood home and place them in each corner. House corners represented parts of the world. Stumbling upon a wild goose egg meant for a shepherd that he will not starve," Klimka notes.
Frige revisions
Ethnologists' stories are not mere tales of long-ago. They refer to the past that is not that distant - these traditions were collected by talking to still living people from rural villages. "They are the ones who told me all this, I've written down some of that myself," Klimka says.
The main part of cleaning used to be finished by Thursday evening. The following Friday was called "vėlių velykėlis" - meaning something close to "small Easter of ghosts". Families would visit graves of the departed on that day. "And children would necessarily come along, so they knew where their ancestors lay," the ethnologist notes.
On the Big Saturday, people would carefully clean all fireplaces, putting out old fire and throwing out cinder. These symbolized troubles of the yesteryear. A new fire would be lit in a clean fireplace, to burn uninterrupted until the following spring.
"Fire was then used to boil eggs and bake Easter pies," Klimka says.
And how is he preparing for Easter? Cleaning up the house with ancient fervor?
"I'm a city child, I've never lived in the country, so traditions of the Holly Week were never much upheld in our family. We would, though, clean the house more carefully. I am about to do a revision in my fridge, actually," Klimka smiles.
Home chores for men
Larisa Kalpokaitė, a known Lithuanian theatre and TV actress, can still remember the pre-Easter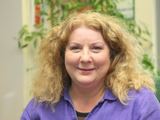 Juliaus Kalinsko/"15 minučių" nuotr./Larisa Kalpokaitė
cleaning of her childhood. "There's a special term for hat - general order!"
Even though carpet dusting in her family was usually done earlier, on winter snow, they would repeat the procedure right before Easter - an order that was never questioned.
"We cleaned everything A to Z. Except windows - only if it were warm outside. If it were still chilly, we'd only clean the dust from inside," Kalpokaitė recalls.
She does not have enough time to have a "general order" this year. She has to take care of her 86-year-old mother who suffered a heart attack several weeks ago.
Tradition turned into "Let's Do It"
Nomeda Marčėnaitė, artist and TV host, admits she is a "total cleaning maniac, to put it mildly." Therefore, she could not cope with just one yearly clean-up.
"Cleanliness is something I need constantly, not just on special occasions. So I carry out periodic revisions and get rid of all the things I don't need: cosmetics, clothes, medications, expired food. My mom is angry I do not have anything decent to mop the floor with. There's a bucket with a special broom, but my mom is from the generation that use old shirt as a cleaning rag. And in my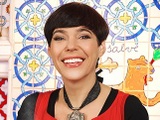 BTV nuotr./Nomeda Marčėnaitė
house, she couldn't even find anything to make into a rag," Marčėnaitė laughs.
She says several generations of her family were urban dwellers, so they never had any significant Easter clean-up traditions that seem to be more prevalent in rural communities. "Perhaps that is why all I have left in my memory is the enjoyable part - colouring eggs," Marčėnaitė sighs.
The "general order" tradition has not caught on even after she moved to suburbs, into a separate house with a garden. "I take care of the fallen leaves in autumn, as I find it very beautiful when snow melts revealing cleanness and beauty underneath."
She thinks that the old Easter tradition has gradually transformed into the public clean-up action "Let's Do It." "I'm happy to see enterprising people who create new traditions."
Cleaning lady
Galina Dauguvietytė, 85, former TV director, scriptwriter, and actor, says she wastes no time on housecleaning.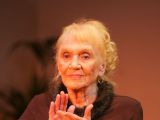 zmones24.lt/Galina Dauguvietytė
"Once a month I have a cleaning lady come over and do a fundamental clean-up – even though I don't make that much mess, living on my own. Besides, I do brush dust off myself. I can't stand the glazy parqueted floor. I need to do my own swinging and polish everything – that's what I'm used to. If it is lacquered, it reminds me of a maternity hospital or a clinic," Dauguvietytė shares.
Instead of bothering herself with housework, she saw to her own beauty this spring – had a laser face procedure. "Don't thing I have smoothed out my wrinkles," she protests. "I had various pigment spots removed. So now I'm all red, like I've just returned from a tropical resort. I avoid going to the public. But I should be pretty again by the middle of the month."
Manual chores replaced by intellectual ones
Dauguvietytė has not had to do much manual labour either in her childhood, or youth – she has always had servants around her, taking care of laundry and cooking.
"My father was an exceptional gourmet. His mother died when she was 28, leaving five children behind. She was a full-blooded Dutch. My widowed grandfather then married a French woman, who raised the kids. So the stepmother attuned my father to a good cuisine. He used to reprehend my mother: That's not the way to do this or that! In the end, she decided not to go to the kitchen anymore. Just imagine, how lovely it is to work the house when the mistress refuses to enter the kitchen," Dauguvietytė remembers her early days in her family house on the banks of the river Nemunas in Kaunas. "A wonderful apartment with a maid's room."
Donatas Katkus, who is also from Kaunas, did not have as affluent a childhood. So pre-Easter
Tomo Lukšio/BFL nuotr./Donatas Katkus
housework was something he had to do much.
"Several days were really intense, especially Thursday and Friday. I couldn't even list all the chores I had to do," Katkus, conductor and founder of St. Christopher chamber orchestra, says.
Back then, he lived with his mother in a shack that hardly merits being called "a house." The family lived on a shoestring. "It was just me and my mother. One of those cases of a non-family, as some current politicians try to prove," Katkus says, criticizing the new family concept that the current government is so keen on.
Maestro changed his lifestyle habits after moving to Vilnius, so the pre-Easter period is not as it used to be either. "We live quite orderly," he says. "In the city. In a flat. No garden to clean. All I need to do before Easter is usually to finish off some article or the like."