The young man is wearing a red football uniform, bearing the word "Pumpėnai" and number 9 on the black, and is dividing a group of teenagers into two teams in a small field near the local school.
He looks like their older friend – a far cry from how one might imagine a monk. But even without his cassock, the man who is extending his hand towards me is the parish priest of Pumpėnai Blessed Virgin Mary of Mount Carmel Church.
Avellaneda first invites me to take a look at a former monastery. The old building, which had been turned into a residential house under the Soviets, had fallen in disuse for several decades and almost turned into a dump, but the Argentinian priest had it salvaged from rotting away.
It took eight years to repair the building – funds were perpetually scarce, he had to look for sponsorship as far as Germany, do everything piece by piece.
Today, however, the former monastery has become a popular meeting point with local kids and teenagers. In a spacious common room, four boys play table football. A tennis table and a pool table stand nearby.
An adjacent room houses a cosy kitchen with a big table where Domingo and his teenage parishioners make pizzas on Saturdays, drink tea and chat. And if the weather is drizzly, they all take a bus to Panevėžys, to catch a film screening or go to a gym. Too bad there are only 24 hours in a day, the priest says, as there is so much to do.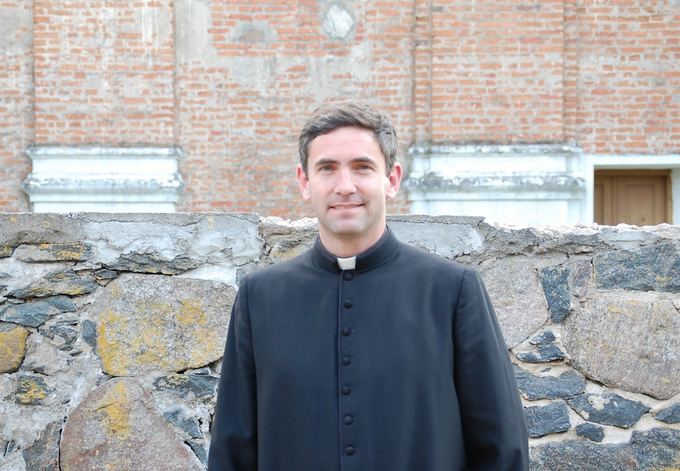 Eglės Digrytės nuotr./Domingo Avellaneda
Joy, intrigue, and tears
"Never in my life had I expected to be sent to Lithuania. Until I was, it had been just one piece of the big world," Avellaneda recalls. In seminary, he had a Lithuanian schoolmate, Marco Mikalonis, so he had heard of the Hill of Crosses. Marco's cousin, upon being ordained as a nun, chose the name of Šiluva, after a town in western Lithuania famous for its big religious feast.
Avellaneda is a member of the Institute of the Incarnate Word, a Roman Catholic congregation founded by Carlos Miguel Buela three decades ago. Members of the congregation give vows of poverty, chastity, and obedience, as well a fourth vow of consecration to Mary, the Mother of God, following the formula promoted by St. Louis-Marie Grignion de Montfort. Members of the congregation serve as priests in many countries, teach at seminaries, take care of the disabled, orphaned children, teach catechism.
"I discovered that I was going to leave one year before my ordination. I was a deacon and worked as an assistant to a seminary rector in Chile, I taught classes to seminarians," Avellaneda relates. "One day, I received a call from Argentina. They told me: if I didn't mind, I'd be sent to Lithuania after my ordination.
"It was a great joy and a little intriguing. It is one thing to hear stories about Lithuania, the Hill of Crosses, it is quite different living here. I started reading encyclopaedias, but only got very superficial knowledge – about government, Saint John feast traditions etc. I found more on the net. I had to read up in secrecy, because sometimes decisions get revoked.
"My family took the news not as well. They located Lithuania on a map – it seemed on the edge of the world, where the Sun doesn't shine. My mother cried."
Returning debt to Lithuanians
Domingo's relatives had been used to seeing him seldom enough – his seminary was some 1.8 thousand kilometres from his native Salta in the north of Argentina. He'd return home several times a year.
Most members of the Institute of the Incarnate Word travel the world – only two out of thirty members in his group remain in Argentina. The others found their way to Peru, Ecuador, China, the US, Greenland, Africa.
The founder of the congregation, Buela, wanted very much that his brothers came to Lithuania – since Argentinians feel indebted to Lithuanians. Throughout the 20th century, great many people from Lithuania emigrated to South America. There are 300 thousand of them in Buenos Aires alone. The newcomers included many priests who, once learning a little Spanish, would go out and preach their faith.
So the superior urged brothers to go to Lithuania and help rebuild faith that had suffered under oppression during the Soviet rule. The congregation actually prefers troubled countries – four Argentinian priests, for instance, are the only Roman Catholic clergymen in Tajikistan. They work in five places in Russia and run a seminary in Ukraine.
Welcome with flowers
It was on a night in January 2004 that Domingo and his fellow priest Marco Mikalonis landed in Vilnius Airport.
He flew from summer right into the frost of mid-winter: "We saw foam coming from an open door, as if from a freezer. A big thermometer outside showed minus 25 degrees. We knew we were flying to a winter and we had dressed accordingly. According to winters we were used to – wearing one sweater and a light jacket. It was great fun, though, new place, great mood."
Without a place to stay, the two Argentinians spent a month and a half living with nuns in Panevėžys. In late February, they moved to Pumpėnai, into three hastily refurbished rooms in an abandoned monastery.
Local people welcomed the two young foreigners very warmly – they met them with flowers, a few women volunteered to wash their windows, one brought firewood, others supplied some potatoes. The Argentinians felts at home.
Sticks against ice
Domingo now giggles when he recalls the initial troubles of settling in a new place, but these were serious challenges.
"They brought us wood – long logs. Never in our lives had we cut or chopped anything like that. Who knows how many hours we laboured at one log. When local school students saw we were complete newbies to this, they volunteered to help. They would come every day after school.
"We were hopeless – didn't know how to chop firewood, nor how to melt ice. We decided to clear our stairs – in case someone wanted to come, they might slip and fall. We got hold of a pair of sticks and started pounding on ice – but we only smashed the sticks into pieces, while the ice remained intact. Marco then says – let's use logic, ice is cold, therefore we need hot water. We poured an entire bucket of boiling water. 15 minutes later, the entire street turned into a skating ring.
"Someone advised us – scatter some salt. I went to a shop, bought a kilo and spread it along a path to the church. One minute passed, two, nothing changed. I went back to the store and bought all the stock they had, 14 kilos. I poured it all on the path – that day, the church floor was covered with white footprints. Then someone offered something else – we did not need salt, we needed ashes. Our first encounter with winter was interesting enough," the priest recounts.
Lithuanian lessons
Today, Domingo speaks fluent Lithuanian, but back then, he could not understand a word. Marco, who came along, had been previously exposed to the language – he had heard it at his grandparents' who had come to Argentina from Lithuania in the wake of World War Two.
Grammar, however, was a challenge for both – they bought a textbook and took classes with a Lithuanian teacher in Pumpėnai.
Domingo's superior had previously reassured him – he knew English, therefore entire Europe was open to him. It turned out, however, that people in Pumpėnai spoke only Lithuanian. Once, in a store, he asked something in English and heard the reply: po ruski? (in Russian?) "Ne ponimayu at all," he laughs.
He got accustomed to the climate, too. He puts on extra clothes if it's cold. The parish priest does, however, miss the sun. In Argentina, the sun shines all year – adding to a good humour even if it's freezing cold.
Reaching youth via football
On a cupboard in his office, Avellaneda has lined champion cups won by Pumpėnai Youth Football Team in various tournaments. Several years ago, the town even hosted a match between young people from Pasvalys District and members of the  Institute of the Incarnate Word who convened in Lithuania from Russia, Iceland, and the Netherlands.
As a kid, Domingo briefly played in a football club, but he was more interested in other sports – he had daily tennis practice Monday to Friday and played rugby on weekends. When his family complained he was never at home, Domingo concentrated on his studies. Only in seminary did he resumed playing football.
The Argentinian brought the sport with him to Pumpėnai. "It is not my direct job, why do I need to play? But football is a way to approach young people, to invite them to the Holy Mass, to strike friendship and then talk about deeper things," the priest believes.
So he formed two football teams – one for kids and the other one for teenagers. They practice twice a week, the priest teaches them techniques. They also work together to maintain the field, mow the lawn, go on camping trips.
Five years ago, the authorities promised to give some funds to build a proper playing field. The community hopes that construction works will start shortly.
Domingo thinks that working with young people is not only a rewarding experience, but also an important mission – they are the ones who will be building the country soon. That is why he has joined the Youth Council at the Lithuanian Bishops Conference.
He regrets, though, that young people from Pumpėnai leave for bigger cities to study and work and never return.
One of them, a young man who now has a family in Klaipėda, says he made a good choice to leave his hometown – otherwise, he believes, he would have ended up an alcoholic. "There is little to do, not even a sports field. There is one basket in the stadium, one half of a basketball court, but no adequate pavement. A football field is full of holes, we have to trim the grass ourselves," the priest says.
Mending souls, not buildings
The Argentinian is also the chaplain of Panevėžys Lipniūnas Secondary School and Panevėžys Women's Penitentiary. He teaches catechism at the school and holds Holy Mass on Sundays. He also visits prison inmates every week – to hold services and listen to confessions. Last year, he organized Spanish language courses. However, the initial enthusiasm among the interned women subsided somewhat, after they learned they'd need to do homework and not just chat. Domingo also spends every Christmas Eve at the Penitentiary.
"I think – though I might be wrong – that, in Lithuania, you pay too much attention to renovating old buildings and too little to neglected souls. True, it is important that the church is cosy and warm, especially in winters," Domingo shivers even thinking about Lithuanian cold spells. "But your main work is with people. They do not go to church not because they are angry, but because they do not see the point in that. They say: I go to church on Christmas and Easter. But that is not enough. Rebuilding what has been destroyed is no easy task. For fifty years, people were told that God did not exist, that they'd be thrown out of work if they were seen attending church services."