"When I came here, there were people who told me that taking the job of the Lithuanian national team coach was a silly thing to do. But I am a fighter and I like building things from scratch – it pushes one forward. Even though I am not a Lithuanian, I feel like I'm part of this country," László says.
Traumas ended career
15min starts the conversation with the coach by addressing recent rumours about his possible departure to Scotland's Kilmarnock team. László, who spent two years with Heart of Midlothian and was elected Scotland's best coach in 2008-2009, assures he is not going anywhere. The Hungarian coach adds that if any football club were interested in hiring him, they would have to go to the Lithuanian Football Federation (LFF) first.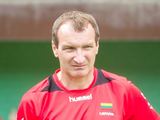 Csaba Laszlo
"My contract with the Lithuanian Football Federation does not end until the summer of 2014, but we have already tentatively agreed to extend it until summer 2016. I believe I can have a team that can make it to the UEFA Euro 2016" László remains optimistic.
Even though his wife and two kids live in Scotland, László spends all his time in Lithuania: "Not just several days before a match, as other coaches." When the national team has no games, the coach shows up in the LFF at 9 AM every morning and works until 5 or 6 PM.
Granted, that does not amount to much office time annually. László often travels around to catch Lithuanian national team players or potential candidates play: "Quite often, the coaching staff and I go to Latvia, where many Lithuanians play, or Poland to see Emilijus Zubas (the national team's goalkeeper) in action. I do not like doing business only by phone."
Reporters and football fans are used to seeing László in a suit or sporting attire, but caught in the office on an ordinary day, he would probably be seen wearing a pair of jeans and a T-shirt. One can instantly see he is a sporty man.
I believe I can have a team that can make it to the UEFA Euro 2016
After coming to Lithuania, at first László would often run into the field to kick the ball with his contemporaries or juniors, but not so much now.
His own career as a player ended because due to traumas when he was 27. Former exertions still make themselves felt: "I went to see a doctor today, they might run an MRI test, because my knees are giving up on me."
New talent hunting system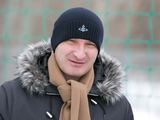 Csaba Laszlo
Even though László works with the adult team, he keeps a close eye on young talent – Lithuanian players in U-19 and U-21 teams.
"My influence in the youth teams is gradually growing. Of course, I am not giving commands on how to play or whom to invite to the team, but I often watch them in action, I accompany the teams to away games. I try to advise their coaches, give suggestions or point out mistakes. My goal is to have the U-21 and the men's team share one game model, one system," the coach volunteers his vision.
He commends Lithuania for having a National Football Academy. He wishes, though, that more of its players could play in the A League.
"When you work with a young player for four years, invest your money, time, coaching expertise, you'd like him to have an opportunity to continue his career. If clubs in the country will not be able to provide such opportunities, inviting international players instead, local fans will lose interest in the league and, eventually, the team will not have a pool to pick players from.
"I am not against foreign players, but I think that an international player must be significantly better than a local one. An excellent example – Žalgiris Polish player Jakub Wilk, who certainly stands out among other football players in Lithuania," László says.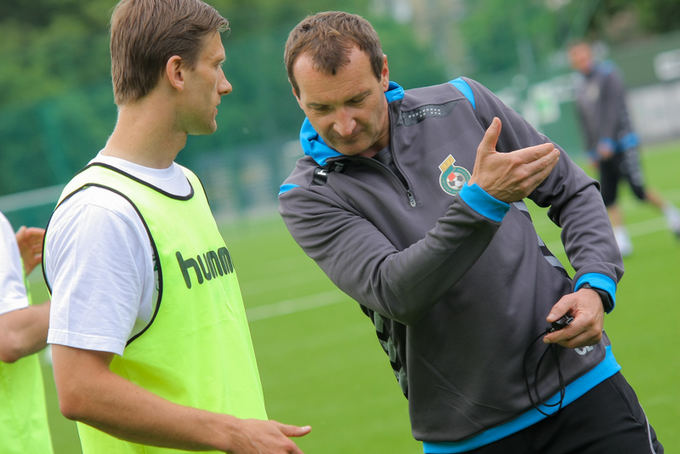 V.Knyzelio/LFF.lt nuotr./Marius Stankevičius and Csaba Laszlo
The coach often observes A League games in Vilnius and other towns – Kaunas, Šiauliai, Klaipėda.
"It is very important that club presidents, coaches, and players feel that the national team coach sees them, is interested and keeps in touch with them. Club academies have their own plans and methods, I cannot just go and tell them how to do their job. I'd love to see more cooperation between club academies and the National Football Academy. My goal for next year is to help draft a new youth training plan," László says.
According to him, each Lithuanian club should have youngster teams of various age groups. Once a year, coaches of the national team and youth teams would assemble to see the best youngsters in all age groups play in one tournament. The games could be held anywhere in the country, but the tournament would include all football academies from Lithuania and coaches could select best kids.
Stankevičius still has a few good years as a player ahead of him, but he needs to find a club where he can play regularly. In my opinion, Danilevičius has all the personal qualities to be a coach, while Šemberas is more suited to a different job.
According to László, the best kids would not then be moved to the national academy. The plan would be to have youth teams in all age groups, including U-14. Holding matches before coaches' eyes would ensure that no talent from outside the national academy is missed. A similar method is used in Germany.
Best and worst
The coach of the Lithuanian national team stresses that football is a very important sport, so he regrets that the local media pay so little attention to it, unless there is something bad to report: "It is easy to point out bad things, because negative news spreads fast and positive news does not. But it is positivity that leads forward."
15min therefore asked László to name top five strengths of the Lithuanian national team. The coach had no difficulty whatsoever:
"First, unity. During the first match with Slovakia, Edgaras Česnauskis was very angry that I had substituted him, but, after the second game, he came to me and said: 'Coach, you turned us into a team.'
"Second, desire to change and achieve something. Players do not fear new and untried things.
"Third, the sense of honour of being in the team. When I started working here, players would come to the national team as if it were a family trip – they'd first go to see their families, friends, agents and only then come to training. Now it has completely changed.
"Fourth, tactical discipline. Responsibility in the field to do what one did in training. Previously, the Lithuanian team would miss many goals after set pieces, but not a single one in the current selection cycle.
"The fifth point is less of a strength than an ambition. Our game is stable on our side, but not in the last third of the field. And that is our biggest task at the moment – not just possession of the ball, but also good finishings and a stronger presence in the last third of the field."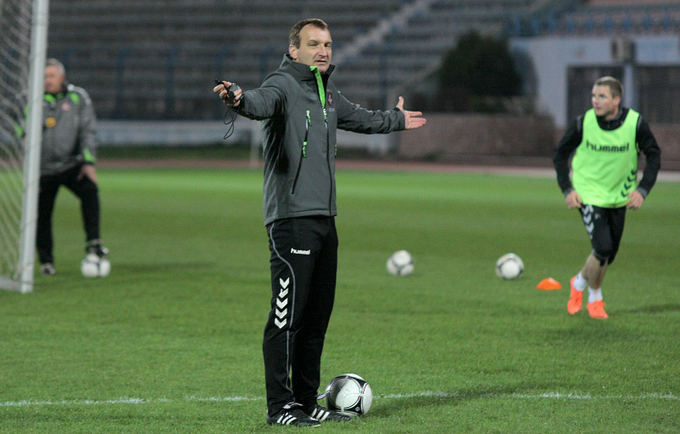 V.Januškos/LFF.lt nuotr./Csaba Laszlo
Criticism welcome, but not public
When speaking in public, László always retains optimism, even if the game is lost, and refrains from criticizing his players. Why?
"I always criticize players, but only in person," the coach replies. "If I kept telling reporters that we were bad – everyone would think so. We're a team and my goal is not to push two players in front of fans and the media and say – you were bad. I do not believe it's efficient."
Players themselves often say more than their coach. After a match against Greece, one of the national team's leaders Edgaras Česnauskis, 29, asserted that his generation would not be able to make a difference.
I always criticize players, but only in person
László finds it strange that it was Edgaras who said that. "He's the one who has changed most since our first encounter – to the better. If he said that, he must have drawn his conclusions from my criticism. I've seen significant progress in Edgaras's game – he truly wants to change something and he tries to do it," the coach commends his player.
However, the change of generations is one of the key worries of the national team. Soon enough, the most celebrated Lithuanian footballers will be leaving the field, like 34-year-old Deividas Šemberas, 31-year-old Marius Stankevičius, and Tomas Danilevičius, who will soon turn 35. Who will replace them?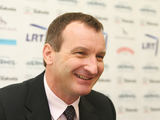 Csaba Laszlo
"There's no replacement for them – that's one of the biggest headaches we've got," László admits. "And that is why we need a new talent hunting system, so we can find new danilevičius, šemberas, and stankevičius as soon as possible and avoid talent shortage in the future. I hope that these players will continue contributing to football even after ending their careers. They do not have to coach. Stankevičius still has a few good years as a player ahead of him, but he needs to find a club where he can play regularly. In my opinion, Danilevičius has all the personal qualities to be a coach, while Šemberas is more suited to a different job. I see him less near the field than perhaps developing marketing for football, building contacts with other countries, etc."
Lithuanians – proud drinkers
When László speaks about Lithuanians, he often bursts into laughter – he finds them very peculiar people.
The Hungarian coach used to believe that no one could beat the Brits in alcohol drinking game, but he realized he was wrong after coming to Lithuania: "I am now convinced that no one can beat Lithuanians. If you sit down, you drink. And not some light drinks, but vodka. It seems that you wash down vodka with vodka." László admits, though, that drunk Lithuanians, unlike drunk Britons, do not go out and roam the streets.
Another thing that gave him a start in Lithuania was a complete lack of queuing culture. In Western Europe, László says, the custom is to leave some space between yourself and a person queuing in front of you. Not in Lithuania – László himself has given up the practice.
"Everywhere else, it is normal to leave some space in front of you, especially while queuing at an ATM, but it happened to me once that two people jumped in front of me! It is particularly disturbing when you're already using an ATM and someone behind you is standing so close that it feels they're glancing over your shoulder. I was furious at first, but I've learnt to accept it and I, too, leave less space now," László explains, laughing.
How do Lithuanians differ from his compatriots from Hungary? "You were more influenced by the Russians, while Hungary was probably the freest country of the Eastern Bloc. I remember from my childhood that we had Coca-Cola, Lewi's jeans and Budapest must have been the only city in the entire Eastern Bloc where you could buy Playboy," he recalls.
He readily finds similarities too. Both Hungarians and Lithuanians can quickly adapt in a foreign country and are very welcoming at home. But the most noticeable similarity between them is that both Hungarians and Lithuanians are very proud people.
"Nowhere else have I seen so proud people. Everyone keeps talking about how great we were, how rich our history is, we did this and that in the past," László laughs.
"The same applies to sports. Hungary had Ferenc Puskás (legendary Hungarian football player) and Lithuania had Arvydas Sabonis. Puskás is dead now, he achieved great things, but his time is gone. Sabonis' time as a player is gone, too. We need to look for new stars instead of idolizing the old ones," László says.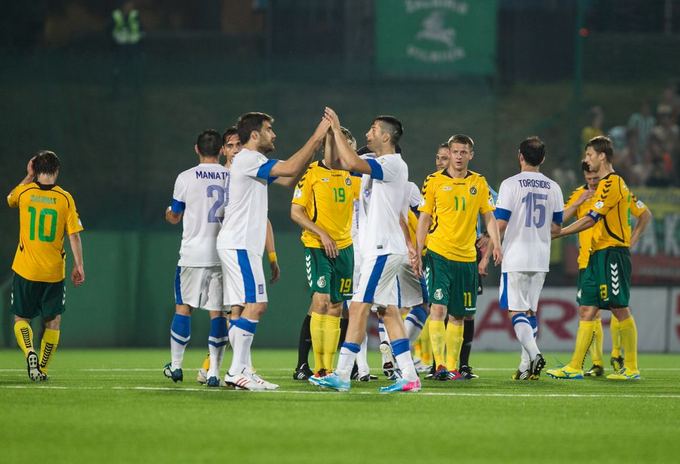 Match between Lithuania and Greece
Recognition from basketball fans
When László speaks about the national team and Lithuania in general, he always uses the pronoun "we," "our." Does he feel part of Lithuania now?
"I say so because here is my home, I feel well here. And I think other people sense that too, when they see me. I am not the first Hungarian in Lithuania. There was Stephen Báthory (16-century monarch of the Polish-Lithuanian Commonwealth) – he was also from Transylvania and wanted to do good for Lithuania," László says.
He is not, however, as famous in Lithuania as he would like to be. At least not yet. The coach laughs when I ask him if people recognize him on streets: "They have more regularly over the last six months, but the funny thing is that fans recognize me much more often when I go to a basketball game than football. I receive much more requests for autographs and photos. During football games, I get recognized less regularly – not quite as much as in Hungary, Scotland, or even Belgium."
I talk to László in English. Has he picked up any Lithuanian during his year in the country? "I can understand almost everything that people say in Lithuanian. But everyone keeps addressing me in English, so I am forced to reply in English and therefore do not learn Lithuanian. I can catch many words, provided that you don't speak very fast," László says before bidding me farewell, in English.