"I Am Fashionable Today" was published by Brentus that kindly agreed to share extracts from the book with readers of 15min.
- Where does the saying "beauty requires sacrifice" come from?
- Men usually look at blondes, because they think them more submissive. Brunettes, in men's eyes, are spoilt and whimsical. In other words, blondes have been more desirable since ancient times. However, oxygen peroxide did not exist back then, so all blondes looked citric (they would bleach their hair with lemon juice). In addition, the oldest method of bleaching hair – children's diarrhoeic faeces. Therefore all fashionistas of Ancient Greece would go to the market to buy children's excrements.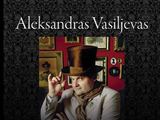 Knygos viršelis/Alexandre Vassiliev's book "I Am Fashionable Today"
For example, up until the 20th century, hairy men were not deemed worthy of respect. They were seen as hell's bastards. So men with excessively hairy chests had to remove hair with hot wax. But women who wanted to enamour their beloved ones would sometimes go to the extreme.
For instance, many 19-century women striving to achieve the desirable 36-centimetre waist went to surgeons to have several ribs removed. By the way, anaesthesia and narcosis hadn't been invented yet, so fashionistas had to drink two glasses of pure alcohol.
- Did fashion change upon entering the 21st century?
- Speaking generally, it did not, since over the last decade, it kept reliving 20-century trends: motifs from the 50s and 80s. So there was no shock with the new millennium: no one started wearing tunics, no one flew to the Moon. Let's not forget that fashion undergoes most important changes not during turn-of-the-century or turn-of-the-millennium periods, but during wars. A major military conflict can change everything.
If it escalates into World War Three and claims many men's lives, there will be more loose women. They will change fashions, since they're always seeking attention from the opposite sex. That has happened before – during World War One, World War Two, and even the Napoleonic campaigns. After the war, in vogue were muslin dresses, naked backs and short Charleston-era dresses, thin waists, plunging necklines, and round hips characteristic of Christian Dior designs.
Post-war years always bring sexuality to the forefront. The current situation is more complex, since the military conflict is religious in nature (we're not only fighting terrorists, we're fighting Islamist terrorists). This will undoubtedly encourage the spread of Muslim and European undertones in fashion. A befitting comparison here would be the penetration of one culture into the other during the Crusades. After all, modern-day Afghanistan is undergoing Middle Ages, while the West is in a decadence.
As for regularities of contemporary fashion, it is important to note the advent of new technologies in the new millennium. They are penetrating our lives. Synthetics, zippers, Velcro fabric, laser seam welding – it is normal. It seems that natural materials will automatically pass to the luxury class, simply because they are natural.
In that respect, the biggest "victim" is footwear. In the United States, they invented the so-called sneakers, that are now made in the most eccentric forms, like cell phone or minicomputer, cost a lot, and are produced with little handwork.
And they are so comfortable that after trying them once, it's hard to go back to slim high-heeled shoes. Therefore high-heels, much like traditional 20-century pointed shoes, will recede into the background, giving precedence to practical style.
- If revealing clothes are associated with war effects, why is there so much aggressive sexuality in present-day Russia?
- The situation in present-day Russia looks much like a post-war period because, according to statistics, women greatly outnumber men. In certain regions, women make up 65 percent of the population. About 20 million men are missing in Russia, therefore we witness a huge outbreak of sexuality. A Russian woman cannot leave house without baring her navel, without high-heels, silicon lips, nail extensions, blond hair. She thinks that this makes her a real temptress.
A Russian woman is a sexual stimulus for men, even if she is married. So every secretary can steal your husband, because Russians, regrettably, are immoral and do not understand what fidelity is, or duty, honour. They fail to understand that Christians are not allowed to hold harems.
- Who was the first one to utter the word "sex" publicly?
- Do you know how Hollywood star Mae West used to greet reporters? "Gosh," she would say inspecting an incomer, "is that a gun in your pocket or are you just happy to see me?"
Her punchlines are still regarded as classic American humour. Compared to her, first public spokeswoman of sex, Madonna is but a baby. And this joke was among the more innocent ones in Mae West's repertoire.
- How did high fashion evolved throughout the 20th century?
- In the 1920s, haute couture houses competed with each other in mastery of cutting, quality of stitching, and inventiveness of design. They would lure away each other's models, brag about high-brow clientèle – marquises, princesses, duchesses. They developed innovative silhouettes, promoted fashion abroad.
But then came the 1929 crash and many small fashion houses went bankrupt, they lost their American clients. But things got better in the 1930s: great many new talents supported the devastated industry that had just lost Paul Poiret and Irfe fashion house, but discovered Elsa Schiaparelli and Cristobal Balenciaga.
The second crushing blow to Parisian fashion was the Second World War. Many fashion houses were closed down – the unrivalled Madeleine Vionnet and the restless Coco Chanel locked the door of their houses. At one point, Hitler even considered moving Parisian haute couture houses to Vienna, but the president of Chambre Syndicale de la Couture, Lucien Lelong, then defended Paris' fashion.
After the war, fashion welcomed Christian Dior, who came up with the New Look in 1947 and rehabilitated Paris as world's fashion capital. Pierre Balmain blossomed and exhilarated his generation, so did Jacques Fath, Jacques Heim, Givenchy.
Coco Chanel, slightly aged, returned from Switzerland and, in 1954, to everyone's surprise, re-opened her fashion house. When Dior died in 1957, everyone started talking about the death of fashion and simplification of standards for the haute couture fashion that previously had to be stitched only by hand, designs were original and unique, and an entire collection was presented regularly, twice a year.
The 1968 student revolution and mini made a sad impact on high fashion that was previously famous for long dresses and evening gowns. However, young talented couturiers – Yves Saint Laurent, André Courage, Pierre Cardin – turned the present into an asset for high fashion. Couture principles eased once more in the hippie era and some fashion houses were close down, for lack of clients – there were only about 2,000 potential clients left in the entire world. Clients who could commission these unique designs and could afford to pay for them, as prices were very high then, too.
[...] Of the celebrated Parisian high fashion houses, only two survived until 2008 – Chanel and Dior. It is noteworthy that their leaders are not French designers: Karl Lagerfeld is a German, John Galliano comes from Gibraltar. The talented Christian Lacroix' house barely survives – LVHM (Louis Vuitton Moët Hennessy) company sold it to America's Falic brothers – Russian Jews.
- Is it possible to classify couturiers according to their political leanings – leftists, rightists, centrists?
- Such a classification depends on their clientèle. Of course, there are designers who work for the affluent bourgeoisie, use a lot of gold and embroidery. For example, Valentin Yudashkin's designs well embody the Yeltsin era. [...] On the other hand, there are creators of youthful, marginal styles, making fashion that is popular, mass-produced and leaning towards a completely different style – more student-like, almost high-school, I'd say.
Some designers only model for full-bodied women, say, Zaitsev – such is his clientèle. He is a master of dressing clients who weigh around 100 kilograms. By the way, the plumper the person, the more right-leaning is his politics – that is self-evident. Actually, we could divide people according to weight into "leftists" and "rightists."
- Why isn't Germany today's fashion trend-setter?
- Germans are not very good in artistic sense and style. There aren't even that many Germans among world-famous painters: Albrecht Dürer, Lucas Cranach, hans Holbein, Johann Tischbein.
In my view, Germany and good taste are two incompatible things. Just look at German cities, look at their interiors, look at their food! How can one talk about taste in a nation that drinks beer, eats sausages with mustard, pickled cabbages, and potato balls?!
Germany is a stable country, it has reliable banks, high-quality publishing, good universities, medicine. I have great respect for that country, I've spent much time working there. However, it is a home of burgers, while fashion is of aristocracy.
- Fashion is unpredictable. However, could you speculate on where it will head in the nearest future?
- I think that what we have now is not a fashion of classical beauty but rather a fashion of exterior defects, eccentricities. For example, the main trends of the beginning of this century are somewhat Asian, even Indian, I'd say. It is a craze for piercing tongue, lips. We have never had this before. And then this strange desire to show your naked belly and navel piercing in order to accentuate – look how thin I am!
This is particularly noticeable in Moscow and Saint Petersburg. Fascist tendencies, too, emerge: only slim beauties are seen as ideal, while chubbier women are pushed to the background. It shows a fascist attitude towards others who do not have perfect bodies. Because chubby women outnumber lean ones. Chubby women are mothers, they feed children.
The new millennium made a big impact on men's fashion – it came to value non-standard features, delinquent look. For instance, bold heads. At the moment, trendy men look a lot like déclassés, dangerous to the society. Many women, however, find that attractive. And in the end, it is going to be a triumph of Muslim fashion. Fashion will become simultaneously pro-Musilm and pro-Chinese.
Chinese fashion will conquer the world in the next 20 years. It's the style of the future: short legs, long torso, dark hair and dark skin, slanted eyes, upturned collar, and paranja. Do not think I am joking. This is a forecast from me as a fashion historian.