"Today we have to shoot an interview with the eldest granny, 84-year-old Pranutė, but when her grand-daughter got up in the morning, her grandmother was nowhere to be found at home... Must have gone to pick mushrooms," Watts, 25, grins. She has come to Lithuania to make a documentary about the folk song tradition preserved by the elderly women from Dzūkija.
After one month of shooting, the crew no longer wonder at the surprises and energy of the Dainava grannies – the "Amerikonai," as the newcomers are called by the locals, have handed all direction to the protagonists of the would-be film.
"Before coming to Povočiai, I had a clear plan of what and how I want to film. I imagined the grannies would be sitting calmly at home and obediently following my directions, everything would be slow and controlled.
"But after the initial shock I realised that the grannies have their own schedules, they cannot stay put, and are themselves directors, so I shot more things the way they wanted, not me," the young director relates.
"It will be an action movie – I didn't expect the grannies to be so lively, active, and vigorous. I'd often ask if they were not tired, if they needed a break, to call it a day. But they would always shrug it off and, when the shooting was over, rush to finish housework."
7-year wait
Watts, granddaughter of Lithuanian immigrants, was born and raised in San Francisco and came to the village of Puvočiai in Lithuania for the first time seven years ago. For the occasion, local friends decided to treat the American guests with a special concert – they invited grannies from the village to sing some songs. The songs and the grannies' charisma left Watts enchanted.
"They were wonderful! My brother and I were fascinated and I'd been dreaming of coming back and making a film about them ever since," she says, adding that, unfortunately, she was still too young to carry out the plan back then. But when the opportunity finally came, six of the eleven grannies had already met their maker.
Fundraising with borrowed camera
Watts came to Dainava again last summer and made short videos of the singing grannies with a borrowed camera. Back in the US, the filmmaker posted her idea on Kickstarter.com to look for sponsors to support the project.
"Our collaborator Ignas – we stayed at his family's house throughout the production – said that the grannies followed closely the fundraising online and were very anxious," Watts says. "They were very supportive, they prayed for the would-be film."
They prayers were answered – sponsors donated over 12 thousand US dollars (before taxes) and so Aldona, together with her brother-cum-sound director Julian and DOP Matthew Shorr, returned to Lithuania this summer.
"I love picking mushrooms"
"Pranutė turned up! Came back from the forest with a bucket-full of chanterelles," Watts exclaimed, exuberant, after receiving a call from colleagues. The crew was soon at the mushroom picker's door.
"These are not mushrooms, these are lepeshkas. But there are a few vokietukai, too," 84-year-old Pranė Barysienė said modestly after being commended on her take. "I love picking mushrooms. I know the right places and I care to go there, but I went only five times this year..."
Upon being informed that she will have to talk to camera today, the eldest, yet the strongest and the most active granny quickly combed her hair, adjusted her shirt, and waited patiently before the crew got ready for shooting.
Men didn't know how to sing
The protagonist of the film related how she had been singing the songs she learned from her grandmothers since childhood and how twenty years ago, women of the village of Puvočiai formed a band and performed throughout Lithuania and even Germany.
"Initially, we invited men too, but they didn't know how to sing, so we discarded them and decided to sing alone – we went to places, we sang everywhere. We even went to Germany twice. They liked us very much, printed our photos in papers," Barysienė recalls joyfully. "We were eleven at first, but now, we're five left. Even though some of us must use canes to walk, but we're still singing. My friends often call me and say: Pranė, get dressed, we're going to sing. A person must keep moving, having fun, one cannot lower your arms and sit."
The granny says she cannot wait to for the film to première. "I'm very pleased. Perhaps we will watch the film, too, if we don't pass away," the singer grins and sits down in front of camera to relate the story of her own life and that of her village.
Guerilla songs
In her film, Watts wants to introduce the Lithuanian folk song tradition but also to tell the story of each of the women, show how they live, talk to other people in the village.
"We follow all the grannies around with camera, to the barn to tend to pigs, hens, we get up early to go pick mushrooms, we met their families. We've captured many people of the village and of neighbouring villages – anyone who in one way or another is connected to the grannies," the filmmaker reveals her strategies. "We went to the adjacent village to see one of the last living guerilla fighters, Juozas Jakavonis-Tiger. He invited us to a repaired bunker next to his house, where he performed many guerilla songs. It was incredibly interesting."
Coming back for All Souls' Day
Watts, who communicates with the grannies using a few Lithuanian words she has learnt, is happy that she now has an abundance of valuable footage.
"The grannies loved to be filmed – they are born performers. Due to their age and deteriorating health, they cannot tour as easily, so they were very happy with the opportunity to talk and sing to us," the young filmmaker says.
Back in New York, Watts intends to go on looking for sponsors so she can come back to Dainava in late autumn or winter.
"We are very interested in traditions of All Souls' Day from these parts. I think they would be very suitable to film," Watts says. "We will need additional funding, but I feel that I can only do it now."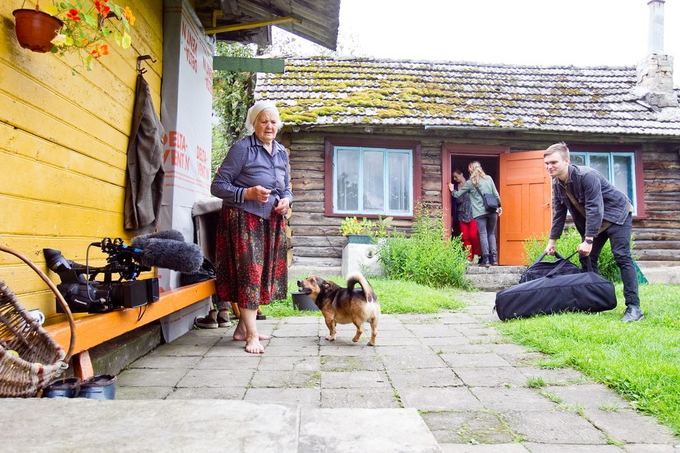 Irmanto Gelūno/15min.lt nuotr./Pranė Barysienė in her yard