12 thousand euros (41.4 thousand litas) – that is how much one-year tuition costs at the American International School in Vilnius (AISV), housed in Subačiaus street.
Classes for the smaller ones are 2 thousand euros less. Parents of primary school pupils would have to pay 8 thousand euros a year. The school even has nursery and kindergarten groups. These would set you back 3 and 6 thousand euros respectively.
The sums are huge even to people earning above-average salaries. But there are parents in Lithuania willing to invest in their kids' future.
At the moment, the American International School in Vilnius is attended by 190 pupils. Over half of them are Lithuanians.
Why do parents choose schools that are not simply private, but international, over public education?
"People choose us for a diverse multicultural environment, providing a unique opportunity to study with peers from many countries in the world, for a reputed international curriculum, for democratic and respectful teacher-student relations," deputy headmistress Ieva Dovydėnienė lists the reasons why parents opt for the school.
Children travelers
AISV admits applicants of all nationalities, races, and religions. Its current student body includes representatives of 20 countries, including South Korea, USA, Czech Republic, Estonia, India, Scandinavian countries, etc.
"The school is a micro-world – pupils are introduced to various cultures, traditions, customs, cuisines. We educate citizens of the world," Dovydėnienė says. "As for the little ones, parents are most concerned with their security and well-rounded education. Unlike public kindergartens, we guarantee education in addition to daycare."
Many pupils of the school come from migrating families. They are children of diplomats or employees at the Ministry of Foreign Affairs, offspring of traveling businesspeople. Many of these families have intentions of moving abroad for extended periods or even emigrating for good.
English is the language of instruction at the AISV. Classes of Lithuanian as a native tongue are being taught five times a week, using Lithuanian textbooks. "Our students are literate in both languages," Dovydėnienė assures.
The AISV is proud of its teachers, many of whom come from the US, Canada, or Australia. Teaching materials, too, come from the US or the UK.
Tuition at the AISV is pricey, yet the school does not brand itself as an elite institution intended to rich kids only. "We generously support bright 3-12-year students who have mastered English and whose parents can substantiate their need for financial assistance. We have a grant fund just for that purpose. The grant does not cover the full tuition, but it is rather solid," she says.
Entrants to prestigious universities
Next year will mark the 20th anniversary of the American International School in Vilnius. It started in a private apartment with only two students.
And now the AISV is the only school in the Baltic states offering two types of curriculum: American and international.
Last year, the school had its first class of graduates. 8 students graduated: three Lithuanians, an Austrian, an American, an American-Lithuanian, a Hungarian, and a Greek. All successfully applied to world's prestigious universities: MIT, Hult, Imperial College London, Royal Holloway, Kent University.
"These universities even offered scholarships to our students," Dovydėnienė enthuses.
This year, only two students are graduating from the AISV – a Lithuanian and a Ukrainian. The class next year is expected to be record-big: 12 graduates.
Biting tuition fees
Publicist and TV show host Andrius Užkalnis, who returned from London to Lithuania last year, has enrolled his two daughters in Vilnius International School. Education in English costs their father around 3 thousand litas a month. Besides tuition, this covers food and extra-curricular activities.
In selecting the school for his daughters, Užkalnis had two requirements: that one of instruction languages be English and that student body be nationally diverse. Based on the two criteria, he could pick one out of two: Vilnius International School (VIS) on Rusų street or the American International School.
"The American school impressed me with academic achievements of its students, but the fees were unbearable – my daughters' education would have cost me more than in the UK," Užkalnis says.
He did not even consider enrolling his offspring into any of the prestigious local schools in Vilnius. "The girls came from an English-speaking environment, so it would have been too extreme throwing them into an ordinary secondary school. Even though they do speak Lithuanian, they have never been instructed in it. Besides, parents of private school pupils take education more seriously. I think that is important," Užkalnis says.
As the first school year in Lithuania is nearing to an end, Užkalnis says his expectations have been met. The girls have adapted to the new environment rather easily. This is one of the advantages of international education institutions.
"For kids who have just moved from a different linguistic and cultural environment it is very important not to be the only travelers in the class. Many classmates of my daughters have similar experience, so no one has to feel black swans," Užkalnis says.
Vilnius International School is attended by over 200 pupils from 25 countries. Due to frequently migrating students, the school staff is used to dealing with kids who change homes often.
Drawback
Vilnius International School is accredited by the International Baccalaureate (IB) Organization and is the only institution in Lithuania offering IB Primary Years Programme and Middle Years Programme. The Lithuanian Ministry of Education and Science recognizes the curriculum as in accordance with the country's educational strategy and standards.
"Unfortunately, the school currently offers pre-school, preparatory school, primary school, and secondary school education. That means that two final years are missing. It's something of a bother, as my elder one is finishing year eight this year. That means that we will have to make a decision in two years – to enroll her into a Lithuanian or a boarding school abroad," Užkalnis projects.
Three-lingual
If parents wish their kids to be educated in a multicultural environment but do not insist on the English language, they have another alternative – Vilnius French School (Ecole Française de Vilnius, EFV) in Šilo street.
The school, founded in 1991, offers four-stage education based on French education system (école maternelle, école élémentaire, collège, lycée). Pupils are instructed in French.
Vilnius French School currently has 207 students aged 2 to 16. Most of them are Lithuanian. About fifth of the pupils are foreign nationals of eight different countries, most of them from France.
"The school is part of an international network – children are educated according to analogous curricula in 130 countries. This provides for an educational continuity. We hire teachers from France – they try conveying not just knowledge, but the francophone culture in general," headmaster Geoffroy Conuau says.
"Upon graduating from the primary school, our pupils speak at least three languages: Lithuanian, French, and English. Sometimes even more," Conuau notes.
Democracy and discipline
Paulius Keršanskas from Vilnius has two kids, both of whom attend the French school. 7-year-old Joris is finishing first-year of primary school soon while younger Amelija is attending a kindergarten class.
The Keršanskai family pay up to 2 thousand litas a month for educating their kids in a francophone environment. It's well worth it, they say.
"We do not regret our decision, even though kids are starting to converse in French between themselves, while my wife and I do not speak the language," Keršanskas laughs.
It was a family friend who told them about the French School in Vilnius. That was at the time when the family was looking for a private kindergarten for the elder son, as he did not get into a public one.
Multicultural environment, Lithuanian education
Six years ago, one more international school was opened in Vilnius. Except that this one instructs its students not in some foreign language, but in Lithuanian. Vilnius International Meridian School is based in Daukšos street.
It currently has 106 students. Another 35 have signed up to start next year. "Therefore we can proudly say that we are a new but rapidly growing school," says Jolanta Riaukienė, deputy headmistress for education.
The school has only three foreign nationals among its pupils – three kids from Turkey who come from the family of the school's headmaster and founder.
One fourth of the students come from multicultural families: Lithuanian-Polish, Lithuanian-Russian, Lithuanian-American, Lithuanian-Arabic, Lithuanian-Ukrainian, Lithuanian-Australian, Lithuanian-Danish. Almost all of them are Lithuanian citizens.
The eldest students are 12-13-year-olds, but the school aspires to grow and to offer full secondary education, becoming the Meridian Gymnasium.
"Our students are instructed in Lithuanian, following curricula set forth by the Lithuanian Ministry of Education and Science, so they will take Lithuanian graduating exams," Riaukienė says.
However, parents choose the Merician School for the opportunity to learn foreign languages. According to Ms Riaukienė, starting from year 5, students take some subjects in both Lithuanian and English. They can also learn French, Russian, or Turkish.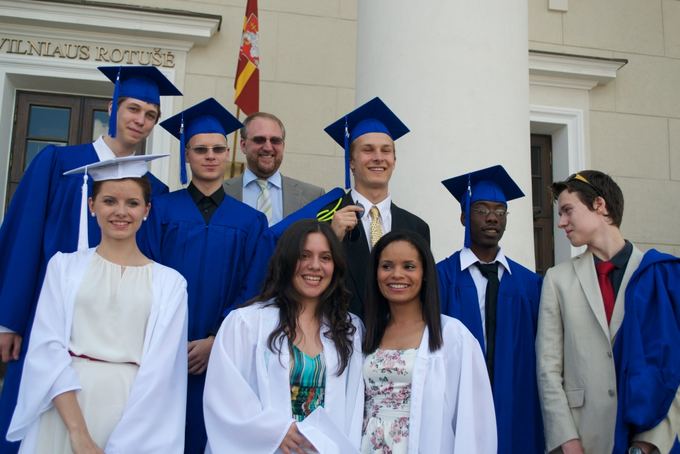 TAMV nuotr./First AISV graduating class.