"One does not need to do it quickly, one needs to do it well," says Audrys Matulaitis, 50-year-old manager of the estate, showing us around.
Deal with the state
Thirteen years ago, the man, economist by trade and owner of a successful construction business, made, it would seem, a reckless step. In 1999, state-run firm "Lithuania's Monuments" issued a call for tenders to rent Siesikai Manor and only one candidate answered – Matulaitis.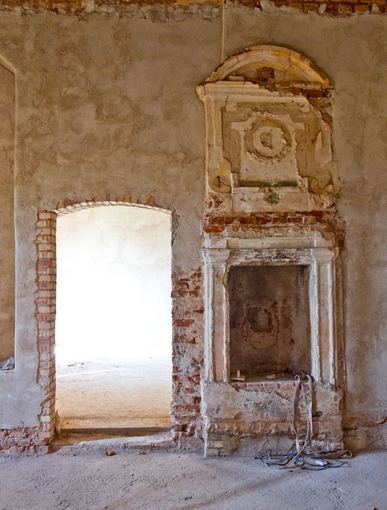 Irmanto Gelūno/15min.lt nuotr./Siesikų pilis
"Before, no one needed these old manors and I had my eye on Siesikai. I'd looked through several dozen estates, but it sometimes happens that one just clicks with a place and that's that," he grins.
And so he took out a 99-year lease on a state-owned land covered with wild bushes, debris, swampy ponds. The rent was 1 litas and the only condition – to invest enough money to fully rebuild the estate.
Gold underneath  worker's gloves
Two years later, Matulaitis relates, some men came to him and asked to sub-rent the estate.
"They offered me a million. I refused at the time, so no one made any more offers. Many people see me as an adventurer. Or think I am mental. Luckily, I am not the only one. I have colleagues," he gestures towards his two helpers, brothers Edvinas and Vaidas. "For earthwork, of course, I hire a brigade with special equipment. All construction work, however, is done with our own hands. I was very lucky – these men have hands of gold."
"Gold, but hidden in gloves," the two brothers wave their hands, jokingly. Matulaitis found them over a decade ago right here, in the town of Siesikai. The landlord is most amazed by their ability to make or build anything without much effort.
"For example, we might need some handle or a door hinge. What you'd normally do is you'd commission a drawing, hire a blacksmith who will necessarily want to add something of his own touch, to make it prettier or sweeter. And what I need is rationality – a door hinge is a door hinge and not an iron flower. Sure, we discuss everything with men, draw an outline with a charcoal on a wall, but then they do it quite organically," Matulaitis praises his help.
It was a conscious decision not to hire an entire brigade of builders – he did not want the restoration to be done hastily, without putting one's heart into it.
Starting with the brewery
The revival of Siesikai Manor started with cleaning up the surroundings and rebuilding a spirits brewery. "I didn't dare to start with the castle – you can get a lot of things wrong without proper research," Matulaitis recalls the beginning.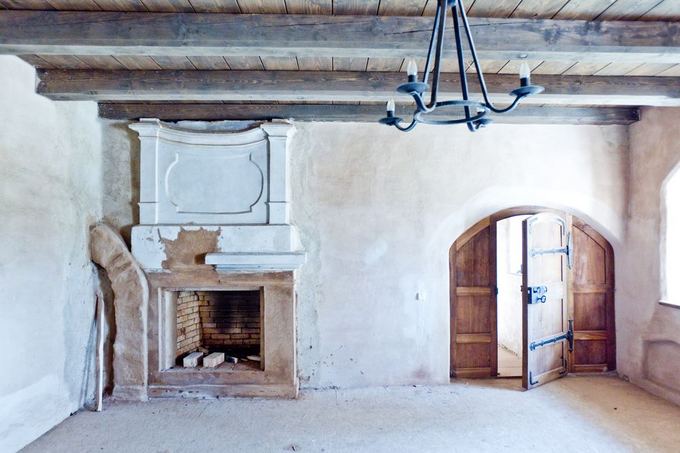 Irmanto Gelūno/15min.lt nuotr./Siesikų pilis
The original brewery, built 250 years ago, was in a rather poor shape. Its stone walls, erected after the war, were replaced with timber, the roof covered with lath, Matulaitis installed a bathroom inside, spacious rooms, a kitchen. This is where the landlord lives now.
After practising with the brewery, Matulaitis then tackled the castle. He initially planned to finish it by 2009, the millenary of the first mentioning of Lithuania. However, the plan failed. Why? Because every smallest detail must be authentic, well-thought, and well-crafted, he says.
Historic research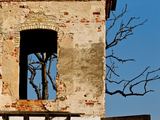 Irmanto Gelūno/15min.lt nuotr./Siesikų pilis
"I want to remind you that this caste is over half a millennium old. What other stone structures in Lithuania can boast such longevity? Perkūnas House in Kaunas, St. Nicolas Church in Vilnius, Trakai Castle or whatever was left of it. And Siesikai castle walls, most of its hatches are authentic. Many fragments survive that can help reconstruct the former proportions, height, width, inclinations," Matulaitis says. "The castle hasn't had many masters so it didn't go through many reconstructions. A lot of its original beauty has perished, but some things survived."
Matulaitis' irreplaceable aid in his quest for authenticity was architect-renovator Gražina Kirdeikienė. She has spent many years exploring Siesikai Manor. Some of the information on how the castle used to look like comes from the inventory book dated from 1725.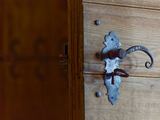 Irmanto Gelūno/15min.lt nuotr./Siesikų pilis
"It says, for instance, that this closet had a broken lock," Matulaitis points towards a wooden door covering a niche in a wall. A massive iron key sticks out of the lock. Another historical source – a Jesuit eulogy dedicated to one of the estate's landlords – says that the ceiling was ivory. So we can guess the colour it was painted."
Four more years
The ground floor of the 1,000-square-metre castle is almost finished. All that remains to be done is painting walls, laying floor, finish bathrooms – inclusions of the modern age. The floor above, however, still requires much toil.
"But I'm planning to finish it within four years," Matulaitis is optimistic. "After that I'll take on the adjacent neo-classical building, where the landlords set up a school for their children and other kids of the estate. No, I am not planning to have a break – work will never end here."
Matulaitis is not tempted to dip into EU support. Not only because of the massive red tape accompanying the money but also for some more subtle reasons. He thinks that manors rebuild on EU funds tend to resemble one another. "For want of any specific data on the interior and exterior of the buildings, no one cares much for 'trivia' like authenticity or the spirit characteristic to that one place only."
Mysterious drawings
Another necessary attribute of any castle is a legend. Sieiskai has one too. It relates how, many years ago, the wife of one of the Daumantai dukes fell in love with a foreign knight. Every night she would rush to secret rendez-vous on the bank of lake Siesikai. Upon discovering the affair, the duke walled his wife in one of the castle's niches.
Matulaitis could not find any documents substantiating the legend. What he did discover were mysterious drawings hidden beneath a layer of green paint on the first floor of the castle. One of them shows a nude man with a big nose and golden hair, next to him – a severed hand and an axe. Another drawing shows a half-naked beautiful maiden kneeling in chains. "Why is the man in the picture so ugly? In the Renaissance, big nose was a sign of scorn, so this man must be a villain, a seducer. And the woman is a victim – thus she is beautiful," Matulaitis interprets the story.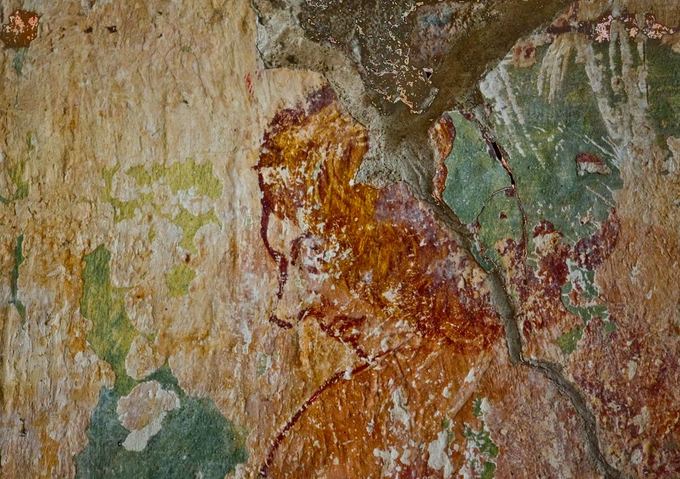 Irmanto Gelūno/15min.lt nuotr./Siesikų pilis
History of the estate
Siesikai Manor palace was built in early 1500s. Its main founder was Gabrielis Daumantas-Siesicki (died 1517). His relative – Grand Duke Daumantas of Lithuania – is remembered by history as the assassin of Lithuania's King Mindaugas.
The Daumantai-Siesickis resided in the manor until the 1704 attack of the Swedish army. The castle was ravaged and burnt down.
In 1736, the manor went to Michael Radziwill, as part of the dowry of Marcijana Siesicki.
In 1745, the deserted manor was bought by Constantine Dowgiallo. The family ran the estate until 1940. Between 1820 and 1845, the Renaissance palace was renovated by Dominik Dowgiallo, whereby it acquired classicist features.
After the war and until 1952, the castle housed a school and provided residence to teachers and servicing staff. Later it was turned into an office and eventually a warehouse.