We are not talking about the two teams' budgets or the number of titles each has won during their glorious histories. We are talking about fans – people who pay money and cheer their respective teams in arenas.
Statistics heartlessly points to the fact that Vilnius grows increasingly less fond of basketball. Only 13,200 people came to Siemens Arena to watch Lietuvos rytas players in three matches they have so far had this season. Žalgiris fans have been much more numerous – 37,070 in three matches.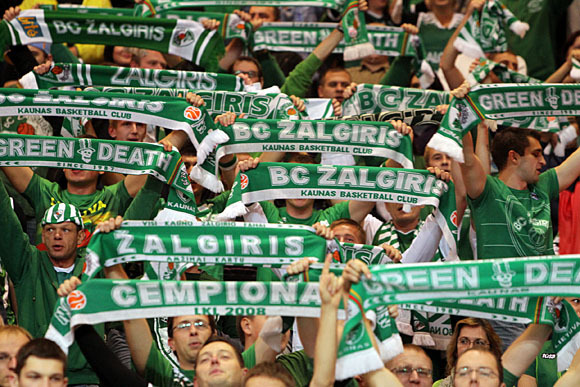 Eriko Ovčarenko/15min.lt nuotr./Žalgiris fans are more faithful to their team?
Mere five thousand
"Things have gotten worse after Eurobasket (2011) – people must have fed up with basketball, they want other kinds of entertainment," Martynas Purlys, director of BC Lietuvos rytas, proposes an explanation for empty seats in Siemens Arena.
The home venue of the Vilnius team used to be packed and attracted record-breaking numbers of fans just three years ago. This season, however, it could only claim anti-records. Only once was the 12,500-seat arena almost half full – LKF Cup final match with Žalgiris was attended by 5,100 fans.
Vilnians gave little notice even to the Euroleague match with the legendary Barcelona club which sold as few as 4,900 tickets. Not to mention VTB United League game with Krasnye Krylia Samara – only one fourth of the seats were taken.
Record-breaking attendance in Kaunas
Meanwhile the new Žalgiris Arena is going through what might be its golden age. Kaunas team's match with Lietuvos rytas attracted 15 thousand people, the match with Cedevita Zagreb sold 12,420 tickets, and during its VTB confrontation with Triumph Lyubertsy the team was cheered by 9,650 fans.
"There were people who said that Žalgiris Arena will be full on its opening night and a few times afterwards and that's it. Yet working with fans, special offers, and our determination to keep the arena full is bearing fruit," says Almantas Kiveris, BC Žalgiris head of communications.
During this season's Euroleague matches, Žalgiris Arena is, on average, 79-percent full, making it number seven among all league teams. Lietuvos rytas, meanwhile, fares significantly worse – 45 percent and number 20 among 24 teams.
"There are no miracles. A club must differentiate its strategies and pay attention to marketing. Then everything will go well. I can only say that whatever one might otherwise think of Žalgiris owner Vladimir Romanov, the team he heads has implemented a success formula – everything is neat and affordable," says former head of Eurabasket 2011 organizing committee Mindaugas Špokas, current adviser to the prime minister on sports.
Admission cheaper in Kaunas
"We could have raised prices before this season, yet we decided against it. Our marketing policy is flexible and, thanks to it, season-ticket owners can save hundreds of litas, while students, retired people get admission for prices they can afford. Most importantly, no one gets wronged. The club secures revenues, while fans get to cheer their team.
"One can get a ticket for 5, 10, 16 litas (1.5-4.5 euros). The most expensive season-ticket in Žalgiris Arena sets you back 619 (180 euros) litas for 20 games, the cheapest one, 179 litas. But there are additional discounts. We do everything that the fans are with their team," Kiveris assures.
Meanwhile Lietuvos rytas offers its little fans – 7 to 15 years old – season-tickets for 99 litas; active fans can get to watch season games for 199; and the most expensive season-ticket in Siemens Arena sets you back 908 litas (263 euros). Single tickets to a Lietuvos rytas game cost between 30 and 90 litas (87-26 euros).
Žalgiris has sold over 6 thousand season-tickets this year, while Lietuvos rytas, only about two thousand.
Failed novelty
"This year, we are no longer offering season-tickets on the upper circle of Siemens Arena. We decided so in order to bring fans closer to the floor. Cheering from concentrated fans will doubtlessly be stronger," says Andrius Žiauberis, director of ticket sales firm Tiketa.
Vilnius fans, however, chose another option – to skip pricey matches altogether. The upper circle was locked during Euroleague match with Barcelona.
"Vilnius is more affluent in terms of financial and human resources, yet it fails to tap into these advantages. Why not offer lower prices to students, admit small kids for free – after all, they will come accompanied by their parents who will pay for admission.
"Why not sell tickets for 3-10 litas – you'll see how many families will come. 50-litas ticket price is prohibitive if an entire 4-member family wants to go. Two hundred litas is a luxury... Meanwhile, the Vilnius team seems to be saving in wrong places and doing business where one should not," Špokas wonders.
Untapped star power
"Žalgiris aspires to sell itself as an all-Lithuanian team. And it is quite well-positioned to do that – it has a long history, traditions, so Lietuvos rytas would find it difficult to compete.
"People from other towns, too, come to see Žalgiris play, so Vilnius team should take a different approach – work up the patriotism of their own town. When a Vilnian is convinced that Lietuvos rytas is the team representing his town, he might start seeing the team and its matches differently. I remember that there was an attempt to do something to that effect, but wasn't fully realized: it all ended with a wish to substitute the slogan 'Vilnius city team' with 'All-Lithuanian team'," Špokas says.
He notes, moreover, that Lietuvos rytas fails to use the aces it has and market the team through its star players. And the club has always had recognisable names on its roster – Ramūnas Šiškauskas, Arvydas Macijauskas, Robertas Javtokas, Šarūnas Jasikevičius, Rimantas Kaukėnas.
"Kaunas team has and does try to have at least one star or starlet beloved by the fans. Lietuvos rytas used to have Jonas Valančiūnas on its roster. Was he useful for the team's marketing? I now look at the ways of NBA's Toronto Raptors management – Jonas is everywhere, they build the image of the team and entire city on him.
"What was it like last season? It seems to me that Rimas Kurtinaitis, who coached the club, promoted Valančiūnas and the entire team much better than Aleksandar Džikić. At the moment, Lietuvos rytas does not have a single player that could potentially be the point of attraction for fans. There are many new names on the roster, but these mean little to outsiders," Špokas speculates.
Purlys, director of the team, concurs: "There is some truth to it, that our roster does not have any famous names that could attract fans."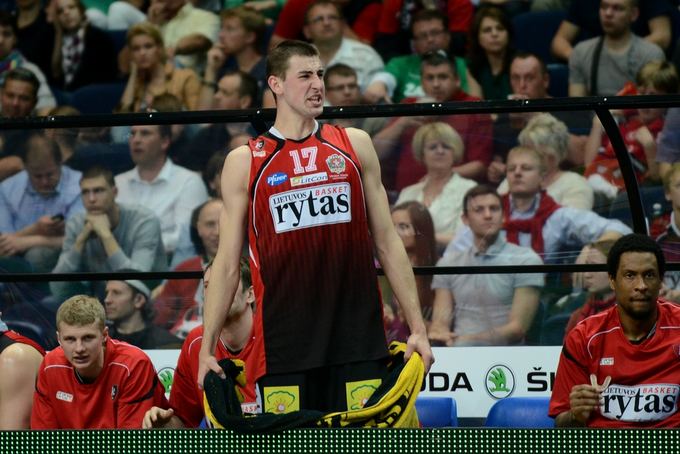 Sportoakimirka.lt nuotr./Star power of Jonas Valančiūnas could have been used more rigorously
Mėnesinis planas
Mokant už 1 mėn.
Pasirinkti
Tik nurodytoms banko kortelėms
Metinis planas
Mokant iš karto už 12 mėn.
Iš viso 47,88 €
Pasirinkti
Tik nurodytoms banko kortelėms
Išsirink tinkamą planą!
Apmokėti