The obverse of the coin shows a portrait of crowned Barbora Radvilaitė and Žygimantas Augustas. The reverse of the medal shows shows three different versions of Lithuania's coat of arms, Vytis, representing different different periods.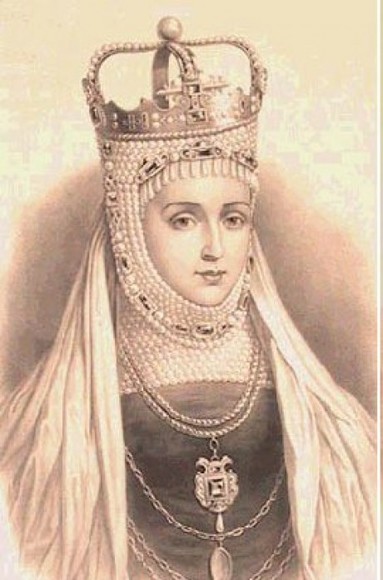 Barbora Radvilaitė
The medal was created by Dutch designer Elles Kloosterman.
"Historians often prefer the history of state or its political events. But a modern person is also interested in a more subjective side of history which has to do with human relationships, with the universal theme of love and passion. The love of Barbora Radvilaitė and Žygimantas Augustas blossomed during the Renaissance, the epoch which brought to the fore the ideal of a free, creating, and loving personality," says historian Jolanta Karpavičienė, Deputy Director of the National Museum – Palace of the Grand Dukes of Lithuania.
Žygimantas Augustas was the King of Poland and the Grand Duke of Lithuania in the 16th century. After the death of his first wife, he fell in love with a daughter of hetman of the Grand Duchy of Lithuania, Jurgis Radivla (Jerzy Radziwill). Their love, marriage, and Barbora's premature death became a legend and source for many subsequent narratives.
Up to this day, Barbora Radvilaitė is considered to be a beauty ideal in Lithuania. Her and Žygimantas Augustass story has inspired artists from different countries writers in Lithuania, Poland, and Belarus.
Išsirink planą ir skaityk be ribų
Mėnesinis
planas
Pirmas mėnuo – 1€,
vėliau po 3,5 €/mėn.
Apsimoka
Metinis
planas
Mokant iš karto
už 12 mėn. – 33,50 €
Apmokėti
Įvesk savo mobilųjį numerį, atsiųsime kodą
Į mobilųjį išsiuntėme kodą. Įvesk jį ir skaityk toliau