Lithuania
Number of Summer Olympics Appearances: Seven
Number of Medals Won: 13. Four gold, four silver, five bronze. This statistic does not include medals won by Lithuanian athletes under the Soviet Union.
Most Successful Olympics: Sydney 2000 (two gold and three bronze)
Most Successful Olympic Athlete: Virgilijus Alekna (Gold, men's discus throw, Sydney 2000; Gold, men's discus throw, Athens 2004; Bronze, men's discus throw, Beijing 2008).
Lithuanian Olympic Squad 2012
Athletics: Rytis Sakalauskas, 100m; Tadas Šuškevičius, 50km walk; Marius Žiukas, 20km walk; Virgilijus Alekna, discus throw; Povilas Mykolaitis, long jump; Raivydas Stanys, high jump; Darius Draudvila, decathlon; Neringa Aidietytė, 20km walk; Lina Grinčikaitė, 100m; Diana Lobačevskė, Remalda Kergytė and Rasa Drazdauskaitė, marathon; Kristina Saltanovič and Brigita Virbalytė, 20km walk; Eglė Staišiūnaitė, 400m hurdles; Sonata Tamošaitytė, 100m hurdles; Indra Jakubaitytė, javelin throw; Airinė Palšyte, high jump; Zinaida Sendriūte, discus throw; Austra Skujytė, heptathlon.
Badminton: Akvilė Stapušaitytė, women's singles.
Basketball: Jonas Valančiūnas, Rimantas Kaukėnas, Mantas Kalnietis, Jonas Mačiulis, Martynas Pocius, Simas Jasaitis, Darius Songaila, Renaldas Seibutis, Linas Kleiza, Paulius Jankūnas, Šarūnas Jasikevičius, Antanas Kavaliauskas.
Boxing: Evaldas Petrauskas, lightweight men; Egidijus Kavaliauskas, welterweight men.
Canoeing: Egidijus Balčiūnas, men's K-1 200m; Jevgenijus Suklinas, men's C-1 200m.
Cycling: Gediminas Bagdonas, men's road race; Ramūnas Navardauskas, men's road race and men's time trial; Simona Krupeckaitė, women's sprint and women's keirin, Vilma Rimšaitė, women's bmx.
Gymnastics: Rokas Guščinas, all-round men; Laura Švilpaitė, all-round women.
Judo: Karolis Bauza, men's -90kg; Marius Paskevicius, men's +100kg.
Modern Pentathlon: Justinas Kinderis, men's; Laura Asadauskaitė and Gintarė Venckauskaitė, women's.
Rowing: Mindaugas Griškonis, single sculls; Rolandas Maščinskas with Saulius Ritter, double sculls; Donata Vistartaitė, single sculls.
Sailing: Juozas Bernotas, RS:X; Rokas Milevičius, laser; Gintara Scheidt, laser radial.
Shooting: Daina Gudzinevičiūtė, trap.
Swimming: Vytautas Janušaitis, 100m butterfly and 200m individual medley; Giedrius Titenis, 100m breaststroke and 200m breaststroke; Mindaugas Sadauskas, 100m freestyle; Rūta Meiluytė, 50m freestyle, 100m freestyle, 100m breaststroke.
Wrestling: Edgaras Venckaitis, -66kg; Aleksandr Kazakevič, -74kg.
Top medal hopefuls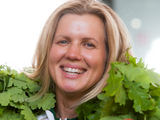 Juliaus Kalinsko/"15 minučių" nuotr./Gintarė Volungevičiūtė-Scheidt
Coming into the Olympics as current world champion, Gintarė Scheidt will be going to look one better than in Beijing in 2008 when she won silver in the women's laser radial. Wife of multiple-medal-winning Brazilian sailor Robert Scheidt, Lithuania's top medal prospect won the Laser Radial World Championships in Germany earlier in the summer, providing the perfect buildup to London.
With the end of his career ominous, the London games may well be the last chance for three-time Olympic medal winner Virgilijus Alekna to add to his tally. The 40-year-old is Lithuania's most celebrated Olympic athlete on account of his two gold medals and a bronze in four Olympic appearances. Despite his age, Alekna remains amongst the world's best as he enters the Olympics with a current world ranking of five, and deserved of the duty of carrying the Lithuanian flag at the opening ceremony. Finishing sixth at the World Championships in Daegu last season with a throw of 64.09 meters, Alekna appears to be in better form this season, having thrown 70.28 meters as recently as June.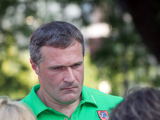 Viganto Ovadnevo nuotr./Virgilijus Alekna
Whilst Alekna is unquestionably Lithuania's most celebrated Olympian, Simona Krupeckaitė tends to be her country's best performer between Olympics. The 29-year-old cyclist has 12 World Championship medals, but has yet to add an Olympic medal to her collection. Her best chance should come in the women's sprint on 7 August. Earlier this year the two-time Lithuanian sportsperson of the year picked up a silver medal in the discipline at the World Track Championship. In her second event, the women's keirin, Krupeckaitė also has a valid medal chance, having medalled in the discipline at the World Track Championship as recently as 2010.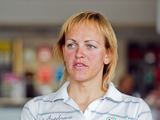 Irmanto Gelūno/15min.lt nuotr./Simona Krupeckaitė važinės nauju automobiliu.
In one of the world's more unique sporting events, Laura Asadauskaitė is a true medal hopeful. Competing in the curiously named modern pentathlon, an event that sees athletes pistol shooting, fencing, show jumping, freestyle swimming and cross country running, Asadauskaitė has finished third at the annual world championships as recently as 2011, and also goes into the Olympics as current European champion.
Who to keep an eye on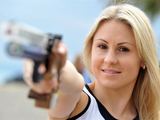 pentathlon.org nuotr./Laura Asadauskaitė
Already identified as a prodigy, Rūta Meilutytė has the potential to one day become one of Lithuania's greatest Olympians. At just 15 years of age, Meilutytė has qualified for three swimming events, the 50m and 100m freestyle, as well as the 100m breaststroke. Coached at the acclaimed Plymouth Leander Swimming Program in the United Kingdom, Meilutytė already holds nine Lithuanian women's swimming records, despite her young age. Last year at the European Youth Summer Olympic Festival, Meilutytė picked up gold in the 100m breaststroke, silver in the 50m freestyle and bronze in the 100m freestyle.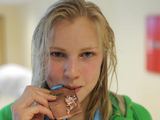 Alfredo Pliadžio nuotr./Rūta Meilutytė
When the Olympics begin, there is only one event that truly matters to almost the entire population of Lithuania: men's basketball. In one of the most anticipated events on the Olympic calendar, the basketball-mad Lithuanians have a record to be proud of. Since re-entering the Olympic stadium as an independent nation in Barcelona in 1992, the "green machine" has made it as far as the semi-finals in every Olympic men's basketball event since. The only other country to achieve that feat is the United States with their self-proclaimed dream-team.
Finishing third at the World Championships in 2010, Lithuania's journey to London has been far from smooth. Failing to earn direct qualification via Eurobasket, which the country hosted in 2011, Lithuania has had to travel to Venezuela to claim one of the last remaining berths via the Olympic qualifying draw. Now that they have made it to London, the path to the medal games is still riddled with hurdles, including tough group games against France, Argentina and Spain. They will need to win these games without inspirational center Robertas Javtokas, who has been ruled out late with a foot injury, joining 2012 All-Eurocup First Team nominee Renaldas Seibutis on the sideline. Up-and-coming star Donatas Motiejunas has made himself unavailable for London, in order to focus on his impending NBA career.
Despite these setbacks, Lithuania will take to the court to play Argentina on 29 July in the knowledge that their entire nation is behind them and watching.