The name Zarasai sounds different
Zarasai, a town in the north-east of Lithuania, was the first bearer of the flag, back in 2008.
"It has been five years since, but I still keep hearing questions about whether it was worth the trouble," smiles Daiva Šukštulienė, deputy head of the Culture Department at Zarasai Municipality, who coordinated the Capital of Culture events. "I am convinced that it was. It was more than worth it. Now, the name of Zarasai sounds different, people of Lithuania know us not as only a town on the border or near lakes – but also as a town of cultural events, which have since multiplied twofold. Some people hadn't heard of the lake Zarasas before."
All cultural events in Zarasai in 2008 were concentrated on one weekend which cost about 0.5 million litas (145 thousand euros).
"The return was massive – everyone spoke about us, showed us on TV. We could not have hoped for better promotion of our town," she says.
Zarasai soon became the host of Galapagai music festival, the 300 Lake Rally, the Strongmen Tournament. In Šukštulienė's view, the Capital of Culture programme is a great boost to small towns of Lithuania.
Plungė had a facelift
After Zarasai, the next Capital of Culture was Plungė. Vida Saukalienė, head of the Culture and Sports Department at Plungė District Municipality, says that the Capital of Culture title gave a significant boost to cultural as well as other projects – the townsfolk even convinced the central government that the town needed to have its central square renovated for the occasion.
"Everyone still keeps coming to see the bench with a guitar, a monument to all prominent musicians who came from Plungė," Saukalienė says.
The Capital of Culture project in Plungė cost, in total, about 400 thousand litas (116 thousand euros). Tourist flows in the region grew almost twofold that summer.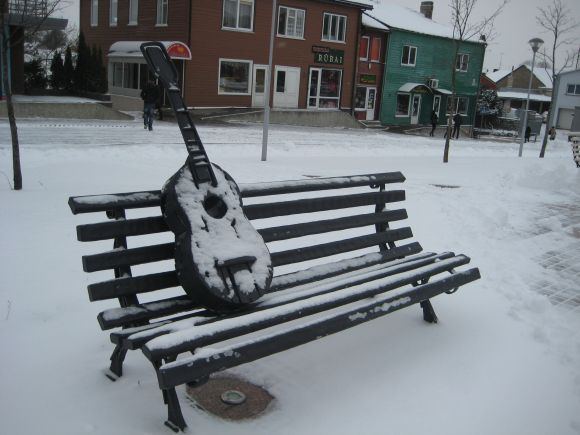 Aurelijos Kripaitės/15min.lt nuotr./ Plungė
Goat parade in Ramygala
Ramygala, a town in Panevėžys District, was famed for its beauty pageants for goats even before it was titled the 2010 Capital of Culture. So for the occasion the town decided to hold a big goat parade.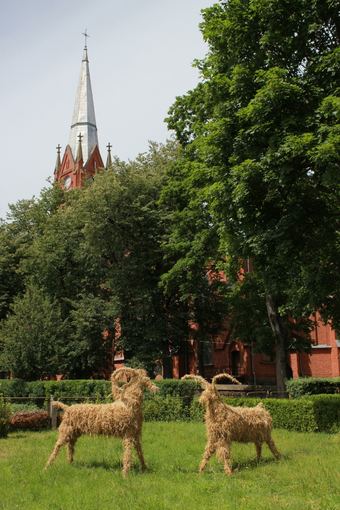 Organizatorių nuotr./Ramygala
"Ramygala had never seen so many visitors as it did during the parade. Ever since the year that we were the Capital [of Culture], culture events in our town have multiplied," the elder of Ramygala, Valdas Chirvas rejoices.
The citizens of Ramygala took the title very seriously – some of them even repainted their houses to make the town look prettier.
Those in charge of the project, budgeted at mere 200 thousand litas (58 thousand euros) gave priority to events with a lasting value, like the sculpture en plein air festival. Kindergarten pupils put their fingerprints on a giant stork statue – so they are always reminded that Ramygala is their home.
Memories of Lithuania Minor
"Trust me, we are very wealthy and have things to be proud of," says Vilma Griškevičiūtė of Šilutė Municipality Culture Department.
The town on the coast of the Baltic sea celebrated its 500 anniversary last year and was Lithuania's Capital of Culture. The people of Šilutė aimed at reminding Lithuania that in addition to four ethnic regions that the country is traditionally divided into, there is a fifth one, Lithuania Minor. Such was the name given to historic Lithuanian-speaking regions in East Prussia.
Šilutė invited visitors on a tour to flooded villages – to remind everyone that it was a land of water and the life of local people had been for centuries attuned to  the coming and ebbing of tides.
"The Capital of Culture project is a very good idea, but I'd like to point out that its success has nothing to do with funding – it is rather down to the local community itself. It was great to see all local organizations coming together for a common purpose," Griškevičienė reminisces.
Concerts in Šilutė Lutheran church were such a hit and they draw audiences even now. The town is planning to unveil an installation reminding of the active year 2011.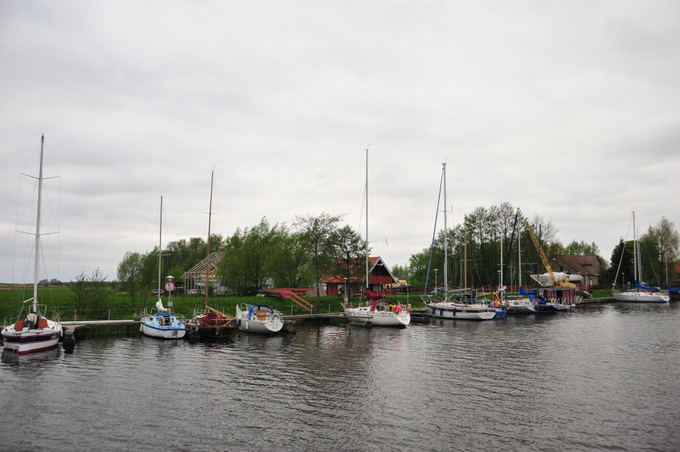 BFL/A.Kubaitis/Šilutė
Anykščiai earned fame for a jazz opera
Anykščiai, the 2012 Lithuanian Capital of Culture, is finishing the year... in a bath. The town invited its better-known citizens – swimmer Giedrius Titenis, dancer Deividas Meškauskas – to a playful photo shoot.
The centrepiece of Anykščiai Capital of Culture events was the 100-thousand-litas jazz opera Šventavartė, based on a legend by the author from Anykščiai, Antanas Vienuolis.
"The events are not over yet. The month of December is dedicated to the dialects of the Lithuanian language, since 2013 will be the year of dialects. I think we received a lot during this year. Something well beyond the material benefit. We drew everyone's attention to our town and showed them how talented people from Anykščiai are," says Vida Dičiūnaitė of Anykščiai District Municipality.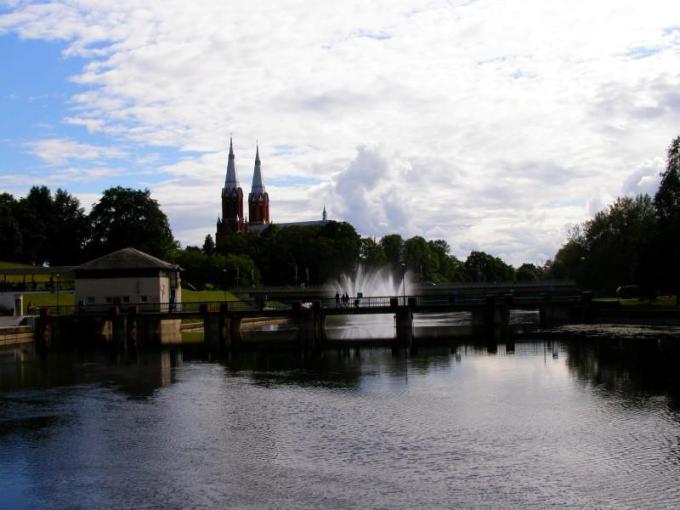 Mindaugo Tamošausko nuotr./Anykščiai
Tighter budget
Palanga, which is preparing to take over as the Capital of Culture next year, has recently received bad news. The Ministry of Culture is giving funding that will cover only one third of the project budget put together by Palanga authorities – 100 thousand litas.
Žilvinas Kažys, director of Palanga Arts Centre, says it will force the town to review its events calendar and probably give up some of them and look for sponsors to keep others.
The people of Palanga, however, are ambitious – they hope that the title of the Lithuanian Capital of Culture will attract more tourists from abroad. Especially since Palanga Airport is launching flights to London the coming spring. "We are targeting a grave, solvent client," Kažys says.
"We are not so na?ve as to assume that foreigners will flood Palanga just because it becomes Lithuania's Capital of Culture. But we will do everything we can to welcome as many guests as possible," says Vygantas Rekašius, director of the Culture Department at Palanga Municipality.
According to him, the town will release the full list of cultural events shortly. The total budget is set at 0.5 million litas (145 thousand euros). As the Ministry of Culture is cutting its contribution, the Municipality itself will have to take on a greater load.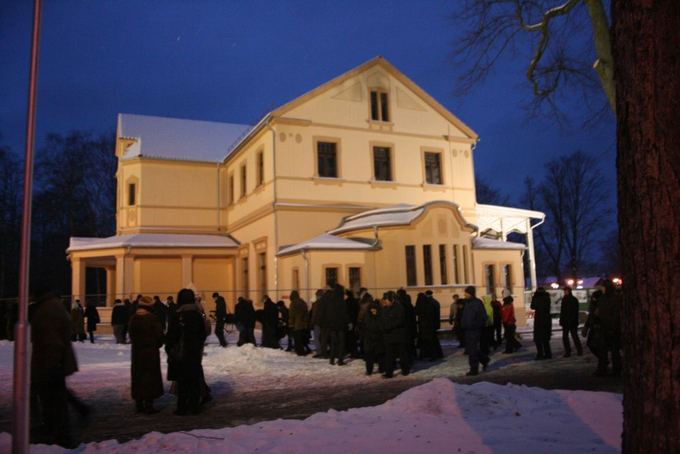 Aurelijos Kripaitės/15min.lt nuotr./Palanga
Lithuanian Capitals of Culture:
2008 Zarasai
2009 Plungė
2010 Ramygala
2011 Šilutė
2012 Anykščiai
2013 Palanga