The beginning has been tough for Edita - she caught an infection in Nepal that makes her cough and even take antibiotics. However, Edita is optimistic - it is better to get sick in the beginning of the expedition, she says, while there is still plenty of time to get better.
Edita shares photos and impressions from the Himalayas on her blog. The team has already reached the base camp where they will spend several days to get acclimatized to thinner air. Unfortunately, there is no 3G network on this side of Everest.
You can follow Edita's route via her spot tracker.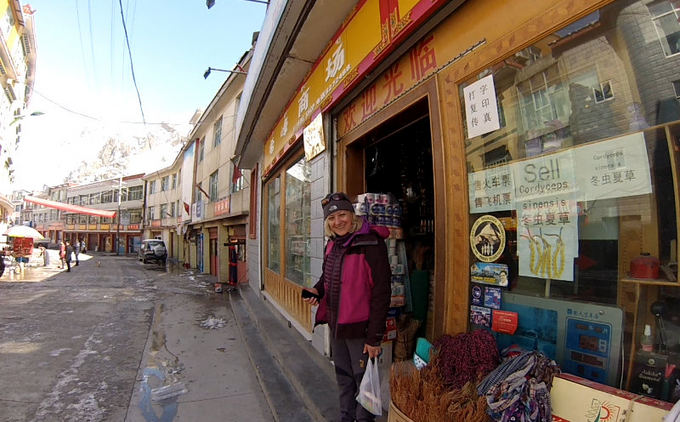 E.Nichols nuotr./Shopping in Nyalam
11 April entry on Edita's blog:
It is stressful to wait in line all day when you arrive late. If you can't get across the border before 4 PM on the asigned day, you pretty much lost your chance entering Tibet on this permit.
We were lucky all our group members passed the border without any problems. The gear and food also passed through except for our power generators. However, with a little cash, the problem was resolved without big delays.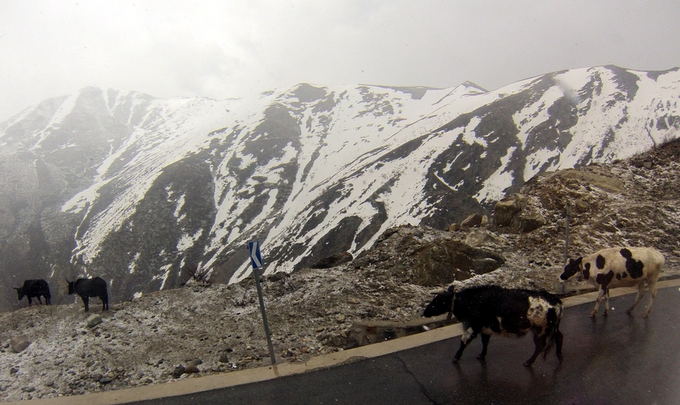 E.Nichols nuotr./On the way to Nyalam
During the border crossing, no photos or videos are alowed. So, my only photo is of all of us walking up the hill after we crossed the border. It was a 10-15-minute walk until we got to our bus. The road was so narrow and the passing trucks and buses were almost crushing us. Very dangerous.
We drove about 20 minutes to the nearest town of Zongmu, which is high up on a hill. I could feel our elevation was increasing. I remembered Zongmu from my Cho Oyu expedition in fall 2011. The hotel was the worst I have ever stayed in – dirty rooms with stinky toilets and no water. I was glad we didn't have to stay here on this trip. However, the food is good. I love Chinese food and it was pretty good now, a few years later. The only differece was that this time they asked us if we want Chinese food or Western food. We all unanumously voted on Chinese! You want to eat local foods in these places as you can get sick quickly from any foreign food - imported products are not fresh nor preserved properly.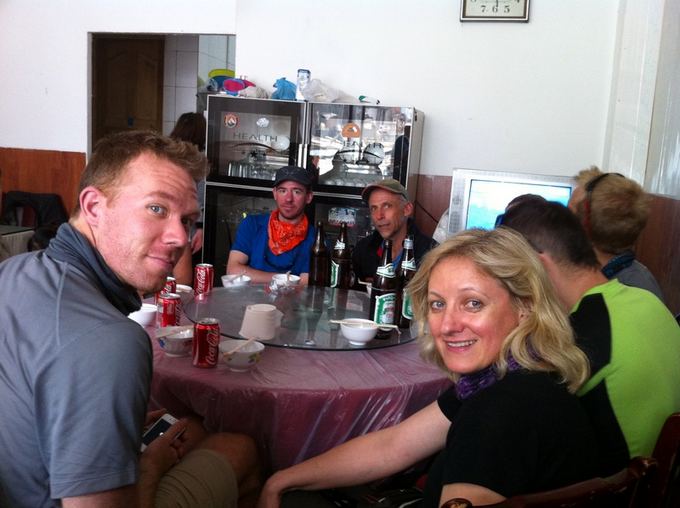 E.Nichols nuotr./Eating Chinese in Tibet
The drive from Zongmu to Nyalam was rather quick, about an hour drive from Zongmu which is on the Chinese-Nepalese border, along the Friendship Highway. Nyalam is not a very nice place, a single street town, damp and grey. Last night it even started snowing. The only way to stay warm is in your sleeping bag. The altitude here is about 3,500 meters and the air feels thiner. From here, you can see a range of hills in the distance. The river Bhote Khosi, which we followed when we left Kathmandu and from the border, flowed us up to here. I am still suffering from a chest infection I got in Kathmandu from dust and smog. The smoke that comes out from damp little houses here in Nyalam irritates my throat and lungs even more.
I am trying to avoid the places with open fire stoves as much as I can. Last night I was coughing so bad all night I started taking antibiotics. It is disapointing I am not even at the base camp yet. This morning I feel a little better, resting and staying warm in my sleeping bag all day. Other group members have the same problem, maybe not so extreme as me. I am enjoying Margaret's company who is my roommate here in Nyalam. She is taking slow pace, like me. Last night she chose to stay in bed and skip dinner. When I came back from dinner, I found a warm water bottle in my sleeping bag. It was the best feeling ever.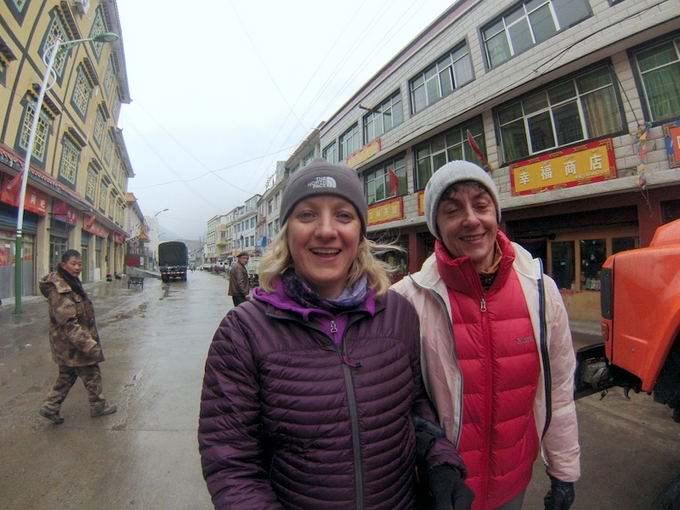 Editos Nichols nuotr./Edita and Margaret in Nyalam
We will stay in Nyalam until tomorrow. This is a part of our acclimatization routine. Tomorrow, we'll be going to Tingri which is at 4,300 meters. It will be almost another 1,000-meter increase. It does not seem a lot, but I felt yesterday while running up the stairs the effects of the altitude. My room is on the 4th floor and when I ran up, I had to stop for a moment as I felt lightheaded and out of breath. This has also to do with my bad cough during the past few days.
I am not worried about my health at this point. We have plentty of time to recover and acclimatize. Actually, I am glad it's happening now and not later on, during climbing. Hopefully, I'll build immunity for later on.
12 April entry on Edita's blog:
Driving from Nyalam to Tingri in a mini bus this morning, we passed over the Tibetan plateau, we reached the Tong La pass which is the highest point today (my altimeter showed here something like 5.2 km). We stopped here to take some photos – a classic view of Tibetan landscape with many Tibetan prayer flags hanging over the pass. There is snow everywhere on the road and on the surrounding hills. Phil said he had never seen that much snow in this area before. I asked if this was a good sign or bad. He said it was a good sign that meant there would be less of rock scrambling on the mountain when we started the climb.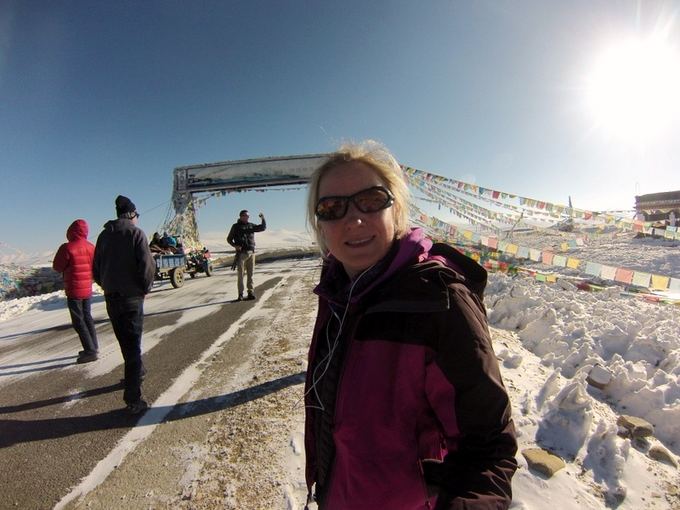 Editos Nichols nuotr./Highest point on the highway
The sky was so clear today. As we continued driving on the highest, we passed another 8,000-ner, Shishapangma, that is the only 8,000-ner totally in China (not on the border).
After reaching the Tibetan plateau's highest point, we started descending towards Tingri which is approximately at 4.3 km. Suddenly, ahead of us, in a bit hazy skyline, we saw three remarkable peaks – Cho Oyu (8.2 km) on the right, Gyachung Kang (7.9 km) in the middle and Mt Everest on the left! The stream of joy was powerful, coming out of my chest.
Editos Nichols nuotr./The Everest expedition team
We arrived in Tingri. I recognized the hotel from last time I came here before climbing Cho Oyu. The rooms are clean and sunny (by contrast, in Nyalam they where dark and damp). Tingri is even smaller and dirtier than Nyalam, but it is sunny and dry here. I feel much much better and my cough is going away. Beside a small wall about 200 metres up the hill outside Tingri where we went to see the views of Everest, we spent the whole afternoon sitting in the sun, drinking tea with honey (I found a litre of pure honey from Nepal in Nyalam) to treat my cough. Others are drinking Lhasa beer. By the way, Lhasa beer is so light that Phil is jokingly recommending it for hydration. It definitely has more nutritious elements than water.
Going up the stairs or up the hill, I definitely felt the altitude as I had to slow down and have a breath before passing out. However, I feel pretty good, no headaches so far. I am planning to take it easy here in Tingri, hoping to fully recover from my cough.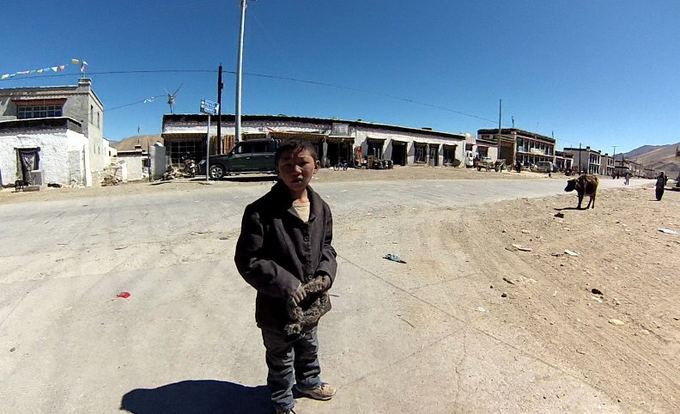 Editos Nichols nuotr./Tingri
Climb dedicated to poor African region
Edita dedicates her ambitious quest to a campaign called "Everest for Sahel 2013". She says she wants to draw attention to a serious food crisis that affects millions of families in the region and also collect some funds to help.
"When I was working in Niger, the media initially paid much attention to the food crisis. But later the interest abated. And people there are suffering not just famine. An armed conflict is currently raging in Mali," she says.
Sahel is a zone in west Africa stretching across eight states. The food crises was triggered by crop failure in 2011 due to adverse natural conditions. As stocks went down, food prices spiraled up. Many families cannot afford it and risk starving to death.
Edita saw suffering people with her own eyes and resolved to try and help them – she thought she could draw attention to their problems and maybe even collect some money for relief. She says her life changed after seeing suffering people.
"To finance the Everest trip, I spend my own hard-earned money and borrowed funds. I finance all my expeditions myself. This trip, too, is entirely covered by my personal funds and those of my sponsors [this time, though, sponsors cover only 3 percent of the trip, - 15min]. Meanwhile all the money donated or collected during the expedition, and intended for the people of Sahel, does not go to my own account but rather to one of the World Food Programme," Edita points out.
You can support Edita's Everest quest. To learn more about how you can contribute, press here.
To support Edita directly, press here.