Authors of Lituanica SAT-1 assure they are not trying to catch up with colleagues from Latvia and Estonia, who are launching their satellites slightly earlier than the Lithuanians.
"Sure, there is a little of the spirit of competition. But these are not star wars. We simply started the project too late," leader of the mission Vytenis Buzas says. " It's more of a space challenge for our country. The satellite will be launched from the International Space Station (ISS) – and that requires particular precision and Japanese-like pedantry."
Buzas and Mačiulis look forward to next autumn, when they are taking their satellite to the United States, carrying out final tests at NASA, and observing its launch.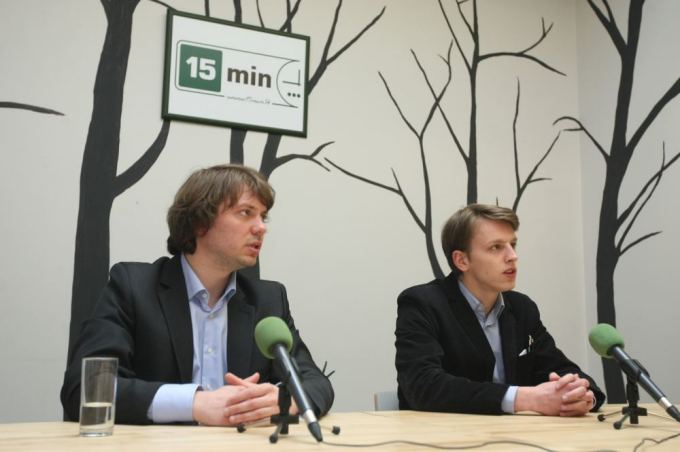 Creators of Lituanica SAT-1 Vytenis Buzas (left) and Laurynas Mačiulis
No room for mistakes
At the moment, 22 organizations and over 30 people are involved in the project. Creators of the satellite say the project is in its mid-point – the designing work has been completed, but the most crucial phase is still ahead – building the satellite.
The project must meet exceptionally high standards, so there is no room for mistakes. Therefore each component part of the satellite is manufactured in at least three copies.
The final design, too, will be in three versions. All three will be subjected to elaborate testing – to check their mechanics, tolerance of vibration and extreme temperatures.
True, even though it is supposedly a "Lithuanian satellite", some components used are made elsewhere.
"We bought certain components, but the overall design, the concept of how to put all the elements together – that is all made in Lithuania. We cannot use one hundred percent Lithuanian-made parts, there's too much risk. The most important elements have already been tested in space. That is, the main radio connection system and power supply system. Let's say, two chips out of six. The other four are Lithuanian – developed, designed, and produced in Lithuania," Buzas recounts.
Testing the technology
What is the purpose of the project and what will the satellite do orbiting some 400 kilometres above the Earth? The main goal of the mission is to test the Lithuanian-made technology in extreme conditions of outer space. If electronics works, it can be used in future projects.
The team has also devised a satellite navigation experiment.
"It is a rather complex task, since the satellite orbits the Earth at a speed of 8 kilometres per second. Determining its exact position is much more difficult than on Earth. Besides, we will be conducting radio connection tests – a unique experiment in a satellite of this type. It will have a mobile radio signal retransmission station that will allow people on Earth to communicate via the satellite," Mačiulis explains.
But the most fascinating task for Lituanica SAT-1 will be to take pictures of Lithuania from space. "The greatest challenge will be transmitting the data, since we'll have sixty times less power at our disposal than in a standard light bulb. So we need to optimize our use of that power, make it as efficient as possible," Mačiulis says.
Gone in smoke in six months
The mission will be carried out in several stages. First, once the satellite is launched, it will eject antennas and start automatically sending information to Earth about its status. The second stage will involve establishing a connection with the satellite and then, over the duration of one to two months, conducting complex experiments, including taking pictures of Lithuania and sending them to Earth.
Lituanica SAT-1 is projected to operate for over six months and then burn away in the atmosphere without leaving any waste behind.
"The satellite will be launched from the ISS using a unique Japanese technology. Japanese experimental module has a special robotic arm with a platform suitable for launching small satellites.
"Our satellite will follow a specified trajectory in order to make sure it does not hit any stations. Its orbit will diminish at a calculated pace, the satellite will descend into thicker layers of atmosphere until eventually, due to high velocity and temperature, it will burn away," Mačiulis explains.
"Online media" nuotr./Laurynas Mačiulis and Vytenis Buzas.
Lituanica SAT-1
Nanosatellite Lituanica SAT-1 will look like a 10-centimetre cube-shaped box with a weight not exceeding 1.33 kilograms.
Following NASA requirements, its body is made of a special extra-firm aluminium alloy.
Four radio antennas and one GPS antenna will be attached to the satellite's body.
The nanosatellite will be comprised of a flight computer, an Arduino board, an FM voice re-transmitter, an energy supply sub-system, a radio transmitter-receiver, and a mother board.