Soviet symbols as a joke
In Lithuania, where public display of Soviet symbols is outlawed, there has long been a debate on old Soviet comedies still attracting massive audiences on TV, on "Ruskoye Radio" being among the most popular radio station in the country, and entrepreneurs marketing their products with "Soviet" attributes – like "Soviet sausages." Some alert critics maintain that Moscow is consciously exploiting Soviet nostalgia to further its influence in the "near abroad."
Eglės Digrytės nuotr./Galina Zvereva
Zvereva of the Russian State Humanities University, however, says one should not read too much into it: "For young people, jewellery with Soviet signs is simply a joke or an object of camp appreciation."
For them, the Soviet past means something entirely different than for Russian communists. Therefore fashion designers use Soviet symbols to adorn their designs to cater to paying customers who do not see ideological meanings originally inscribed in signs of the totalitarian regime.
"On my way to Vilnius, in an airport shop, I found a rather expensive T-shirt sporting a huge USSR coat of arms and an artificial fur hat with a red star. I thought I should buy it and wear during my presentation – as a joke. But then I wondered: would everyone understand that I was joking?
"For some, it might be important. People who do not entirely live in the present do not have that many places to turn to for solace. And such an embracing of sovietism is essentially an ideological move – a disavowal of current politics. And it is not necessary to like Soviet ideology in order to look for refuge in it. Many people do not even realize that what they are looking for is the possibility of the impossible – if I cannot go to New Zealand, I might at least go some place in my mind."
Zvereva was invited to give a presentation on discourse of the Soviet past as a means of collective identity in the Russian media in a conference organized by the Institute of International Relations and Political Science of Vilnius University and the Centre of Central European Studies.
Over the last two decades, building of the Russian state has been inseparable from constructing a collective identity. Russia is a multi-ethnic nation or rather a conglomerate of nations and different identities take hold in its regions. The fact was confirmed during the 2010 census, when people were allowed to identify themselves however they wished: citizens of the world or the Earth, residents of the Universe, mulattoes, Caucasians, Cossacks, Siberians, Khokhols, or even soviets.
Researchers give different explanations for the perseverance of the "Soviet past": habit, collective nostalgia, historic trauma, conscious manipulation on the part of the current regime. As people strive to construct a new identity for themselves, everything Soviet plays a compensatory function, even though it has little to do with the historic past.
Old newspaper names
Zvereva shares a long list of signs of the Soviet past that continue to circulate in the public sphere, in state and education institutions, the media, fashion and food industries: monuments for Soviet figures, souvenirs, names of places.
These signs turn into brands or fashion items out of sheer habit or for economic purposes. A hybrid identity is thus formed, encompassing aspects modern and past.
The city of St Petersburg was given its old name back, even though it is still the centre of Leningrad Oblast. Konigsberg is still called Kaliningrad. Moscow has a Lenin Avenue. Russians continue to publish newspapers called "Sovietskij Sport," "Komsomolskaya Pravda," "Moskovskij Komsomolets." Zvereva believes that the names were retained as well-established brands rather than out of reverence for the Soviet Union.
It has been very trendy lately to "revive" the USSR in restaurants, cafés, and hotels. In Moscow, there is a hotel "Sovietskij" which calls itself historic. A special website lists restaurants like "Canteen No 57," "Service Entrance," "Special Buffet No 7," "The Caucasian Prisoner." Zvereva shows a photo of a waitress wearing a brown Soviet-like school student uniform and ribbons in her hair.
This style, apparently, is not only popular with Russians. A restaurant named "Partizan" was opened outside Kyiv, with interior design, dishes, and staff uniforms matching the name. In Lithuania, near Druskininkai, there is a popular tourist destination called Grūtas Park – a museum of old soviet statues, where food is served in tin plates and atmosphere is enhanced by Soviet music. And Soviet references in product branding is by no means limited to Russia alone – there are "Soviet sausages" sold in Lithuania's supermarkets.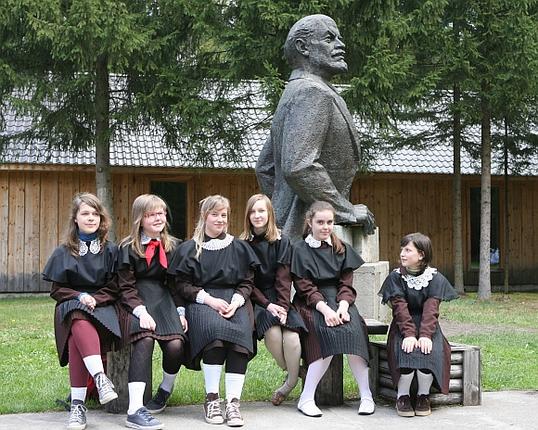 AFP/"Scanpix" nuotr./Welcome back, Lenin! Grūtas Park in Lithuania
Soviet reconstruction
The current establishment maintains the image of the Russian Federation as a successor-state of the USSR as well as a thousand-year-old power. The "Sovietskaya Rossiya" paper unequivocally offers its readers a "right to the thousand-year-old history and values of the Soviet civilization." The paper seeks to marry two "words central in our history just like they are married in our lives: Soviet Russia."
Similar claims abound in movements like "For Soviet Union," established in 1994, and history textbooks, where the issue of the state is linked to a need for a "heroic national history" – uninterrupted, comforting, uncontradictory. Government of United Russia, the ruling party, established the National Modern Ideology Development Institute charged with shaping the country's ideological-political space.
The Soviet past is something not only to be reminded to adults, but to kids as well. An international federation of 80 children's organizations was established in 1990 and called the Union of Pioneer Organizations. This year, the union is organizing a campaign called "Greetings, Pioneers!" aimed at introducing Russian kids to the history of the Soviet Pioneer movement.
A TV channel "Nostalgia" has been on air in Russia since 2004. It introduces itself as a "channel about time" and targeted at people "who have things to remember." Channel One broadcasts a TV show by famous Russian journalist Leonid Parfyonov reconstructing the Soviet times.
A number of on-line blogs are dedicated to that purpose, bringing together paintings, photos, film, animation, information on Soviet actors, songs. Event organizers even offer themed parties with pioneer uniforms, etc.
Love and hate of the USSR
The Soviet past discourse gives away social uncertainty, discontent about the present, a wish to escape to an imaginary world contrived by the media using real or mythological pieces of the Soviet Union, Zvereva says.
One video on YouTube tells a story of "The USSR that we lost" and that was the most powerful country in the world, nothing like impoverished modern Russia. Author of another video admits that he wants very much to go back to the USSR.
A comment posted underneath the video – signed by a man with a Lithuanian-sounding name – expresses regret that a homeland was taken away from him. But there is sarcasm, too: "Who says it was bad? It was great when your father was taken away at night. I got to eat his soup, there was more space left in bed for me and my sister. Father's hat came in handy in winter. Mother started working two shifts, so no one interfered with us setting home on fire. True, we wanted to eat and howl from longing, but it passed eventually. We got used to it. Otherwise, everything was great. But I wouldn't go to the Soviet Union for anything in the world!"
Other comments thank soviets for eliminating illiteracy, industrializing the country, beating fascism, flying to space. "Not only would we not lock doors, we would leave keys underneath a mat. Food products were good, education excellent, and, most importantly, the country needed everyone," one comment reads. Another commentator admits that he feels like an orphan. Those born in the 1980s are even referred to as the lost generation, since they didn't get to experience life in the USSR.
In such an atmosphere, according to Zvereva, the society is divided into "us" – people who reject the unsatisfying present and remain soviet citizens deep at heart – and "them," who took everything away and are now thriving.
The disadvantaged ones loudly complain about their lives, yet are civilly irresponsible and socially passive. They easily give in to the "strong government" and their keeping one foot in the past prevents the Russian society from modernizing.
The new USSR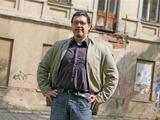 Eriko Ovčarenko/15min.lt nuotr./Gintautas Mažeikis
Dr. Gintautas Mažeikis of Vytautas Magnus University:
"Soviet symbols encompass many things – nostalgia, memory, we attribute historic and political meanings to them. Modern digital industries need to create different realities and pit them one against the other. Memory is being constantly reproduced, various companies make use of it by selling their products to people struck by nostalgia. Others engage in scaremongering – look how awful times they were. And there are many signs produced to prove just that. The signs are also meaningful to those who play computer games and watch movies. These practices multiply signs of the past, not only preserve the remaining ones. I would not overuse the word 'nostalgia.' There aren't many people who are able to concentrate and recreate – and thus re-experience – images of the past. It is more likely to do with popularity, attraction that does not come from memory but is rather produced here and now. What consumers are offered are not Soviet images and things – these are becoming increasingly expensive and hard to come by – but rather new produce. The USSR created now is essentially different from the historic one – one can manufacture a USSR that is appealing to the market."