"The Snow Child" is a wonderful combination of reality and fantasy. The boundaries between magical imaginary world and life in the wilderness of Alaska are masterly interwoven, leaving no doubt that Eowyn Ivey is one of the most promising new writers, who certainly has found her own style.
In an interview to 15min, the author discusses how the fairy tale about Snegurochka made her abandon another novel that she has been working on for nearly five years; what influences her most; what things change in Alaska over centuries and what stay the same; and, finally, her thoughts on her favorite Alaskan experience.
- The story of the novel is based on a Russian fairytale, "Snegurochka". Why have you picked this fairy tale – how did you find it and did you read it in your childhood?
- I discovered the fairy tale just a few years ago while I was working at Fireside Books. I was shelving books when I came across a children's picture book that retold Snegurochka. I was so surprised that I had never read it as a child, and it lit my imagination on fire. I abandoned another novel I had been working on for nearly five years and began writing The Snow Child.
- Prior to writing this book, you have been working as a journalist. How do you think this job influenced your writing, your style?
As a reader, I enjoy being left to my own thoughts and imagination when I have finished a book, and I wanted to allow that for my readers.
- I hope it helped me tune my skills as a writer – for nearly 10 years I have been writing at least a dozen articles every week. I think between my journalism background and my mother exposing me to poetry throughout my life, I strive toward a clarity and conciseness as a writer. I hope to make each word do as much work as possible.
- I know that authors don't like their novels to be compared to other writers' works, but maybe you can tell what books were your biggest influences while writing this novel? Some critics find a strong dose of magical realism and hints of Gabriel Marcia Marquez, while others point to Knut Hamsun, etc. How do you feel when your novel is being compared to these books?
- You are right -- it is difficult to compare one's own writing to others. But I can easily tell you who I admire greatly and which writers I hope have influenced me even in small ways – Louise Erdrich, Annie Proulx, Toni Morrison, Cormac McCarthy, Larry McMurtry, M. Allen Cunningham. I could go on and on, because, first and foremost, I am a reader and that is where I find my inspiration as a writer.
- I think, one of the strongest features of this book is how it portrays Alaska's nature, the wilderness. It is harsh, cruel, and also subtle and beautiful at the same time. But the action of the book is taking place in the 1920's – how life in Alaska today is different from the one sketched in the book? What difficulties, described in this book, have you had to overcome yourselves, living in Alaska?
- In urban parts of Alaska, life is very similar to other places around the world. There are shopping malls and public transportation and other conveniences. But in remote, rural areas, many Alaskans live not so differently than my characters. People rely on hunting and gardening for their food and their lives are very much interwoven with the wilderness. As for me and my family, we straddle the two worlds. We hunt moose, caribou, bear and pick wild blueberries. But we also go to the grocery store and watch movies.
- The book is like a bridge between reality and fantasy, the reader is left with many unanswered questions (even the ending of the book – some readers take it as sad, other as optimistic) and a big space is left for imagination. Sometimes I feel like it is not the plot, but the atmosphere that is the most important element in the book. Was it your goal to leave a lot space for mystery, imagination and possibility for readers to make up answers themselves?
- As a reader, I enjoy being left to my own thoughts and imagination when I have finished a book, and I wanted to allow that for my readers. Throughout the story, I worked to keep both possibilities alive – that Faina is a snow child and that she is a mortal human. And I wanted to end that way, too. It has been so much fun for me as the author to hear how readers interpret the ending.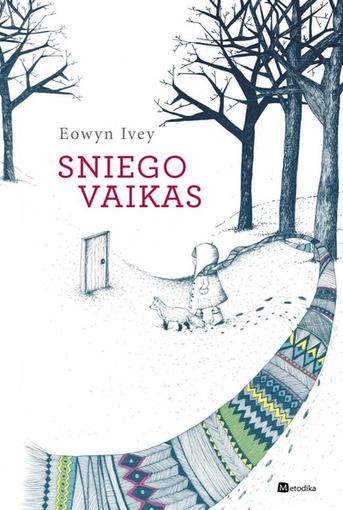 "Sniego vaikas"
- The book has been translated into many languages. Where did it get the biggest response? Did you get any feedback from Lithuania by now?
- I can't tell you how touched and amazed I have been at the response worldwide. Here in the US, it spent more than six weeks on the New York Times bestseller list as a hardcover, and it was also a bestseller in the UK and Norway. Every week I receive emails from around the world – Argentina, India, Scotland, South Africa, Australia. And I look forward to hearing how it is received in Lithuania.
- The cover for this book was different in all the countries where it has been published. Which ones are your favorite, and is the Lithuanian one among them?
- Yes, I love the Lithuanian cover – the little girl and fox and door in the hill, but my favorite part is the long, winding scarf with all its colors and patterns. Each cover has been so unique and beautiful. I know some authors are frustrated by their cover art, but I have been blessed again and again. There is truly not a single cover that I don't admire.
- Which of the characters in the book is easiest for you to identify with? Are some of them based on real people?
- As I was writing the novel, I would start with a certain seed of myself or someone I knew well. For example, Jack has my husband's steady, calm nature, and like Esther I have shot a bear in my own backyard. But very quickly the characters developed their own unique traits and became entirely separate, and sometimes even surprising to me.
- I know that you are a passionate reader. Which three books would you love to have written yourself? And maybe you could name, for example, five books that changed your understanding about literature most?
- I can't think of a single book other than my own that I wish I would have written – but that's only because I think fiction is entirely personal and unique to the writer. But there are many, many books that have fuelled my love of literature. And while I admire classics from bygone eras, I am particularly enamored with the modern novel, books like Love Medicine, Cold Mountain, The Brief Wondrous Life of Oscar Wao, Black Swan Green, Gilead, Angle of Repose, Ordinary Wolves, The Ice-Shirt … it is dangerous to get me started. And constantly I am discovering wonderful new novels, and they all help shape how I read and write.
- How "The Snow child" changed your life? Are you writing a new book now?
Early on, when "The Snow Child" was picked up by publishers, I had one experienced author tell me it would change my life, and another say my life would stay much the same.
-Early on, when "The Snow Child" was picked up by publishers, I had one experienced author tell me it would change my life, and another say my life would stay much the same. They were both right. The most important parts of my life are unchanged – my family, my life in Alaska, my goals and work as a writer. That said, The Snow Child's trajectory has been an astounding and remarkable experience. My family and I have been able to travel around the world, and as a writer I have many new opportunities. I am working on another novel. It will share some similarities with "The Snow Child" – set in historical Alaska with some mythological elements. But I hope to continue to grow and push myself as a writer.
- Many people say that they would like to go to see Alaskan nature by themselves after reading "The Snow Child." How would you describe you favorite personal Alaskan experience, you favorite time of the day there and the place to be?
- It is so hard to choose just one. I love salmon fishing on long summer days, picking blueberries with friends in the fall, camping on the tundra when we hunt caribou. But perhaps one of my favorite activities is sledding. On dark winter nights, we invite friends and neighbors to our house because we have the best sledding hill in the area. We light a big bonfire outside, and people bring their sleds and headlamps. Then we all go zipping down our long driveway, through the snow and past the trees. Children, parents, grandparents – everyone goes. Two or three people will pile on to one sled. A few of the braver people will ski down the steep hill. Then we gather around the fire to warm up, before sledding down again.