Pikūnas has spent twelve years living abroad. He returned to Lithuania from the UK in late 2011, after the European Basketball Championship where he was working with the British national team.
– Are young people in Lithuania public-spirited?
– They have always been public-spirited. Sometimes there's a desire to highlight things that do not exist. I cannot speak for everyone, but most young people wan to do something, to contribute. Many look at things pragmatically – it is only natural and quite commendable. These young people are really bright, they want to work and instantly grasp what's what.
One can never know when a young person in Australia, Canada, or Scotland might decide to come back to Lithuania – or when to leave.
– One can have the best of intentions, but are there enough opportunities and right conditions to realize these wishes?
– There will never be perfect conditions to realize everything. It would be boring. But conditions can be created through joint effort. One must understand what a young person needs – career, contacts, pep talk, or just advise. The most important thing is communication in this kind of work. When communication fails, you get enmeshed in your inner anxieties and disappear from view.
– Who are members of the World Lithuanian Youth Association – just Lithuanians who are based abroad?
– Membership is open to representatives of our unions in other countries. But since Lithuania is what we have in common and we have many contacts with it, naturally, we are visible here as well.
After all, the world is a global place, one day you're here and the next, somewhere else. One can never know when a young person in Australia, Canada, or Scotland might decide to come back to Lithuania – or when to leave. Connection with other people is key, everything else is just details.
– What are people who live abroad like? I get the impression that they are often more public-minded and communal than those who remain in Lithuania.
– The grass is always greener on the other side. But there's some truth in it. I've spent twelve years in England. In Lithuania, you take many things for granted. Sure, it depends on the company you're surrounded by. In some communities, there are too many Lithuanians, they've created an insulated Little Lithuania for themselves. But it would be wrong to pigeonhole people and say that everyone lives like that. It has more to do with expressing your point of view in a different culture.
It might happen that you start longing for Lithuania. You go to a shop, spot a curd snack or some other Lithuanian product that you'd never buy from a supermarket in Lithuania, but it seems so delicious. Finding yourself in a different environment makes you look at things differently.
One can never know when a young person in Australia, Canada, or Scotland might decide to come back to Lithuania – or when to leave.
Are people abroad more patriotic and public-minded or less? I do not think it's a worthwhile question. That's not the point. True, many people discover their love for Lithuania and for what they had here once they leave. In the end, it depends on where they go. Many people miss Lithuania's lakes and meadows. There are things you cannot do in England. Say, lakes are a longer ride away (I do not mean London parks) and swimming is only allowed in the sea. All land is private property. The quality of life is better in Lithuania.
– When it comes to feelings for one's country, much like in interpersonal relations, love probably seems an all-overpowering feeling only in the beginning. In the long run, it's hard work keeping it alive. Activism in Lithuanian communities takes time, effort, and even material resources. Are young people who live abroad ready for that? How many people are motivated by their desire to actually contribute something rather than just hang out with people they can talk to in Lithuanian?
– People do find time and enthusiasm. It depends on their ambition. If they wish to set up a student society, celebrate holidays together, play basketball, everything happens more or less naturally. Holidays are holy. And if young or older people want to do something more together, that's when organizing starts. So one of the goals of the WLYA is to make the organization stronger so we can help clubs and organizations in other countries grow. Oftentimes they have little idea of what to do, how to set goals.
There are good examples, too. People in France and Denmark exceed all expectations with their work and do not advertise what they do. They know what they want and how to do it – so if they come to us for help, it is usually just to give some guidance or introduce to the right people. For example, we introduced Denmark to ISM university – and now they cooperate successfully, make big plans. They are strong and motivated enough to find common ground and help one another.
– In last year's general elections, voter turnout in Belgium was record-breaking, 86 percent. More people came to vote there than in the UK, Ireland, or the United States, where Lithuanian communities are much larger. Perhaps the public-mindedness for many people ends with curd snacks and Christmas parties?
A public-minded person is someone who finds a place for him- or herself and knows how to make a contribution.
– People do not attach enough importance to elections. Several years ago, we had a campaign in the UK, inviting people to vote. You must attach that to some bigger event – and even then you won't have a crowd. People might not turn up to vote because it's too much expense, bother, no one will give them a day off. Which is hardly a good excuse – one can vote by mail. It has more to do with making the society understand that they can decide. The turnout is slowly but growing. For now, it is truly low, but I do not believe it will grow dramatically bigger.
Voting results were markedly different (half of the voters in Belgium voted conservative, one fourth voted for the Liberal Movement, and only one tenth, for the social democrats, E.D.). In the UK, the turnout was low, because you can only vote in embassy. And to get there, you had to take a day off, take a trip. If you don't live in London, voting can set you back some 70 pounds. You can vote by mail, but people still need to be shown how simple it is. Besides, there's still the prevailing opinion among young people that one vote won't make any difference. And older people do not have the tradition of voting.
– Let's go back to where we started – are people public-minded?
– What does it mean to be public-minded. It's like a raisin that everyone understands differently.
– Perhaps we should start by deriving a common denominator from curd snacks, basketball, and elections? It happens that someone who does not speak a word of Lithuanian is more patriotic than someone just off the plane.
– A public-minded person is someone who finds a place for him- or herself and knows how to make a contribution. Voting and other stuff are an expression of that. It is an important expression, but it's more of a sign that "we are doing something." Public-mindedness manifests itself through self-discovery and willingness to give.
– This summer, World Lithuanian Youth organized an assembly in Prienai District. What were your thoughts after the event?
– I had great many thoughts. My biggest discovery was the realization that young people crave for some content, be they 18 years old or 35. The often held view that they only need bread and circuses is false. This event, the first of its kind and attended by 3.5 thousand people, exceeded all expectations. Maybe the format was attractive to young people – a good balance between form and content. The main discovery was the fact that such events are needed. I say this judging from people's moods and later feedback. I know that this event inspired great many other events and initiatives. For example, I went to Punsk last weekend to attend a two-day conference "Punsk 2020 – first steps towards future career." It's inspiring.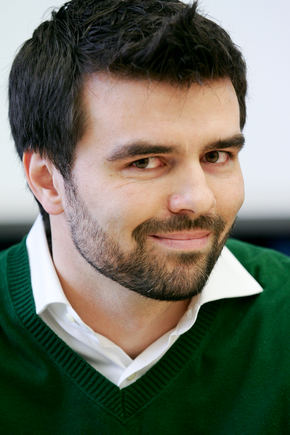 BFL nuotr./Kęstas Pikūnas
It's time to change the way we look at community and associations. Before, it was like this: you're a member, you pay membership fees – well done! But not any more. A community must provide conditions and opportunities for action – so you can create them for other people around you. We must turn to the person, create content, added value. And organizational matters must stay inside.
– Algirdas Kaušpėda, singer of the band "Antis," said in that same assembly that Lithuania's number-one problem was not emigration but rather demography. The biggest potential problem, he said, was social atomization, concentration on personal well-being. Whereas he believes that the nation is not just beer and basketball victories – it is a commitment for one another to create, to respect, and to love, it is life without self-loathing and scorn for the other.
– There's a stereotype about people who live in East London (the part of the city with the biggest concentration of Lithuanians, E.D.). Or people who work in factories. I've met all kinds of people – East Londoners, construction workers. They're all the same. What they all share – City bankers and Olympic village construction workers alike – is their wish to keep in touch one way or another.
I sometimes catch myself categorizing people. There's a cliché that only the select few come to events at the embassy. In fact, everyone can come – but this fact must be better broadcast. It is hard work that people do voluntarily – and often amateurishly.
The Lithuanian diaspora is quite young, if you don't count the DPs. Communities in Europe are particularly young. They are still looking for themselves. And these communities will shape the organizations, their communication, and their message.
– What part of the diaspora could possibly be held within the orbit of Lithuania? So that people who live abroad and do not necessarily regularly come home are part of the community, take part in elections?
– It depends on conditions and our choices. It might be interesting to speculate on that, but in the end, it's silly and futile. Much depends on what the future brings – and we're the ones who make the future. We were told: don't be silly, no one will come to a youth assembly. But come they did – and got so much out of it. This way, you shape those who will continue to shape Lithuania, its community. We can take the Irish or Jews as our examples, even though we've got our own specifics.
Shaping people's attitudes is important. Will they move adrift or not – talking and not doing anything about it is easy. And it annoys young people – they think: won't they just quit talking the same over and over again! One month, emigration is OK, there are plenty of events. The next month, it's bad, the nation will disperse. But it's natural that people talk – and they will. But so what if we will eventually drift apart – is that a reason to stop working? If we, as a nation, are doomed for extinction, then let's make us last for at least a thousand more years. Since if we do nothing, we're gone in a hundred.