Focus on convenience and prestigious location
"In recent years, modern businesses have been paying particular attention to finding new homes, i.e., new offices. We have noticed that location is becoming extremely important. Businesses are primarily looking for easy accessibility by car, bicycle and on foot for both customers and employees. Managers are not only looking for a place for their teams to work, but want to provide opportunities to enjoy being at work. High concentration of restaurants and cafés around the office for enjoyable lunches and the opportunity to exercise and be active after work plays an important role here. These are the advantages we offer to our partners and clients in BLC Business Centre," says Giedrius Muliuolis, Head of Commercial Department at SBA Urban.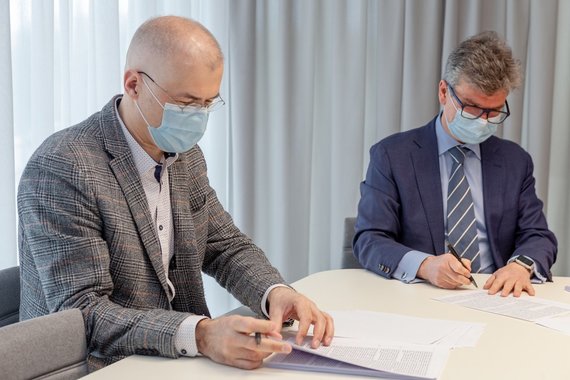 Lionginas Šepetys and Audrius Sveikata
Biomapas has also paid a lot of attention to location and convenience when looking for a space for the new office. The team of 100 employees will move into a space of more than 1,000 sq. m. in the autumn.
"Seeing the company's rapid expansion, we made the decision to move to the new premises in order to provide attractive conditions for our successfully growing team and to create a modern space corresponding to our image and our changing needs. The BLC Centre, located in the refurbished Vienybės Square, is surrounded by a number of progressive businesses that create an atmosphere for innovation and new initiatives, and we are confident that the new space will provide further opportunities for expansion," says Audrius Sveikata, CEO of Biomapas.
Giedrius Muliuolis adds that partnership with companies in the life sciences industry, such as Biomapas, helps SBA Urban understand the needs of the industry, and what measures to take and change in order to effectively support their ecosystem. This is particularly important in preparation for the development of the planned high-tech campus in Riga.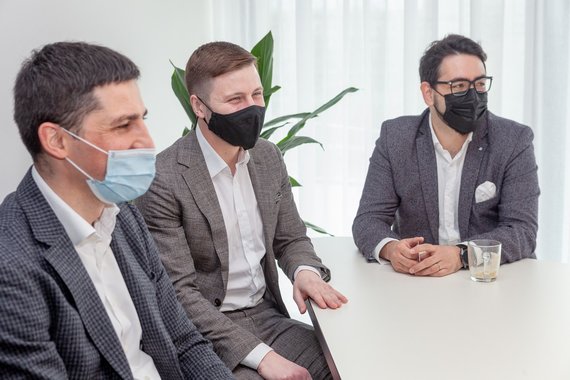 BLC Biomapas and SBA Urban
"In this project, we will develop a unique and new concept where the campus will bring together communities from one or more related disciplines and high-tech businesses, member of which will not only exchange ideas, but also develop future projects. A development-friendly ecosystem is also important for our new partners in the BLC Business Centre, therefore, working together in this case will be a mutually beneficial," says Mr. Muliuolis.
New needs in the office rental market
According to Giedrius Muliuolis, the office rental market is currently witnessing quite rapid changes in clients' priorities. First of all, the pandemic has further highlighted tenants' demand for more flexible contracts. It is also becoming more important to ensure expansion opportunities.
"Especially technology companies can enter the expansion phase quickly and abruptly, so the possibility to expand in the same business centre becomes an important aspect when looking for office space and rental partners. Finally, it is becoming common practice to look for an office where no more than 80% of the employees work full-time. This need has been shaped by the pandemic, as well as by the normal turnover of staff during holidays, extra days off for parents, and distance work," says Mr. Muliuolis.
The occupancy rate of the BLC Business Centre is more than 90% and almost all of the 19,000 sq.m. are already occupied by businesses. The offices here are rented by such information technology companies as Blaster, Ernst & Young Baltic, Tele2 and others, and in the summer a customer service department of the bank Citadele will be established here. This year, the business centre BLC 2 became the first business centre in the Baltic States to be awarded the highest three-star Fitwell Employee Wellbeing Building Certificate, which confirms that the office environment is focused on improving the physical and emotional well-being of employees.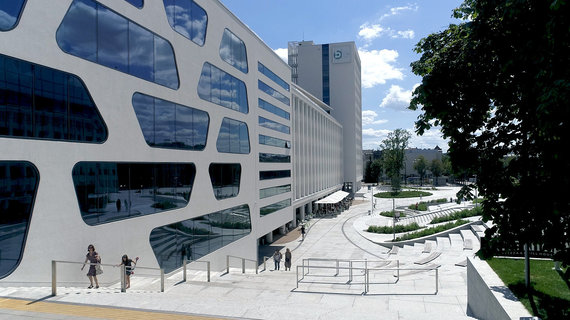 BLC business centre
The BLC business centre in Kaunas located next to Vienybės Square newly refurbished by SBA is being developed by SBA Urban, which manages the Green Hall business valley in Vilnius. SBA's investment in BLC 2 and Vienybės Square amounts to around EUR 40 million. "SBA Urban has developed Kauno Dokas, a business centre owned by Capitalica Asset Management. SBA also developed industrial buildings, such as the logistics centre Innovo Logistika and the furniture production plant Laminn in the Industry Innovation Valley near Klaipėda, and later sold them to the Estonian fund Eften.
About Biomapas
Biomapas is an international company that has been providing smart solutions to the industries of biopharmacy, medical supplies and technologies for over 20 years. Biomapas offers innovative solutions in the areas of clinical trials, drug registration and safety, thus ensuring the efficient assessment of the safety and efficacy of medicines and medical supplies, the compliance of the registration of these products with local and international requirements, and the establishment and maintenance of appropriate pharmacovigilance systems. The team currently consists of more than 300 professionals in their field. The company has 8 offices in Lithuania, Poland, Sweden, Switzerland, Russia, Georgia, Ukraine and Kazakhstan, provides services in more than 60 countries and continues to expand its global reach.
Translated by Metropolio vertimai – your trusted translation partner
Jau prenumeruoji?
Prisijungti
Išsirink planą ir skaityk be ribų
Mėnesinis
planas
15min prenumerata

Kasdienis naujienlaiškis
BNS Sprintas

ŽMONĖS Cinema prenumerata
Pirmi trys mėnesiai – po 0,99 Eur,
vėliau – 4.99 Eur/mėn.
-50%
Metinis
planas
15min prenumerata

Kasdienis naujienlaiškis
BNS Sprintas

ŽMONĖS Cinema prenumerata
Apmokėti
Įvesk savo mobilųjį numerį, atsiųsime kodą
Į mobilųjį išsiuntėme kodą. Įvesk jį ir skaityk toliau
Norėdamas tęsti – prisijunk
Norėdamas tęsti – užsiregistruok