"We wanted our team members to feel as if they were at home while working in the office, not wanting to leave the space which also encourages creativity. We often call ourselves the SBA family and so we wanted for our headquarters to offer people the very best conditions to showcase their talents and develop further. We set up numerous autonomous and closed workspaces where our staff can focus on their work or come together to generate new ideas. Our office reflects the group's philosophy – to foster human connections as well as inspire creativity and unrestrained thought through brave solutions. While developing business centres and implementing other real estate projects, we noticed that the very best results are achieved when Lithuanian and international creators work hand in hand," says Indrė Pociūtė-Levickienė, head of administration at SBA Group.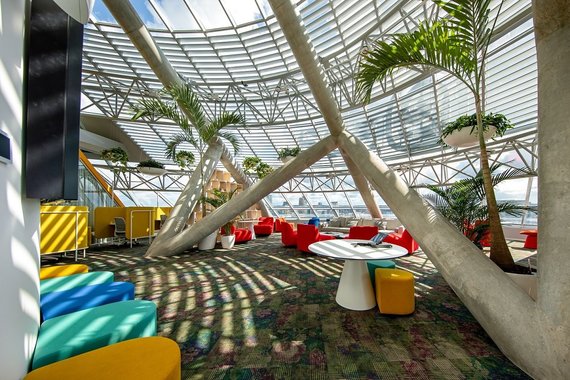 SBA biuras
A chance to create the interior of SBA's headquarters was offered to the Swiss company Evolution Design, which works with the largest global corporations, and the Lithuanian architecture studio Heima, which has won a multitude of international awards and cooperated in developing and setting up other SBA real estate projects.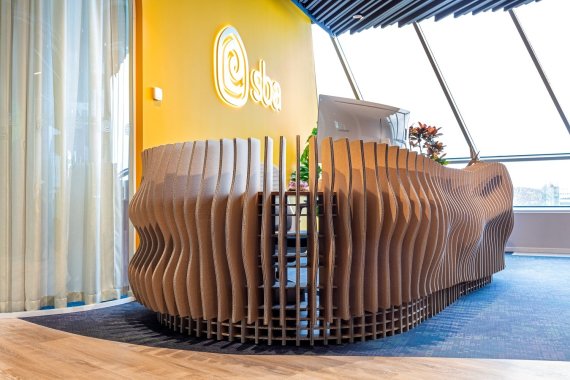 SBA biuras
A brave and bright interior – the expression of culture
"The concept of the new SBA office expresses the innovative, daring, forward-thinking and creative spirit of the company. There are no edgy corners in this office, in order to promote out-of-the box thinking and free flow of creativity. With its playful shapes and open space arrangements, SBA headquarters is designed to promote getting together and uninterrupted exchange of ideas. The overall youthful, relaxed and funky designs are envisaged to bring positivity, good vibes, and inspire the team to live up to the company's motto: 'Invent every day, for the Better'," says Tanya Ruegg, partner and creative director at Evolution Design who contributed to the concept.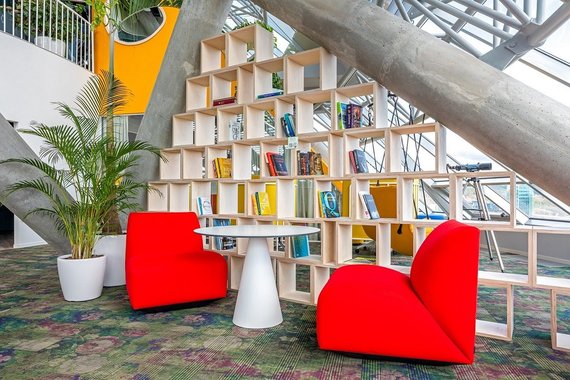 SBA biuras
According to Ruegg, the bold use of vibrant colours, patterns and materials derived from nature, Lithuanian folklore and art, pays homage to the tradition and heritage while continually inspiring new visions and bold, limitless thinking.
Spaces to encourage creativity
The new SBA office's interior concept was implemented by architects Povilas Daugis and Domantė Požytė from the Lithuanian architecture studio Heima.
"We wanted it to be different to traditional offices and incorporate SBA's exceptional spirit. Even while working with the group's other projects, we have always felt the desire to aim for more, do better, create something even more interesting. Thus, it was clear from the get-go that SBA itself should have a cosy, interesting and inspiring home. We wanted for this interior to reflect the SBA's approach to their working environment – it should be inspiring, not restricting. It should make people feel free and at ease," says architect Povilas Daugis.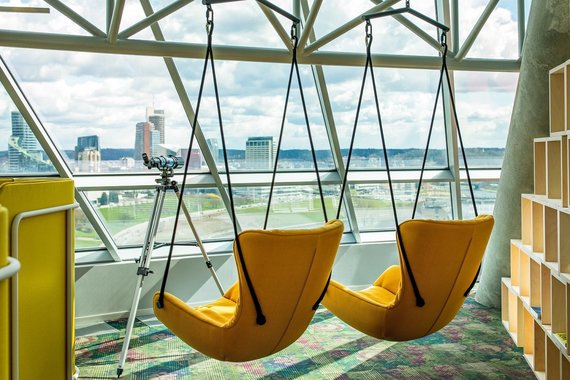 SBA biuras
The office takes up two top floors of the Green Hall 1 business centre. This means that all working spaces have access to natural light, while creative thoughts are inspired by views through the windows – the Neris river and its modernised right shore, the red roofs of the Old Town, the greenery of Vingis Park, Žvėrynas and Karoliniškės Landscape Reserve.
Private spaces for work
While designing the interior, a particular emphasis was placed on closed small and private workspaces, which had been thoughtfully planned out even before the pandemic and have proved particularly useful during the current situation.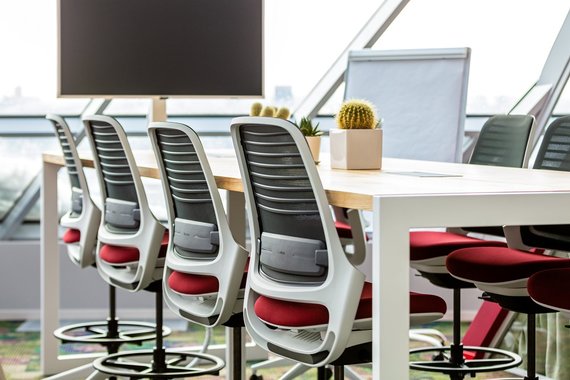 SBA biuras
Most staff members are currently working from home or are only visiting the office on pre-arranged schedules for a few days a week. Thanks to the well thought out project, those arriving are fully capable of complying with set rules. Separate offices have been arranged for each individual or for small teams, there are also cabins for video and phone calls. Six small 2-5 person meeting rooms are currently also being used as both offices and places to make remote video conferencing calls from. They contain the newest video conferencing equipment and a convenient reservation system.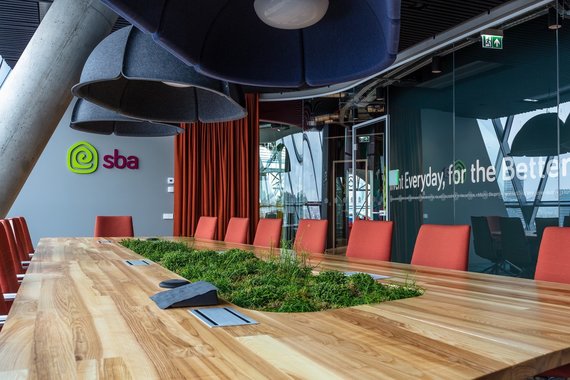 SBA biuras
Staff members can recharge and de-stress in specially-designed exercise spaces, which feature punching bags, gymnastics rings and other sports equipment. The resting zone allows one to take a break and enjoy the swings, settle on the couch and read a book from the nearby bookshelf.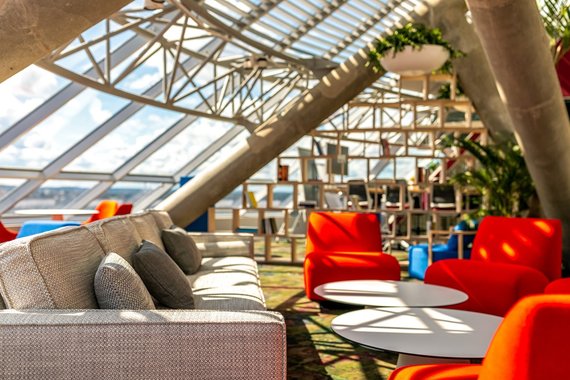 SBA biuras
Special boards are placed for writing down mottos and goals, this way encouraging the employees to come up with new ambitious business ideas and think outside the box. This way, even if a team member isn't at the office, their colleagues will know what they are focused on what they are pursuing.
Attention to sustainability and cosiness
One of the core principles for the SBA Group's operations is attention to sustainability. With this in mind, before the new office was set up, a competition to create a "Sustainable Desk" had been organised to design a reception desk from renewable materials. Based on the winning design of Andrius Devetinas, artisans from the SBA Group's company Šilutės Baldai, who have previously created a special dresser for the Pope's visit to Vilnius, crafted an office desk with a matching armchair.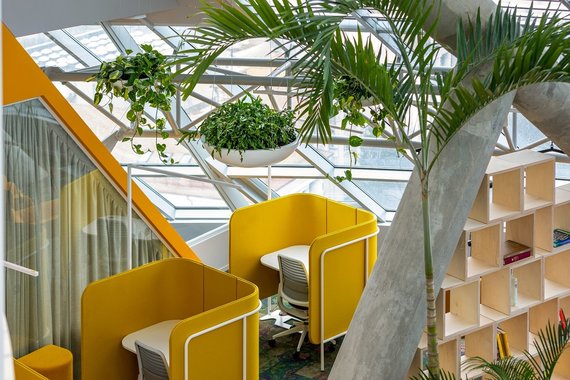 SBA biuras
The interior is made cosy by rich and deep colours, details made out of soft felt or fabric. Workspaces were designed to be functional to suit both teamwork and individual activities. Mobile acoustic barriers and adjustable-height tables were created so each team member can choose their workspace based on their particular needs.
Jau prenumeruoji?
Prisijungti
Išsirink planą ir skaityk be ribų
Mėnesinis
planas
15min prenumerata

Kasdienis naujienlaiškis
BNS Sprintas

ŽMONĖS Cinema prenumerata
Pirmi trys mėnesiai – po 0,99 Eur,
vėliau – 4.99 Eur/mėn.
-50%
Metinis
planas
15min prenumerata

Kasdienis naujienlaiškis
BNS Sprintas

ŽMONĖS Cinema prenumerata
Apmokėti
Įvesk savo mobilųjį numerį, atsiųsime kodą
Į mobilųjį išsiuntėme kodą. Įvesk jį ir skaityk toliau
Norėdamas tęsti – prisijunk
Norėdamas tęsti – užsiregistruok