Anna Ilmere, the interior design expert of the shopping mall on the internet 220.lv, has observed that in Latvia, residents increasingly want to integrate their interior into the concept of a smart home, combining it with the minimalism which is popular today, and observing the correct placement of furniture.
Anna Ilmere
According to the expert, a smart house is an automated building management system that combines several technologies. Not only does it provide a high level of safety, but it is also energy efficient. This system allows you to control lighting, space heating, ventilation, radio, television and household appliances, remotely take care of your four-legged pets, as well as take care of security in your home during your absence. The main motivation for many to choose the smart home concept is to save time, energy and money in the long run. However, what do you need to know for those who want to combine the improvement of their home with an elegant interior, without forgetting about technology?
Don't make mistakes in the beginning!
The mistakes that people most often encounter when decorating a house according to the principles of smart housing are incorrect spatial thinking, "loading" the room with too massive furniture. The inclusion of inappropriate decors can also be a problem. Such rooms will fit some but large decor, such as vases, paintings and coffee tables. Lighting also plays an important role, this time one chandelier in the middle will not be suitable, so it is recommended to divide the living space into zones and choose lighting accordingly. For example, the lounge area can be highlighted with a floor lamp, but it is better to place a table lamp in the work area. In addition, the most important thing is not to have wires around - even if you like the "high tech" style, remember that undisguised wires make the room messy and chaotic.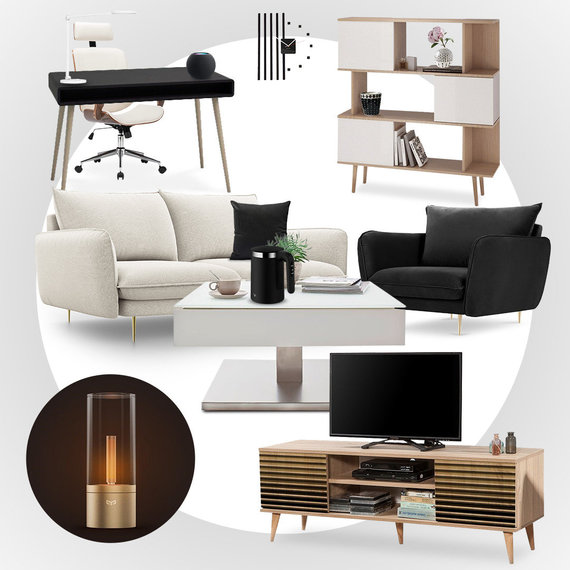 Pigu.lt furniture
How to start when decorating a smart house?
Anna Ilmere points out that the most common challenges faced by people who want to move to the concept of a smart home are the high costs and the need to change the engineering infrastructure. However, it is a myth: "Although initially smart innovation requires some financial investment in the long run, it will be a way to save. Also, a recent trend is experimenting with the design of small spaces, such as equipping garden houses with smart solutions. Smart solutions are easy to move from room to room, and it is completely wrong to say that they require additional cables or other power supply solutions to implement them. "
Traditionally, people build the foundations of a smart home by connecting to a good internet connection, followed by the first equipment, for example, by purchasing robotic vacuum cleaners. In this case, the interior designer recommends taking into account that most of the furniture should be 10 cm-15 cm above the ground, so that the robot is at the bottom can clear all the dust. And if the room is carpeted, it should not be with long bristles, or too high. As for the overall interior of the room, it must be constructive, characterized by a clear organization of the room. Also, the chosen furniture must be functional, easily transformable and maintainable. For example, furniture on casters, which can be easily moved around the room as needed, or transformable tables, which can be used both as a coffee table and as a dining table, are quite practical.
Or should the sleeping area include smart solutions? How about getting up in the morning and opening the curtains without leaving the bed? Today, this is possible thanks to technologies that allow you to operate blinds and curtain holders with a remote control. When choosing curtains, it is most often recommended to look at the type of roller-cassettes, which do not take up much space and do not accumulate dust. It should be noted that lamps and light bulbs can also be operated with voice and sensors, and these solutions are by no means expensive, and it is also a functional long-term investment that will definitely pay off over time. As for the interior and furniture, so that the technological solutions fit well into the overall "tech" atmosphere, it is desirable to choose rectangular or oval-type upholstered furniture with a simple finish that can be decorated with chrome details. The bed can be chosen in a simple rectangular shape, with a hidden storage system.
What style to choose so that technology goes hand in hand with the interior?
According to Anna Ilmere, in order to make house smart, it is not necessary after a grand repair or laying new cables. In addition, the devices are so easy to install today that no specialist help is required. The same goes for internet connection.
Thinking of the most appropriate style to combine with smart solutions, minimalism is considered a style with a view to the future. A.Ilmere continues: "The validity of this statement is confirmed by many designers and my like-minded people. After a busy day, a modern person wants to relax and regain strength in a spacious room where there are no unnecessary details. When creating an interior, it is important to feel the difference between ascetic and functional life very subtly. Minimalism allows you to create a comfortable and functional interior, which uses a small number of quality items. Just imagining minimalism and technology as a whole."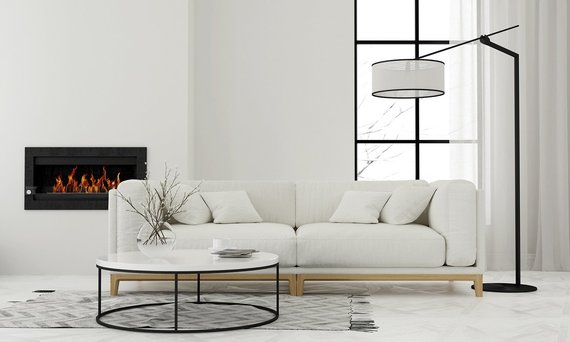 Pigu.lt furniture
The interior is based on two colors, the third as an accent color. The interior in the style of minimalism is characterized by minimal use of dull neutral colors. The most popular of them are white, gray and black tones. Bright and saturated colors are used as accents - red, yellow, blue. On the other hand, when choosing materials, natural ones will work best - polished stone, rare trees, glass surfaces, lacquered boards and marble.
Smart bathroom - the location of the furniture is important
A good helper in the bathroom would be a washing machine that automatically starts the washing cycle. Smart washing machines can be operated from anywhere - in the office or in an adjoining room with the help of a mobile phone. When decorating a smart bathroom, it is necessary to think about the placement of furniture, so that the existing interior does not have to be redesigned by implementing other solutions. Definitely one of the most important conditions would be to attach the shelves and cabinets to the wall so that the legs of the furniture do not touch the floor, guaranteeing that the robot vacuum cleaner is present for all dust.
For the bathroom, colors are more often chosen in neutral tones - white, gray, sand - or wood imitation material is applied. Furniture can be chosen from wood or plastic, but the shape should be chosen geometric - symmetrical or asymmetrical. Depending on the budget - cabinets can choose a stone surface, stone baths, which, of course, is a sustainable material and looks tasteful. On the other hand, if the bathroom has space only for a shower - a good option is a rain shower, which can be regulated with thermostats. And, of course, mirrors with LED lights that can be adjusted with sensors.
Kitchen - the queen of the smart home
One of the most effective areas will be the kitchen. Here you can take care of a smart refrigerator equipped with WiFi connection, self-diagnostics, optimal mode detection and other functions. The coffee machine, on the other hand, can be set to always have coffee ready in the morning, while smart kettles with several useful functions - remote control of WiFi connections and the possibility to regulate the water temperature - will be an invaluable helper in everyday life.
In the kitchen area you can stick to a very simple design so that everything is not too much. The tones can be combined to your taste, which can range from completely white, monochrome, to a three-color design, where there is a combination of colors on several shelves. Stone or artificial stone would be easier to maintain and more sustainable. Even more important than the visual design is the arrangement of furniture, because the kitchen is an area that performs certain functions and the more comfortable it will be to stay and move in it, the more pleasant it will be for its owner.
Prenumeruoji MAX?
Prisijungti
Išsirink planą ir skaityk be ribų
Mėnesinis
planas
Pirma savaitė - 0,01€,
vėliau po 3,5 €/mėn.
Apsimoka
Metinis
planas
Mokant iš karto
už 12 mėn. – 33,50 €
Apmokėti
Įvesk savo mobilųjį numerį, atsiųsime kodą
Į mobilųjį išsiuntėme kodą. Įvesk jį ir skaityk toliau