So far, however, this vision sounds like a daydream. In fact, no one can say exactly how much shale gas could be extracted in the country.
Minijos nafta (Minija Oil) is the first Lithuanian company to start scouting for carbohydrates in shale formations. It is a small step, but experts hope that it will help explore Lithuania's shale gas reserves that, according to US estimates, could amount to 113 billion cubic metres.
Last year, Lithuania consumed 3.4 billion cubic metres of gas, so if the estimates prove accurate, the country could be able to wave bye-bye to Gazprom – Lithuania's only gas supplier – for at least thirty years. And if Achema, Lithuania's biggest gas consumer that has recently stroke a favourable deal with Gazprom, remains faithful to its Russian supplier, the rest of us could do without Russian gas for over half a century.
One-year wait
Several weeks ago, exploration works have been launched in Kalnaliai village in Šilutė district. 6.5 million litas (1.9 m euros) are to be invested into drilling a borehole, but the money is primarily intended to find oil. And while drilling the well, they will be looking out for shale gas too.
"There is an element of show to it," Lithuanian Geology Service director Juozas Mockevičius told 15min. "Earnestly drilling for shale gas in Europe costs 15 million – of US dollars, not even litas. What we have here is a traditional oil well; there are no plans yet to make extra branches that would indeed show some earnestness in looking for shale gas."
Ignas Vaičeliūnas, production head at Minijos nafta, says that there might be shale gas reserves underneath half of the country's territory. "This includes the western part of Lithuania, westwards from Raseiniai; territory around Raseiniai is already less promising."
The borehole in Šilutė district, "Skomantai 1," should be finished in a few months. Yet it will not be until after a year that one can tell if it struck gold. The sample will tour laboratories, scientists will have to study and reconsider archive materials. Only then – once geologists know how much shale gas there is underneath the Lithuanian territory – will a decision be made on whether or not it makes sense to extract it.
"When they know the amount, they will consider what to do with it. But you won't see everyone in Lithuania start using shale gas the very next day, week, or month. Investigating its composition and total volumes will take time. Only then will we be able to think about building infrastructure," Vaičeliūnas says.
Future or dream?
The Minijos nafta representative claims that estimates of how much shale gas Lithuania might have are still provisional. They can change radically after further inspection.
"It happens, in rare cases, that projections coincide with what's finally extracted. In Kaliningrad, for instance, they have already extracted two or three times more oil than previously estimated. Something similar happened in Lithuania. In 1984, a decision was made not to continue looking for oil in Lithuania. But in the process of closing down boreholes, a new oilfield was discovered in Kintai, Lithuania's biggest, even though everyone thought there was no chance," Vaičeliūnas says.
According to US Energy Information Administration study, Lithuania has about 113 billion cubic metres of shale gas, while fields in neighbouring Poland could contain up to 5.3 trillion cubic metres. However, Poland looked into it further and concluded that its reserves were much more modest – 0.34 to 0.8 trillion cubic metres. So Lithuania should not get its hopes up either.
"In order to explore shale gas reserves very accurately, one needs much more than a single or two boreholes. We have very little data about those layers, so all figures quoted by energy experts, geologists or scholars are very preliminary. Our goal is to get new data using modern technologies and methods, so we can estimate our potential more accurately," Mockevičius notes.
No guarantees of cheap gas
Energy Minister Arvydas Sekmokas says that shale gas deposits under Lithuania could be worth 121 billion litas. If some of these billions are finally extracted from earth, it will certainly not happen overnight and will require much investment.
"I couldn't say if the gas will be cheap – it depends on the market, on the extent of renewable sources use. Certainly, there are things to look forward to. When a country uses its own resources, it imports less and tax money goes to its own coffers," Mockevičius deliberates.
According to Vaičeliūnas, there are reasons to assume that shale gas will be cheaper than gas bought from Gazprom. He says that Russian wells that supplied Lithuania's needs several years ago are running dry, so gas that comes to Lithuania is extracted from increasingly remote regions of Russia.
"It must be much more expensive to extract gas there and deliver it to Europe and Lithuania than to take it from right here, provided there is some. So it is possible that prices will be lower," Vaičeliūnas speculates.
Reality check
Hopes that shale gas will allow Lithuania to get a divorce from Gazprom are probably doomed to fail – it is very unlikely that the country can meet all its needs without importing any gas at all.
"In order to extract gas in such volumes, a very intensive drilling is needed. I think that in the future, shale gas will have the same weight in energy sector as locally-obtained oil," director of Lithuanian Geology Service Mockevičius forecasts.
Minijos nafta spokesman says that Lithuania has been extracting its own oil for twenty years and can only supply 20 to 25 percent of crude demand in the internal market.
"We've been drilling for oil for twenty years, but we don't brag about being independent from suppliers nor can we meet our own needs. Something similar might be in case of shale gas," Mockevičius says.
According to estimates, China owns the biggest deposits of shale gas – over 25 trillion cubic metres, while the US has 14 trillion. Global shale gas extraction has tripled over the last 15 years.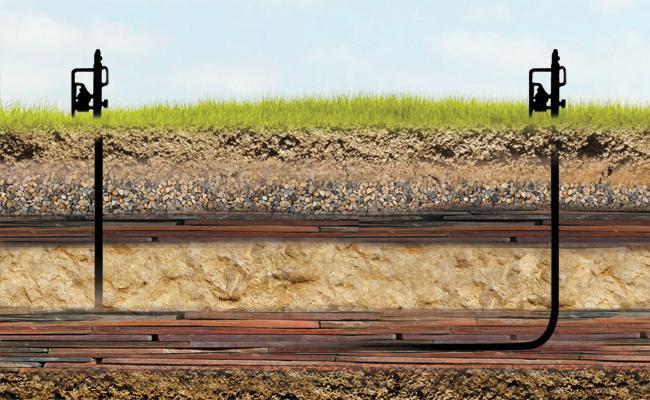 "Minijos nafta"/Borehole
Išsirink planą ir skaityk be ribų
Mėnesinis
planas
Pirmas mėnuo - 1€,
vėliau po 3,5 €/mėn.
Apsimoka
Metinis
planas
Mokant iš karto
už 12 mėn. – 33,50 €
Apmokėti
Įvesk savo mobilųjį numerį, atsiųsime kodą
Į mobilųjį išsiuntėme kodą. Įvesk jį ir skaityk toliau