Nevertheless, what might incite aesthetic boredom for the Japanese is for us in the West a source of new opportunities, especially when charred lumber offers buildings not only a unique look but is also incredibly practical: it is natural, easy to maintain, long-lasting, and safe. So what is lumber processed with the special charring technology known as yakisugi - also known as shou sugi ban - known for? How can we use it for building houses, installing terraces, or building fences?
The secret to long-lasting Japanese houses – charred wood
Charred wood (traditionally cedar, though other conifers can be used as well) entered broad use for buildings in Japan from around the 18th century. However, it is known that the charring technology arrived far longer before this, because charred lumber is found in the constructions of far older temples. Why did charred lumber become such an important construction material over the centuries?
The Japanese used charred wood planks to build not only their homes, but also their temples and rice warehouses. This is important because charred lumber is resistant to fire and so, people reduced the risk of fire, which in turn reduced the risk of famine.
Charred lumber also protects from water, as the charred, structurally changed surface of the plank is excellent at repelling humidity. By remaining dry, such lumber also does not rot. Furthermore, the heat the lumber faces during the charring process destroys lumber gnawing bugs, and the changed structure of the lumber becomes a tough challenge for bugs in general.
Japan is a long and large group of islands spanning from South to North, surrounded by powerful oceanic waters. Due to seismic activity, it contains tall mountains and so, the country's territory is notable for great climate variety. Japan faces both tropical heat and colds from the Arctic, the country often is ravaged by storms, but there is also plenty of snow, as well as the rain Lithuanians are so familiar with. Under such difficult climate conditions, charred wood that has been used for centuries in construction has withstood the test of time.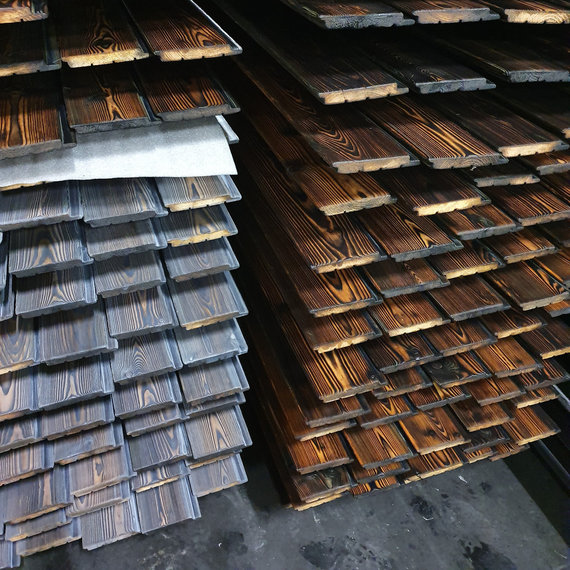 Charred wood
Lumber both old and charred by contemporary methods is notable for its particularly long-lasting nature. With minimal maintenance, this lumber remains unchanged for long decades, and even centuries.
The unique look of yakisugi
Other than its excellent physical traits, yakisugi is also an incredibly eye-pleasing product. Due to its unusual and very appealing look, Westerners have been quick to apply charred lumber in architecture and interior design.
Only a rare architect or designer would propose to a customer in our country to precisely repeat a traditional Japanese home interior, or even exterior. Overall, it isn't even worth changing our understanding of a cosy home so radically, and thus, charred lumber is adapted to local tastes, based on the house building traditions of the local culture.
Nevertheless, sidings prepared in 'the Japanese way' are an excellent match for both the forms of modern and traditional house shapes and facades, while offering interiors unexpected, laconic and even somewhat exotic and mystical traits. At the same time, given how charred lumber is a completely natural product, its architectural details do not appear garish; on the contrary, their natural look offers outside observers refreshment and those living in such an environment, even more cosiness.
Yakisugi planks are prepared by charring coniferous lumber. Accoya cedar is processed this way, as are the more common in our region larch, fir and pine. Every type of lumber has a unique structure and pattern, and charring serves to further highlight and emphasise these patterns, granting colour and texture.
If, after charring, the charred surface of the lumber is not cleaned, the blackness and texture conferred by charring are retained. This is the most exotic variant of yakisugi. However, even the completely charred black lumber, without a doubt, has its own fans, and designers and architects planning especially modern houses dive into the creation of exotic looking 'black boxes' with relish.
Other variants of charred lumber planks look less unusual, but are no less impressive. After brushing off the layer of carbon, lighter wood surfaces emerge, the grooves of various types of lumber emerge, forming a unique pattern. Charring allows obtaining black, grey and brown colours, and a myriad of various shades of colour. By coordinating planks of charred lumber of different colours, architects create more playful building facades, though minimalist mono-coloured building exteriors are also popular.
The building industry has accepted with pleasure wood products created through charring technology, and a number of architectural projects using them have won awards in a variety of competitions. Charred lumber is also used in small architecture in the construction of terraces, fences, as well as interior decoration, for example, in the laying of yakisugi floors, creating other elements of interior and exterior decoration. Currently, charred lumber is a fashionable product and due to its natural nature, it will always remain in fashion.
Charred lumber supply in Lithuania
While charred lumber technology has reached the West only recently, these products were quick to arrive in Lithuania. Furthermore, you can now obtain locally produced charred wood rhombus profile sidings for facades, planed boards, half-spun boards for vertical or horizontal installation, full-spun boards, and also corrugated or smooth surface larch or pine terrace boards at better-than-import prices.
One of the leaders in charred lumber production in Lithuania is the Garliava-based UAB Degmeda. Having thoroughly mastered the yakisugi production technology which was perfected in Japan over the centuries, the company makes use of contemporary equipment. Accoya, pine, spruce and larch lumber is charred by fire at temperatures around 1,100 degrees celsius. During this process, the lumber's surface is covered by a thin layer of carbon and the lumber's pores are closed – this way, the 'magical' traits of yakisugi's resistance to external factors are created.
Impurities and small burnt particles are later cleaned off, and the lumber is washed with water. Finally, the planks are prepared for use and covered in natural oils. Thanks to these oils, the products do not stain, their colour recovers, and at the same time the lumber is further protected.
Degmeda offers consultations on choosing the type and colour of charred lumber, performs individual orders, and earnestly believe in the technology, which merges naturality, endurance and modernity. These are the traits of materials we expect after all when creating our homes.
Mėnesinis planas
Mokant už 1 mėn.

Pasirinkti
Tik nurodytoms banko kortelėms
Metinis planas
Mokant iš karto už 12 mėn.
Iš viso 47,88 €
Pasirinkti
Tik nurodytoms banko kortelėms
Išsirink tinkamą planą!
Apmokėti