15min has published a story and a video recording from a meeting with two men who offered to pay for voting in the Eurovision Song Contest and explained in detail how the scheme, allegedly carried out in fifteen different countries, worked.
At first Liutkus spoke to the media anonymously, but, on Tuesday, he decided to come forward and tell us more about how he got involved in a possible Eurovision vote rigging affair.
"On Friday, a few friends and I went to have a calm afternoon near the White Bridge. We were sitting there and, a little after dark, two Russian-speaking men approached and tried talking to us. I asked them to speak Lithuanian, but then I realized they wouldn't because they genuinely did not know the language. They were obviously foreigners. A friend of mine translated what they said – they were proposing to pay for voting in the Eurovision. They offered us some easy money," Liutkus relates.
The offer did catch the students' attention and they inquired how exactly it worked.
"They readily explained us that we had to assemble a group of ten and vote for the singer or band they'd name. Since they were Russian-speakers, I assumed we'd have to vote for the Russian entry. Our conversation lasted for about five minutes. We exchanged phone numbers and agreed to meet ten minutes later at a nearby café, having gathered a group of ten," the student continues.
Six voters in ten minutes
Liutkus says that the first thought he had after hearing the proposal was that it must be something illegal. To look into it further, he decided to go along with it and find more people.
"I was thinking about counterfeit money, some kind of an illegal affair. Perhaps we could uncover this, I thought. There were three of us, only two agreed to go on. So I walked round in the park, frankly explaining people the situation – 20 euros for voting in the Eurovision – and found six more people within ten minutes," Liutkus says.
He says he understands why some student would agree to take part in an affair like that, yet he himself would never do it.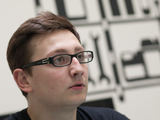 Laurynas Juozas Liutkus
"I am sure many would have sold their vote – for the simple reason that young people in Lithuania find this contest neither very relevant nor interesting. Besides, the sum offered by the men, 20 euros, is considerable money for a student who lives off his or her parents or on a scholarship. Besides, they initially offered as much as 50 euros for the group leader," he explains.
So ten minutes later, the eight students were at the agreed meeting point, but the vote buyers did not show up.
"So I rang them up, passed the phone to my friend who spoke better Russian. One of the girls in our group had a voice recorder, so we recorded the conversation. They once again explained the scheme – but it wasn't clear which entry they wanted us to vote for. They told us to meet them the next day," Liutkus says. The recorded conversation was published on another Lithuanian online newspaper.
Initiative from the buyers
It did not end at that, however. Saturday at noon, the vote buyers called again. According to Liutkus, one of the men introduced himself as Sergei and offered to meet to discuss the Eurovision voting scheme. They did not give precise details of the meeting and said they'd call later.
In the interval, Liutkus contacted 15min, explained the situation, and agreed that reporters would join him at the meeting.
"My phone battery was low, but they called again a little later. We where to meet in the evening – it took ten or so calls. They said they were at Akropolis mall and agreed to come to Panorama mall at 7 PM," the student says.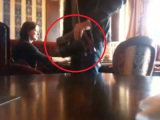 15min.lt nuotr,/Meeting with vote buyers was recorded with a hidden camera
Two 15min journalists accompanied Liutkus to the meeting. Two Russian-speaking men showed up on time and, according to the student, they were the same people who had approached him on Friday.
"What surprised me most was that these men, fully aware they were engaging in something wrong, behaved very self-confidently, even impudently. They readily explained everything, put money on the table. This shows that they were either very bold and self-confident, or that they thought they had nothing to fear," the student explains.
He says he still does not know what country the vote buyers were from. The only reference to their possible nationality came at the end of the meeting, when they noted they could not vote for Belarus while in Belarus.
"When we learned they wanted us to vote for Azerbaijan, my hypothesis was that either they were working for the young and ambitious singer or his producers, eager to host the Eurovision again, or that it had to do with politics – as in fact the two men intimated during the meeting. Relations between Belarus and Azerbaijan are friendly enough, so I was not too surprised that Belarusians would propose to vote for Azerbaijan," Liutkus says.
Not intimidated
Late on Saturday afternoon, Liutkus received many more calls from Sergei, but he did not pick up.
"I did not want to be disturbed during the night, so I just switched the phone off. The next morning, when I turned it back on, I received notifications about missed calls from Sergei's phone number. They were many, from Saturday night, Sunday morning, even Sunday during the day. I think they would have threatened me," the student believes.
Liutkus admits he was initially slightly frightened by such insistence to contact him.
"At first, I assumed they would not be interested in me, that they'd be more angry with the journalists, but, come to think of it, I was the informer who ratted them out. I decided to give my name to the media, because if they were with the Mafia or high officialdom, they might be deterred seeing that I'm not intimidated and speak publicly. I am confident because I speak the truth," Liutkus says.
Išsirink planą ir skaityk be ribų
Mėnesinis
planas
Pirmas mėnuo - 1€,
vėliau po 3,5 €/mėn.
Apsimoka
Metinis
planas
Mokant iš karto
už 12 mėn. – 33,50 €
Apmokėti
Įvesk savo mobilųjį numerį, atsiųsime kodą
Į mobilųjį išsiuntėme kodą. Įvesk jį ir skaityk toliau