The document surveys the state of EU cyber capabilities and offers proposals and recommendations on the development of the aforementioned capacities within the EU. It is drafted by the Estonian member of the Foreign Affairs Committee Urmas Paet, with all the parliament's political groups delegating their rapporteurs.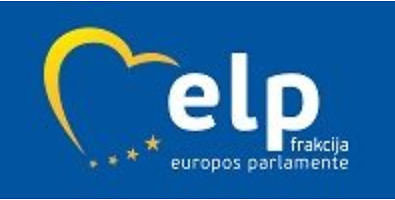 EPP logo
"The number of cyber-attacks and cybercrimes is on the rise in Europe and they are becoming increasingly more refined. It appears that in the future this trend will only grow as it is expected that 22.3 billion devices around the world will be connected to the internet of things by 2024. Cyber threats are dangerous because they can paralyse the life of entire countries, and so it is crucial to reinforce the EU's defences in this domain," MEP R. Juknevičienė states.
The lack of boundaries in the cybernetic domain and the high level of cyber-attacks are a massive threat, and so they demand intensive cooperation between the EU and NATO, as well as demanding a coordinated response on the EU's part.
The report notes that the EU and its member states must continue to build on their cybersecurity to develop combined and robust cybersecurity capacities as there is a noticeable growth in cyber operations being implemented by both state and non-state actors.
It is also emphasised that a joint cyber defence policy and capacities are key elements in developing a European defence union.
It is planned for the report to be voted on at the European Parliament in September this year.
In order to reinforce cyber-attack prevention, deterrence against them and the cooperation of EU and member state institutions responsible, the European Commission is looking to form a new joint cybersecurity section.
In December 2020, the European Commission and the European External Action Service presented a new EU cybersecurity strategy, with the goal being to increase Europe's resilience to cyber threats, and to ensure that all citizens and companies have full use of the opportunities offered by reliable digital services and solutions.

This article was edited by expert copywriter and proofreader Vicki Leigh. Find out more about her professional writing and editing services at twoflowercactuscreative.com
Šis turinys skirtas
tik prenumeratoriams
Prisijungti
Mėnesinis
planas
Pirmas mėnesis – tik 0,99 Eur,
vėliau – 4.99 Eur/mėn.
Pirmas mėnesis – nuo 0,99 Eur,
vėliau – nuo 4.99 Eur/mėn.
Geriausias
pasiūlymas
-40%
Metinis
planas
Jūs gausite:
15min prenumeratą
Filmus ir serialus ŽMONĖS Cinema
Naujienlaiškį BNS Sprintas
Išsirinkite mokėjimo būdą
*Mokant telefonu yra įskaičiuojamas papildomas operatoriaus paslaugos mokestis. Tuo tarpu mokėjimas banko kortele – jums nieko papildomai nekainuos.
Apmokėti
Nutraukti prenumeratą galėsite bet kada.
Įvesk savo mobilųjį numerį, atsiųsime kodą
Į mobilųjį telefono numerį išsiuntėme kodą. Įveskite jį
Norėdamas tęsti – prisijunk
Norėdamas tęsti – užsiregistruok