At the proposal of Polish colleagues at the European Parliament, May 25 was named after the day of resistance officer Witold Pilecki's death in 1948, which is now International Day of Heroes of the Fight Against Totalitarianism.
Pilecki was a Polish captain born in Karelia, in the then Russian Empire. In 1910, he was nine years old when he and his family arrived to live in Vilnius. W. Pilecki's parents also lived near Lida, now modern-day Belarus.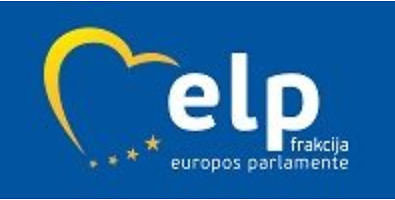 EPP logo
Later during the First World War, he fought against the Bolsheviks, participated in several significant battles such as the one near river Vistula where Polish forces crushed the Red Army, halting its march into Western Europe. During his early youth, he was also a supporter of the restoration of the Commonwealth of Both Nations, battling on behalf of Vilnius. However, we can now view it through the prism of his entire life.
According to historian S. Jazavita, "He studied arts at Vilnius University, he was familiar with it, but he was also a warrior who was very familiar with battle."
Pilecki was special in that in the war that was begun by two totalitarian regimes – Stalin's and Hitler's – and he fought against both Hitler's and Stalin's occupation of Poland.
When Nazi Germany and the Soviet Union attacked Poland and the Second World War began, he returned to the military as a reservist, fighting against both the Germans and the Soviets. He then joined the underground movement, not hesitating for a second when accepting the order to infiltrate a concentration camp and perform underground activities there. After voluntarily entering the Auschwitz-Birkenau Concentration camp and spending more than two years in it, Pilecki successfully organised an underground movement, and hoped to launch an uprising against the Nazi leadership. He later successfully escaped the concentration camp.
In 1943, he drafted the so-called Pilecki Report, where he informed the Allies of the Nazis' crimes – the gas chambers, the crematoriums, and the ongoing murder.
After escaping Auschwitz, he returned to Poland and in 1945 agreed to gather intelligence information for Poland on Soviet crimes in the country. However, he was eventually captured, accused of spying, and sentenced to death by firing squad. He was executed on May 25, 1948.
Witold Pilecki is a little-known hero of the 20th century, but there were more than one such individuals, as most Europeans throughout the continent fought in some way against the brutality of the Second World War.
Commemorating the International Day of Heroes of the Fight Against Totalitarianism, we take an important step toward a common European past and identity - an identity which is based on the commitment to never allow such brutality to occur again.
This article was edited by professional copywriter and proofreader Vicki Leigh. Find out more about her expert writing and editing services at twoflowercactuscreative.com
Prenumeruoji MAX?
Prisijungti
Išsirink planą ir skaityk be ribų
Mėnesinis
planas
Pirma savaitė - 0,01€,
vėliau po 3,5 €/mėn.
Apsimoka
Metinis
planas
Mokant iš karto
už 12 mėn. – 33,50 €
Apmokėti
Įvesk savo mobilųjį numerį, atsiųsime kodą
Į mobilųjį išsiuntėme kodą. Įvesk jį ir skaityk toliau