The combined nitrogen dioxide concentration level in the tested locations in Vilnius does not exceed the threshold norms established in the European Union directives. This threshold value is 40 micrograms per cubic meter (µg/m3) of ambient air.
However, during the testing, Vilnius' grey areas were uncovered, where the maximum safe threshold is approached. One of them is the Jonas Basanavičius Gymnasium at the end of S. Konarskis Street, next to the particularly busy Geležinis Vilkas motorway, near Vingis Park. This location saw nitrogen dioxide pollution levels of 35.1 micrograms per cubic meter. Such levels would already be a cause for concern in Switzerland because this country has established a lower threshold level than the European Union – 30 micrograms instead of 40.
The anti-record spotted by the Alliance is the M. K. Čiurlionis and Geležinis Vilkas street crossing. A sensor installed on the viaduct, which Vilnius residents and families take to reach the highly popular Vingis Park, displayed NO2 concentrations of 35.5 micrograms per cubic meter.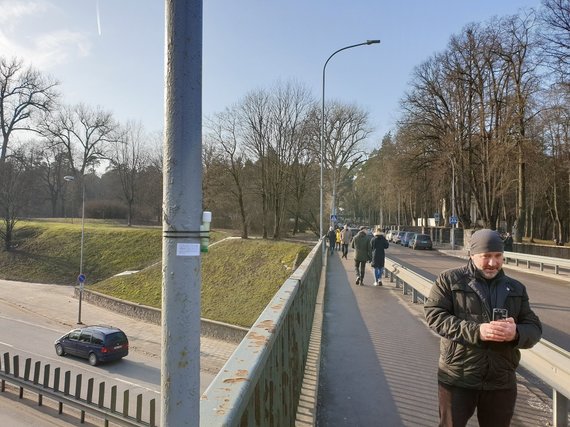 Diffusion tubes in Vilnius
"Scientists say that there is no level of nitrogen dioxide pollution that is safe for human health. Yes, during the lockdown, NO2 pollution both near Geležinis Vilkas and in other locations in Vilnius fell. Nevertheless, in rushing to return to our "pre-lockdown" lifestyles, do we want to return to what was negative? Do we aim to get back the pollution levels in the city to pre-quarantine levels?" the Vice President of the Alliance Mr. Kęstutis Kupšys, who led the study, asks.
According to K. Kupšys, nitrogen dioxide is a gas released when fuel burns. The greatest polluter is transport vehicles, particularly diesel-powered cars, also industry and energy production. This gas is especially harmful to health. In the long term, nitrogen oxides lead to the respiratory tract and lung diseases. It has been noted that almost 0.5 million people across Europe die prematurely per year due to air pollution.
"The NO2 gas harms lung development. Healthcare experts emphasise that it poses a particularly significant threat to children and youths because their lungs are only forming. Thus, a school placed at one of the most polluted places in Vilnius seems like a cruel joke," K. Kupšys says.
The nitrogen dioxide air concentration testing was performed in February this year. Sixty-one diffusion tubes containing reagents to detect nitrogen dioxide were placed in various locations around Vilnius. The LVOA obtained them from an accredited laboratory in Zurich, Switzerland. The sensors used in Vilnius were then returned to the lab, and reliable testing results were obtained from the Swiss scientists afterwards.
According to K. Kupšys, the tests aimed at obtaining a perception of what the overall nitrogen dioxide concentration is in the city at human height level (1.5 meters off of the ground). The results can be reviewed in the Vilnius NO2 Pollution Map compiled by the Alliance (https://bit.ly/Vilnius_NO2).
When performing the tests, there was a focus on children's education institutions – a significant number of sensors were placed near schools and kindergartens. In cases where they were placed close to more active streets, sensors would be placed in several locations – next to "Kiss and Ride" zones, where children release their children to school from typically polluting, large vehicles, close to school entrances. The testing confirmed the hypothesis that the concentration of nitrogen oxides (including nitrogen dioxide) decreases a little further away from the street.
Another "grey" spot on the Vilnius NO2 map is the V. Kudirkos Street – Gediminas Avenue crossing close to the Lithuanian Academy of Music and Theatre. This location posted nitrogen dioxide concentrations of 34.3 micrograms per cubic meter. The map also shows that it is unsafe to breathe in most of the Old Town, Užupis and Naujamiestis. Prominent shopping centres – Mylia (Kedrai Street), Panorama (T. Narbuto Street), Ozas, Akropolis (both on Ozas Street) – also cannot be viewed as oases of fresh air.
"The major cities of Europe such as Paris, Brussels and Milan have been making use of the lockdown, reducing transport flows in their historic city centres, handing over streets to pedestrians and bicycle riders. We call upon the city space planners of Vilnius to do the same. Declaring a part of the city a non-polluting transport zone would be a massive boost toward choosing cleaner modes of transportation. This would benefit all our health," K. Kupšys is convinced.
This ALCO study is part of a larger study performed across several Eastern European countries. The European Consumer Organisation BEUC helped coordinate the effort of national consumer organisations. In June, ALCO will release results for NO2 tests in Kaunas and Klaipėda. In total, 154 NO2 sensors were placed across Lithuania in February 2020 thanks to the efforts of the Alliance's volunteer team, with the last sensors being retrieved on March 8, right before the COVID-19 lockdown was announced, thus its restrictions had no impact on the testing results.
About the Alliance of Lithuanian Consumer Organisations
The Alliance of Lithuanian Consumer Organisations is an alliance of ten non-governmental consumer organisations, which has been operating since 2012. The alliance is the only umbrella organisation in Lithuania representing consumers that is a member of the European Consumer Organisation BEUC. The alliance's activists act on the EU level, participating in expert groups formed by European institutions (the European Commission, directorates, agencies), the European Economic and Social Committee, the European Consumer Consultative Group and BEUC workgroups. The LVOA's identification number in the European Union Transparency Register: 506497923503-90. Find out more about the LVOA at www.lvoa.lt
Contacts
Kęstutis Kupšys, vice president of the Alliance of Lithuanian Consumer Organisations | +370-698-76444 | kestutis.kupsys@lvoa.lt
Sources and extra information
Premature death number evaluation in Europe: https://www.eea.europa.eu/highlights/cutting-air-pollution-in-europe (European Environment Agency)
About nitrogen dioxide:
Nitrogen dioxide is a reddish-brown gas with a pungent, acrid odour. Nitrogen composites are the product of all combustion processes; however, most of them reach the atmosphere alongside transport exhaust and when burning fuel in heating infrastructure. Usually, it enters the environment in the form of nitrogen oxide (NO), however, under normal atmospheric conditions, NO continues to oxidise to NO2, which is harmful to health. Increased nitrogen dioxide concentrations in the air can irritate the lungs, reduce the body's resistance to respiratory tract infectious diseases. Furthermore, nitrogen oxides are among the most important components in causing acid rain, which harms plant life. (Source – Environmental Protection Agency, http://oras.gamta.lt/)
Study on the impact of diesel engines on the health of European citizens and expenses in the healthcare system: https://epha.org/ce-delft-health-impacts-costs-diesel-emissions-eu/ (European Public Health Alliance)
National environmental air monitoring statistic air quality study indicators in Lithuania for 2019: http://oras.gamta.lt/files/2019m_Statistiniai_oro_kokybes_tyrimu_rodikliai1589800665154.pdf (Environmental Protection Agency)
Mėnesinis planas
Mokant už 1 mėn.
Pasirinkti
Tik nurodytoms banko kortelėms
Metinis planas
Mokant iš karto už 12 mėn.
Iš viso 47,88 €
Pasirinkti
Tik nurodytoms banko kortelėms
Išsirink tinkamą planą!
Apmokėti