The massive 8.5-hectare territory, which will see the emergence of a unique modern concept commercial complex by the beginning of next year, had around 60 pines growing in it, but while urbanising the territory, they would have had to be cut down. However, Darnu Group replanted the trees, gifting them to the Bukiškis area community living nearby the business centre.
"We are concerned not only with business needs but also the environment. We aim to conserve existing nature and trees, as well as create new green zones which Vilnius residents would find appealing. We found a new home for the pines growing on the Vilnius Business Park territory by planting them near the Vilnius School of Car Mechanics and Business in Bukiškis, where we will gradually set up a specially designed green resting space," said Darnu Group CEO Sigita Survilaitė-Mekionienė.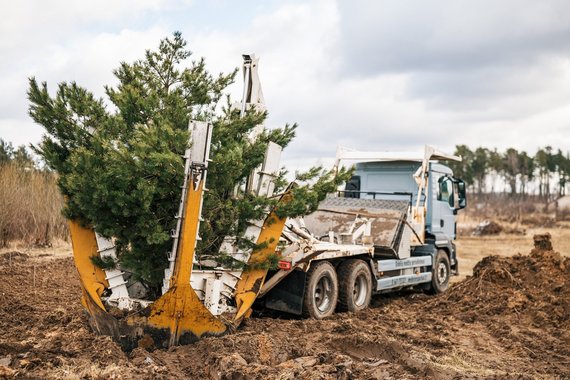 Replanting of the pine trees
Thirty-five large and 25 smaller pines were planted in the practical training centre's territory, and the school plans to create a sakura park as well as a flower-filled meadow eventually installing a path, benches, fire-pit, and children's playground.
"We have long dreamed that a park and resting zone could emerge in this location. We have considered a project like this for a number of years now but kept postponing our plans and had neither the funds nor capacities for it. As such, now that everything is proceeding smoothly, we will now be able to quickly move forward," explained the Director of the Vilnius School of Car Mechanics and Business Elena Pelakauskienė.
Currently, there are also other reconstruction works ongoing in the school's territory, and in around a year it will be host to perhaps the largest practical training centre in Lithuania, allowing around 500 people to study there at one time.
"The green space will become an excellent place for some respite after practical exercises – we want for youths to feel motivated, and to have not only a good educational space but also a resting environment. We are very glad about Darnu Group's initiative and are also thankful to the landscape designer as the project he presented is perfectly in line with our needs," Pelakauskienė explained.
The newly emerging park will be accessible for all residents of the Bukiškis community, and it is planned in the near future for the territory to be fenced. During the day, it will be freely accessible to the public.
"We are very glad that businesses are thinking not only of their own development, but are also on the lookout for territories where green zones can be conserved. These pines are definitely worth nurturing because they are still large and firm, so we will strive to take care of them and water them. We are confident they will thrive," E. Pelakauskienė said.
The nature-conserving and nurturing initiative isn't the first on the Darnu Group's list of public good deeds as they consistently contribute to the creation of a harmonious and green city, planting hundreds of trees every year, and help with cleaning up polluted rivers.
"We aim to uphold Vilnius' title as the 'greenest European capital', developing a responsible attitude towards nature along the way, and so we gift Vilnius new green spaces every year as we seek to retain valuable trees and create public green spaces for communities," says Darnu Group CEO Sigita Survilaitė-Mekionienė.
This article was edited by expert copywriter and proofreader Vicki Leigh. Find out more about her professional writing and editing services at twoflowercactuscreative.com
Išsirink planą ir skaityk be ribų
Mėnesinis
planas
Pirmas mėnuo - 1€,
vėliau po 3,5 €/mėn.
Apsimoka
Metinis
planas
Mokant iš karto
už 12 mėn. – 33,50 €
Apmokėti
Įvesk savo mobilųjį numerį, atsiųsime kodą
Į mobilųjį išsiuntėme kodą. Įvesk jį ir skaityk toliau