During the event, companies introduced the innovations their engineers are creating and career opportunities. They also emphasised that excellent working conditions and opportunities to develop world-class projects from Klaipėda await technical specialists.
According to Eimantas Kiudulas, the head of Klaipėda FEZ, who opened the event, the port city has been introduced more to the business sector so far – to foreign and local investors, and so, in a sense, the city owes a debt to its youth. And there are things to promote and celebrate in the city.
"You probably all heard of the unique bus Dancer or the NEO Group's plastic recycling innovations, but while working in Klaipėda, engineers can reach even more impressive achievements around the world. For example, engineers from Klaipėda are currently constructing an LNG terminal in Brazil, which is analogous to the one we have. The engineering sector is universal – you can not only create products or technologies that are relevant around the world but also, as leaders with engineering education, you will have a better understanding of products, technologies, the needs of staff and shareholders," E. Kiudulas said.
According to him, a transformation to high added value businesses and jobs is evident in Klaipėda. Klaipėda FEZ itself started off 20 years ago as a traditional manufacturing territory. Still, it is already becoming a smart "city within a city" with seven labs or competence centres, 5G and internet of things, professional events, social infrastructure and even more ambitious plans such as an experimental factory and others.
The engineering specialisation was also highly recommended at the event by Andrius Francas, a partner at the human resources company Alliance for Recruitment. By his calculations, the starting wages of recent engineering graduates are already almost equal to the Lithuanian job market's average salary. They should exceed it and consistently outpace it within the next few years. He also emphasised that what is essential is not the city but the speciality in the context of studies.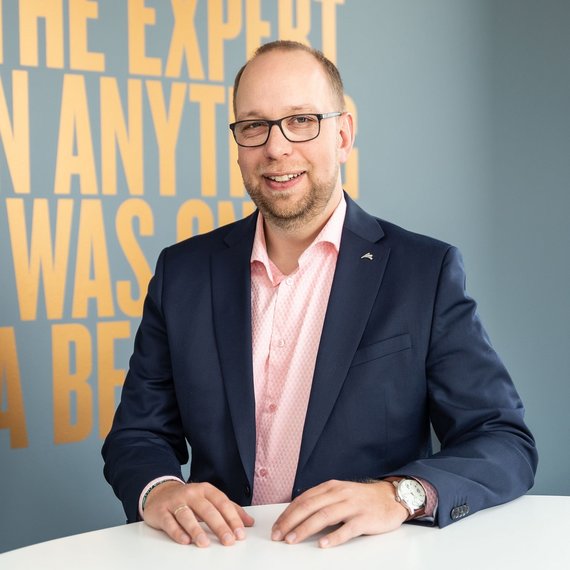 Andrius Francas. Photo AFR
"The statement "I want to enter Vilnius" doesn't sound logical. "Vilnius" isn't a profession. You can study a good and in high demand around the world speciality – engineering – in Klaipėda as well," the partner at Alliance for Recruitment said.
During the event, representatives from the Klaipėda State College introduced engineering studies. According to Daiva Stanelytė, head of the KVK's Engineering and IT Cathedral, a college differs from a university in the sense that it is focused on practical skills. Thus, the KVK can boast of having more than 60 modern labs, guaranteed internship placements in companies, as well as external lectures, international competitions and academic exchanges. KVK offers five engineering studies programmes in electricity and automation, mechanics, information technologies, automotive transport, and construction engineering.
However, the main focus for the event fell on Klaipėda's engineering companies. Enterprises such as NEO Group, Vėjo Projektai, Lavango Engineering LT, Orion Global PET and REHAU, which is due to start operations only early next year, spoke to over fifty students.
The representatives of almost all the companies celebrated how engineers can be offered both horizontal and vertical career opportunities, various local and foreign studies, the opportunity to change study profiles and, of course, contributed by various means to global level projects.
The presentation by UAB Vėjo Projektai, the company which manufactures the electric Dancer buses, was met with great enthusiasm at the event. The company's public relations head Viktorija Jakubauskytė-Andriulienė revealed that the Dancer engineer and scientist team is currently preparing to patent a world-leading ultra-fast charging infrastructure, which will ensure a bus is charged over an even shorter time period than the current average of 8 minutes.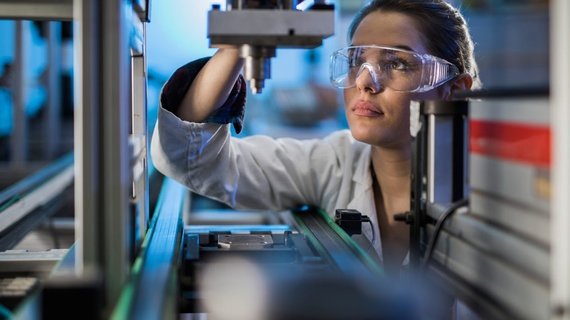 Discovering
"Almost half of our team is comprised of engineers of various specialities, who not only design the components for the bus and the charging infrastructure it requires, improves existing technologies or the ergonomics of the driver's workplace, but are also developing a monitoring system that operates based on the principles of the internet of things. The monitoring allows you to receive more than 1,000 different parameters of the bus's operation every second, ensuring the vehicles constant functioning and preparation for preventative actions before the driver even reaches the stop," the representative for Dancer said.
The PET sector's representatives from the companies NEO Group and Orion Global PET introduced their engineering teams, which are creating solutions for today's packaging industry and the developing economy of tomorrow. Both companies emphasised that most of their staff members are graduates from Klaipėda's academic institutions, and engineers perform diverse tasks at their companies – from process, electrical and chemical engineering to automation engineering or scientific research.
The youths were also particularly interested in Jevgenij Sakovskij, the head of Lavango Engineering LT, a manufacturer and designer of non-traditional food industry equipment. According to him, the company employs engineers of three categories – "creators" who make non-standard products, "tinkerers" who standardise them and 'seekers' who are constantly in the pursuit of innovations and new opportunities.
A presentation concluded the event about perhaps the biggest news of last year – the German polymer giant REHAU, presented by its human resource head in Lithuania Julija Staniulionienė.
According to her, REHAU will create around 150 jobs in the first stage and will manufacture in Klaipėda polymer piping for optical cables and floor heating. REHAU has yet to detail its hiring plans, but the company will definitely require engineering specialists in manufacturing, technical maintenance and logistics management in Klaipėda.
Klaipėda FEZ organised the event alongside the partners-presenters above. According to the organisers, this event, which was the first of its type, was met with significant attention. So, engineering career popularisation initiatives where businesses cooperate with the public sector will continue in the future.
Išsirink planą ir skaityk be ribų
Mėnesinis
planas
Pirmas mėnuo - 1€,
vėliau po 3,5 €/mėn.
Apsimoka
Metinis
planas
Mokant iš karto
už 12 mėn. – 33,50 €
Apmokėti
Įvesk savo mobilųjį numerį, atsiųsime kodą
Į mobilųjį išsiuntėme kodą. Įvesk jį ir skaityk toliau