"The team was improving their game in each step, showing the best they'd got during the final match with Dominica. It is clear that players understand each other and the coach. I think, the Lithuanian team could justifiably be called the best team in the qualifying tournament," says basketball coach Rūtenis Paulauskas and adds: "No one speaks badly after a game won."
Palauskas agreed to share his insights about the strong points and weaknesses of the Lithuanian Olympic basketball team with 15min.
Leader role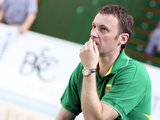 Eriko Ovčarenko/15min.lt nuotr./Rūtenis Paulauskas
Linas Kleiza and Jonas Mačiulis, who missed the 2011 EuroBasket and some of the last season's games, were the top scorers in Caracas – 19.3 and 11.5 points per game respectively. Moreover, they were ahead of everyone else in terms of playing time.
"Mačiulis and Kleiza have greatly changed the face of the team. In modern basketball, especially in Europe, there is an important role for a small forward to play. We could say we didn't have one in the European championship. We had to do with point guards and shooting guards. Simas Jasaitis, you might recall, played in the shooting guard position. This year, we've got Mačiulis who seems like a very strong player and the breadth of his game – playing back to the basket, attacks from a distance – is a great asset to the team," Palauskas believes. "Kleiza, of course, spends some time playing as a power forward. We witness a game that is more varied and mature, built on a more solid physical strength, speed, and better solutions. Their contribution is particularly felt during difficult moments for the team, since these are the players that do not shy away from taking the lead."
Motiejūnas missing?
According to Paulauskas, the pair of Mačiulis and Kleiza could become an even stronger force, if the team had one more big man like Paulius Jankūnas – someone capable of long-range attacks and occupying big rival players.
"In that case, it would be a treat for players like Mačiulis and Kleiza to play. They could fill in the paint and break through anything," he says.
Is it a reproach for coach Kęstutis Kemzūra that this year's national team does not include Motiejūnas or the Lavrinovičiai brothers? Palauskas shakes his head: "I do not to suggest that anything is missing. We cannot hold a referendum to put together a team. Using his own judgement, the coach assembled a team of players that he trusted."
Strength of the frontcourt
Jonas Valančiūnas contributed 8.0 points per game and was number six scorer in the team. The biggest problem for the young centre – fouls. 17 fouls in four matches. Robertas Javtokas faced different issues – his throws were merely 25 percent accurate and he once again experienced tarsal pain. The only player that was scoring fewer points than the centre was Deividas Dulkys whose total floor time throughout the tournament was mere 5 minutes.
"The work done by Valančiūnas and Javtokas brings its own advantages and we should not dig for defects. Do we have a strong frontcourt? I think, it is fairly strong," Paulauskas says.
"The most complicated match for our big men was the one with Puerto Rico, when they had to deal with 2.22-metre Peter Ramos. They did what they could, even though they collected many fouls in the process. However, I think there is no point in looking for ways to make our centres play even more efficiently. They use all the potential they've got. Granted, Valančiūnas is a little too prone to fouls, he does not always win position right, sometimes his lack of bulk comes into play. But at the moment, these are the two strongest centres we've got," Paulauskas insists.
According to him, Kemzūra grasped both the strengths and weaknesses of the team well. And he planned the game accordingly – the general picture of the entire team is what matters and not its separate elements.
Attack generals
Mantas Kalnietis: 9.8 points per game and 7 assists. Šarūnas Jasikevičius: 10.8 points and 4.5 assists. Such are the statistics of the team's point guards.
Kalnietis' only low point was a match with Nigeria, while Jasikevičius would rise from the bench and take the lead during the toughest moments. Palauskas says that the team's point guards do not deserve any reproach.
"These two men are worthy of praise for their solid game. Even though Šaras [Jasikevičius] often gets his age held against him, I haven't seen a single team that has solved the problem of pick'n roll whenever Jasikevičius is on the floor. He would find a way out even facing double-team," the coach says.
Jasaitis and Seibutis
Should Simas Jasaitis and Reinaldas Seibutis, whom traumas prevented from going to Venezuela, be included in the national team?
"The issue should be left with the coaching staff," Palauskas grins but goes on to express his take. "Both are very good players, but it wouldn't be a mistake, if the coaches decided to maintain the collective that played together in Caracas. One must always consolidate the core of the team. Olympic tournament is not a particularly long or complicated one and it is never the case that all the 12 men play. In qualifiers, the coach relied on 10 players. If Seibutis and Jasaitis joined the group, some would get to play a smaller role. Martynas Pocius? When you want to use everyone, you can end up not using anyone properly."
Seibutis and Jasaitis, having recovered from their traumas, already joined the team's training. Pocius, on the other hand, made quite a performance in Caracas – 11.5 point per game and 84.6 percent shooting accuracy.
Team reserve
During the qualifying tournament, the Lithuanian basketball team would score, on average, 91.4 points per game. The only other team topping the statistics – Greeks. Lithuanians' defence would allow 80.8 points per game.
"Even though we missed quite many points, I think that the team dealt quite well with the main defence tasks. The most dangerous players in rival teams would get thrown off-tracks. Of course, there were mistakes and that's, in a way, a reserve that we can dip into before the Olympics. If our offence maintains the level it is at now, while we manage to improve the defence, I think that we can go all the way to Olympic medals in London," Palauskas thinks.
Jau prenumeruoji?
Prisijungti
Išsirink planą ir skaityk be ribų
Mėnesinis
planas
15min prenumerata

Kasdienis naujienlaiškis
BNS Sprintas

ŽMONĖS Cinema prenumerata
Pirmi trys mėnesiai – po 0,99 Eur,
vėliau – 4.99 Eur/mėn.
-50%
Metinis
planas
15min prenumerata

Kasdienis naujienlaiškis
BNS Sprintas

ŽMONĖS Cinema prenumerata
Apmokėti
Įvesk savo mobilųjį numerį, atsiųsime kodą
Į mobilųjį išsiuntėme kodą. Įvesk jį ir skaityk toliau
Norėdamas tęsti – prisijunk
Norėdamas tęsti – užsiregistruok