Overnight, the swimmer turned from an ordinary teenager known only to her friends and relatives into an international celebrity whose Olympic performance was discussed by world-famous athletes and reputable sports publications. Meilutytė won gold in women's 100 metres breaststroke, beating world champion Rebecca Soni, American. The Olympic bronze was awarded to Saomi Suzuki from Japan.
Début in adult sports
Meilutytė's victory is all the more incredible because London was her first major competition in adult sports. Because of age limitations, the swimmer had not participated in either European or world championships.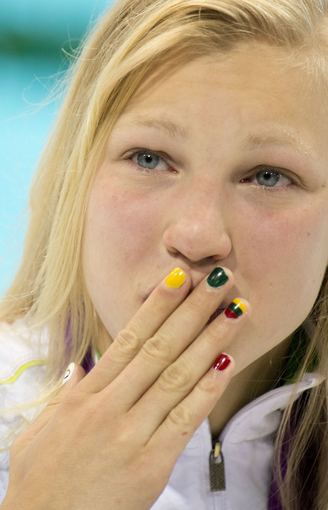 AFP/"Scanpix" nuotr./Rūta Meilutytė
"Before the Olympics, no one had heard about Meilutytė. Now she's the talk of the town throughout London," wrote Russian sports newspaper Sovetskiy Sport, nicknaming the Lithuanian swimmer "Terminator". "She is a Lithuanian Michael Phelps," other Russian commentators did not shy away from comparing her to the famous US swimmer.
The Italian media gave Meilutytė a different nickname – the "Frog Queen." In Italian, breaststroke is called frog style.
Meilutytė received greetings via social networks from football stars Wayne Rooney and Robin van Persie, as well as Red Hot Chilli Peppers singer Anthony Kiedis. The Lithuanian swimmer received unreserved praise from Australian swimming legend Ian Thorpe who claimed, right after the qualifiers, that nothing would stop Meilutytė from landing gold.
Why is she a Lithuanian?
Plymouth in England rejoiced in Meilutytė's triumph no less than Lithuania. This is where the teenager has been training for the last several years, attending the best swimming school in England and being coached by Jonathan Rudd. "We are almost in tears, it was such an achievement," one of the school's coaches Sarah Dunn told BBC.
The British media were quick to point out that the new Olympic champion was training in the United Kingdom. "Plymouth schoolgirl, 15, wins stunning swimming gold medal... unfortunately she's competing for Lithuania!" the Daily Mail resented. "Plymouth's Ruta Meilutyte wins shock gold (but it's not for Great Britain)," seconded the Independent.
British reporters asked Meilutytė if she would agree to change her nationality. No, the swimmer was blunt.
"It would be great dishonour for me. I couldn't change nationality. I don't know what should happen for me to change it. That won't ever happen. Even for big money. No one would understand it, how could I return to Lithuania? My coach, too, says that irrespective of where I train, I have to represent my native country," the new Lithuanian hero says.
Instant fame
Meilutytė's incredible world-wide popularity is well reflected in growing ranks of her online fans. Before the Olympics, she had several hundred followers on Twitter and dreamed of some day having a thousand. "I wonder if I could manage to have 1,000 followers by the end of London Olympics?" the swimmer wondered.
The following morning after her triumph, she had over 10,000 of them and now her tweets are followed by almost 17 thousand. Meilutytė's facebook page had an even greater boost – from several hundred subscribers before the Olympics to 46 thousand this week.
"I must admit – before the Olympics, I didn't know who Meilutytė was and now the entire world knows her!" Lithuanian cyclist Tomas Vaitkus tweeted, excellently summarizing the swimmer's incredible rise to fame.
There has already appeared a crop of topical jokes on the internet. "Teacher: So what have you been doing during the summer break? Meilutytė: Oh, nothing much, becoming Olympic championship."
Another one goes like this: "When one is fifteen, one can shed tear over Justin Bieber or winning the Olympic gold." One more internet meme: "If I have a son, I'll name him Rūta."
"Reuters"/"Scanpix" nuotr./Rūta Meilutytė surprised even her coach Jon Rudd.
World record challenger?
In the semifinals, Meilutytė's time was 1 min 5.21 sec, breaking the European record and putting her at number four all-time best women 100 breaststroke result. World record stands at 1 min 4.45 sec, achieved by American Jessica Hardy in 2009. Could Meilutytė better her?
Rudd, her coach, thinks that everything is possible. "Somebody bettered records before, so why couldn't Rūta do it now? It would be great to better the world record that was achieved at the time when they permitted special swimming suits. Rūta doesn't even know what it means to swim in a special suit. She hasn't tried it. She doesn't have to think that a sportswear could help on the swimming track. She learned to rely on herself only," coach Rudd says, adding that the only limit to what Meilutytė can do is herself.
"Incredible that even at such a young age, she debuted at the Olympics as if it were a regular tournament. She shows no nervousness in pool. She was also unperturbed by the authority of her competitors, which is a sign of a great athlete."
First time in water
Rūta was born in 1997 in Kaunas. Her birth was premature – instead of taking her first breath of air in early April, as planned, she came to the world on 19 March. At four, she lost her mother. The 34-year-old woman was crossing a street on Easter 2001 and was knocked by a car. Rūta and her two elder brothers were brought up by her father and grandmother.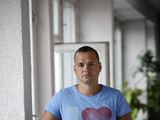 15min.lt/Eriko Ovčarenko nuotr./Meilutytė's firts swimming coach Giedrius Martinionis
"I was doing basketball for four years but then I broke my leg and had to give it up. I tried many things afterwards. Track and field athletics, dancing… But swimming was always my number one sport. I took it up for simple reasons - to learn how to swim, to not be afraid of water, to correct my posture. And I stayed on," Rūta recounts.
Her first coach was Giedrius Martinionis who saw her potential instantly. "One day she'll become the country's record-holder," the coach promised to the 5-year-old's father Saulius Meilutis. Today, Meilutytė holds five Lithuanian records and one European.
Martinionis can still recall Rūta's first time in the pool. "She was the first kid who started drowning," says the coach about Meilutytė's first class.
He was not the one, however, to accompany Meilutytė to the Olympics. But after her triumph, the swimmer publicly thanked her first coach and the entire Šilainiai swimming school.
Plymouth – swimmer's paradise
Plymouth, where Rūta moved with her father two years ago, is a town of 250 thousand in south-west England. Local swimming school, Leander, is considered one of the finest in the country.
One of its success factors is close cooperation with Plymouth College. Pupils here are offered good education and the best training environment. "In Plymouth, we work somewhat differently. We've come up with a special, slightly unusual training system. It keeps up the kids' interest and motivation," says Rudd.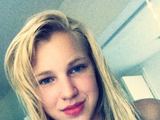 Rūta Meilutytė
As to whether Meilutytė would have become an Olympic champion, had she not gone to England, but stayed in Lithuania, Rudd comments diplomatically: "Why not? But we'll never know."
"I don't go into the whole 'what if'," says Rūta herself. "I got used to the training load in England rather fast, even though it is much more intense here and it was difficult at first. But training conditions are excellent. I hope that more Lithuanian athletes get such conditions, since there are truly talented people."
Simple and responsible
Rudd has many good things to say about Meilutytė – she is exceptional even outside swimming pool. "Rūta has a complex personality. The young girl is more mature than kids her age. She has a peculiar sense of humour. She keeps sending crazy videos from YouTube, I'm surprised how she comes up with them. Her jokes remind me of Monty Python humour," Rudd describes his pupil.
"But she is focused on what she does. Swimming is her life. She acts differently from many of her peers. She does go to parties, but returns early so she can go to bed on time. She never eats fast food. When a 15-year-old acts like that, it's incredible. It makes my job so much easier. I can concentrate on scheduling training without worrying how she lives her life.
"She enjoys life, but she protects herself. She takes care of her body, so she doesn't do other sports. She spends her free time watching television, listening to music, and, of course, sending me those silly YouTube videos," says Rudd.
"It is true that when you do sports, you must give up a lot of fun things and pleasures typical of a teenager's life. But that doesn't mean I don't have fun at all. Sportspeople who love what they do have fun too, only different fun," Rūta says.
"In my spare time I'm simply me. Simple, not smug. I spend my time with friends, we go to town. I love dancing."
Asked about how she imagines herself in ten years, Rūta grins: "Oh, I'll still be very young. I'll be only 25. I think I'll still be swimming and, of course, studying. I hope to remain myself."
Rūta says she would like to study kinesitherapy: "I'm not a geek, but I'd love to have an interesting profession."
Swimming renaissance?
How many new kids will come to Lithuanian swimming pools in autumn? Will the Olympic gold hasten construction of pools in the country? Will people become interested in other sports beside basketball? Meilutytė's triumph made many people speculate about a possible swimming renaissance in Lithuania.
"Lithuania rediscovered swimming – sport that is so interesting to watch," Antanas Guoga, attaché of the Lithuanian Olympic team, thinks. He admires Rūta for taking more interest in the sport's future than her own fame or prizes: "She wants her victory to revive Lithuania, to draw everyone's attention to swimming and other sports that face similar challenges. Imagine that – Rūta is walking with her coach and reflecting on things like that. It's fantastic. She gives no thought to prizes and awards."
As it happens, Rūta will receive a prize. The Lithuanian Government has promised 400 thousand litas to all Olympic champions and Rūta certainly deserves it.
"When we sat down to dine after the finals, she took the medal into her hands and said: 'It's the first one.' For me, as a coach, these words are great news. It's great news for Lithuania, yet bad news for the rest of the swimming world," coach Rudd says proudly.
Jau prenumeruoji?
Prisijungti
Išsirink planą ir skaityk be ribų
Mėnesinis
planas
15min prenumerata

Kasdienis naujienlaiškis
BNS Sprintas

ŽMONĖS Cinema prenumerata
Pirmi trys mėnesiai – po 0,99 Eur,
vėliau – 4.99 Eur/mėn.
-50%
Metinis
planas
15min prenumerata

Kasdienis naujienlaiškis
BNS Sprintas

ŽMONĖS Cinema prenumerata
Apmokėti
Įvesk savo mobilųjį numerį, atsiųsime kodą
Į mobilųjį išsiuntėme kodą. Įvesk jį ir skaityk toliau
Norėdamas tęsti – prisijunk
Norėdamas tęsti – užsiregistruok