"We dedicate significant attention to Christmas decorations, for example, we traditionally place a Christmas tree in residential areas every year and invite the communities of those areas to decorate it together. We wanted to decorate Paupys, which has already become a centre of gravity not only for its residents and those working here in a more original way, and encourage city residents and guests to discover more areas of the capital where they can admire the holiday decorations. It is clear that this year, the winter celebrations will be different without larger groups of relatives and friends, and we wish to create a holiday mood as much as possible all-round," said Darnu Group corporate affairs and marketing director Akvilė Liaudanskienė.
Intriguing and thought-provoking solutions
Decorator Grita Sviderskė was trusted with beautifying the spaces of Paupys this year. According to her, Paupys is a modern and truly beautiful area, and it was simply begging for a more original approach and less orthodox solutions.
She believes that perhaps the most important accent of Paupys' Christmas block are two massive giraffe sculptures clad in down jackets and colourful scarves, one reaching the height of four meters and the other two metres down. Why giraffes? Because it's more interesting this way! G. Sviderskė explains that it was no coincidence that the exotic animals from warmer countries were chosen – this was done in order to build more intrigue, and encourage passers-by to give thought and find their own answers.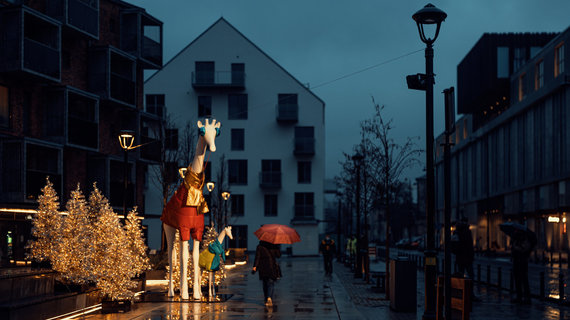 Christmas in Paupys
"Had we chosen the silhouettes of Santa Claus, deer or snowmen, it would be beautiful, but very traditional. The aim was a different, more unusual idea, hence we sought to build intrigue so that everyone passing by would wonder – why giraffes? Our answer: well, why not? The summery animals are intriguing with the background of winter, especially given how the topic of exotic animals currently also reflects the newest worldwide trends in Christmas decorations. Elephants, lions and rhinos are also gaining popularity," G. Sviderskė said.
Increasing decoration investment
She observes that while the usual holiday decoration solutions might be classics, they increasingly yield space for more courageous ideas. Lithuanians are increasingly making use of novelties, seeking challenges, and seeking to stand out.
Overall, decorations receive more attention each year as people begin to prepare for the holidays ever more thoroughly and earlier. "If before, we began to think of Christmas in mid-December, this year the time has come far earlier, with many beginning to think about Christmas soon after Vėlinės. It comes as no surprise because festive décor offers many positive emotions when it is bleak outside and lifts the mood," G. Sviderskė explained.
She concedes that such attitudes toward the importance of decorations were also a result of the lockdown, with people spending ever more time at home and seeking to build more cosiness and warmth. This is why the decorations present in city spaces are more gratifying because walking through festive streets offers more happiness.
"Now, many also invest greater sums into decorations. People care about beauty, the emotions these decorations grant are important, and the uplifting festive spirit is important. When we decorated Paupys, we received a lot of positive reactions from those around us as people took photos and celebrated, cars stopped to admire the decorations as they passed by… the emotions are fantastic," the decorator said.
High fashion – blue Christmas trees and birds
According to G. Sviderskė, original ideas always generate interest, draw one in, and attract a huge amount of attention. As such, it is important to also observe global trends, and not be afraid to experiment. She believes that decorations are interesting when they are surprising, and perhaps even a little shocking, and so artists around the world increasingly make use of intriguing objects.
"This year's Christmas decoration accents are glittering spruce trees, golden and silvery details, and blue coloured spruce trees are entering fashion. Also trendy are massive baubles, whose colour range varies between blues, greens and turquoise. Velvet decorations have also gained vast popularity around the world, with burgundy, cream or greenish colour schemes, but without any lace or Swarovski crystals, – just clean velvet baubles," G. Sviderskė explained.
A particularly fashionable accent of the decorations is turning out to be in the shape of birds – hummingbirds, parrots, glittering and decorated with snowflakes. The decorator recommends to adorn Christmas trees and wreaths in the home with birds as well, perhaps you could fully renew your Christmas tree decorations, or perhaps just include a few birds to decorate individual branches.
"If you are decorating the Christmas tree with standard toys that hark back many years, hang them deeper in and include a few new ones near the top. This way, with minimal expenses, you can create a new image for the tree. Golden and transparent glass toys will prove suitable – they are a great decoration," she said.
G. Sviderskė advises to not forget candles when creating a cosy holiday home, making original compositions out of them, and she also proposes to take note of decorating your table. Even if Christmas will be different this year and fewer relatives will gather at the table, stylish decorations will offer more festivity.
Decorating balconies with shining garlands also adds appeal, the decorator urges the residents of Paupys to also not forget this and contribute to the overall festive spirit in the area.
Mėnesinis planas
Mokant už 1 mėn.

Pasirinkti
Metinis planas
Mokant iš karto už 12 mėn.
Iš viso 33,50 €
Pasirinkti
Apmokėti