When Rimšaitė decided to not represent Lithuania any more, coach of the modern pentathlon team Jurijus Moskvičovas almost tearfully regretted that he was losing the most talented pentathlete he had ever coached. He made no secret – of the two leaders in the team, it was the stronger one who was leaving.
"Currently, there are two female pentathletes in the world whose bodies are perfectly suited for the sport. They are Rimšaitė and France's Amelie Caze. No other pentathlete can even approach their talent. Including Laura Asadauskaitė, who can, of course, win a tournament, but she needs more luck," Moskvičiovas said a year and a half ago.
Today his eyes are filled with tears again – tears of joy. He witnessed a triumph of a Lithuanian pentathlete in London – Laura Asadauskaitė.
Hard-working and persistent
If she does not indeed match Rimšaitė's talent, she makes up for it in diligence. Hard work and persistence is what has lead Asadauskaitė on the Olympic podium.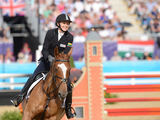 Fotodiena/Roberto Dačkaus nuotr./Laura Asadauskaitė
"Very diligent, hard-working, responsible, curious. When she started training, she was living in Vaidotai, outside and quite far from Vilnius. But she was not once late or missed a single training session. Every coach dreams about working with an athlete like her," says Asadauskaitė's coach Jevgenijus Kliosovas.
"I was lucky, we've been working together for almost ten years. Thank God, we haven't had a single argument with Laura. If I tell her to run one or two kilometres, she will do double. She needs to be stopped. Laura has a very firm personality, she is persistent. If need be, she'll do whatever it takes," Kliosovas adds.
Dreams of being a skater
When Laura was fifteen, she was offered to be a model. Good looking as she was, she took up modelling lessons, but soon realized it was not her thing. She preferred doing sports.
Now, the pentathlete jokes: "Now that I'm a known sportswoman, I often find myself in front of photo cameras, so I could say I succeeded it in both areas. I've made a right choice."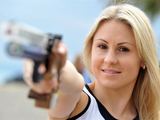 pentathlon.org nuotr./Laura Asadauskaitė
Her way to pentathlon was not a straight one. In childhood and even adolescent years, Laura was tempted by many things. She was a scout, sang in a choir, but what she wanted more than anything else was to do ballet or at least ballroom dancing. But there was not enough time to do all.
Laura has admitted that when she started swimming, she wanted to give it up and take up another sport – figure skating: "I craved to skate, but I didn't have a chance, there was no ice ring anywhere near. Who knows, I might have become a famous skater instead of pentathlete."
Laura still follows the sport and even has a favourite figure skater – Italian Carolina Kostrner.
Average swimmer
It was Laura's father who introduced her to swimming. He, too, was actively engaging in sports, even though not professionally, and thought his daughter would be more fit and physically enduring if she took up swimming. Initially Laura had a spell of luck – she was winning medals in national and Baltic competitions.
"I was a Lithuanian champion, but I'd have never made it into the highest ranks. Sure, it didn't seem that way back then. I imagined myself an Olympic champion in swimming and thought I could swim as fast as the best swimmers in the world. I later realized I would have never done it. I was short, tiny, I didn't have the swimmer's body, and my good results were down to excellent health and will. One day, the results stopped improving," Laura recalls.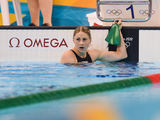 Fotodiena/Roberto Dačkaus nuotr./Laura Asadauskaitė
In addition to swimming, she took up running – "You never know what else you might be perfect for." And indeed, it is running now that she considers her particular strength in pentathlon.
When it became clear that she would not be a great swimmer, Asadauskaitė's coaches suggested she tried modern pentathlon. Reluctantly, she gave it a try. And has not regretted it since.
"I noticed Laura in 2001, when she was still in school and going to swimming sessions. Her coach Vygantas Banys suggested I tried her out in pentathlon, but Laura herself was not so quick in jumping sports – she was convinced she would fulfil herself in swimming. It took a year before she came and said: 'I want to be a pentathlete!'" Kliosovas recalls.
Incredibly strong
Up until several years ago, Laura had been hearing from coaches she should quit pentathlon and do triathlon or racewalking, but Asadauskaitė insisted she'd finally discovered her calling.
At 1.6 metres tall and weighing 49 kilograms, she looks like Thumbelina among her competitors. But the impression is misleading.
"She is in excellent form, she's strong like a man. Very persistent, patient, she can stand anything. She won't ever tell you she can't do something," Kliosovas says.
Asadauskaitė herself believes that her slender build can be a serious advantage: "Because I am shorter, it is easier for me to run uphill than for my competitors. Since I run in shorter steps, I usually lose them behind in uphill stretches."
Athlete and mother
In 2009, Asadauskaitė married Andrejus Zadneprovskis who is also a decorated pentathlete, though he has not yet won an Olympic gold medal. A year later, the couple was blessed with a daughter Adriana. After her birth, coaches were uncertain whether Asadauskaitė would be able to get back into her previous shape.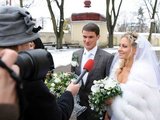 Alfredo Pliadžio nuotr./ANdrejus Zadneprovskis and Laura Asadauskaitė
Before giving birth, the future champion had already won some awards. She finished third in 2007 world championship, she was number two in Europe in 2008, number two in the world in 2009. Her Olympic début was in 2008 in Beijing, where she finished 15th.
"I have always been strong. Motherhood certainly didn't drain me of my strength. Perhaps even added to it. Everything stayed the same. Equally good," Asadauskaitė said after she won this year's European championship.
And it was not her first medal after maternity leave – she won bronze in 2011 world championship and was elected Lithuania's best female athlete of the year. She stands great chance of landing the title this year as well.
Cities of success – London and Rio?
Asadauskaitė is now 28 and does not think of ending her career yet. The country hopes she will defend the Olympic title in 2016 Rio de Janeiro Games – no other female pentathlete has yet been Olympic champion twice in a row.
"London is my lucky town. I became world's vice-champion here in 2009. I think my fortune will not turn away from me in the Olympics either," Laura said before the Games.
Rio de Janeiro – the city hosting legendary carnivals and the upcoming Olympic Games – is also among Laura's favourite places. The pentathlete says it is the most spectacular city she has ever visited. And she has seen a lot of the world. "The nature and sights in Rio de Janeiro are breathtaking," she says.
Asadauskaitė admits she is not an ardent traveller and would not have seen as many countries as she has if it were not for sports. "Long voyages tire me. Flights, changes, waiting hours – I'm annoyed by all that," she says, adding that whenever she goes away, she cannot wait to be back in her native Vilnius.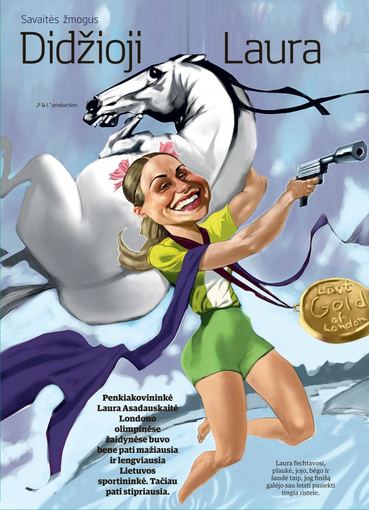 "15min" iliustracija/Laura Asadauskaitė
"Vilnius is a small pretty town that feels very homely to me. It is not exotic, but there are pretty sights. Besides, it is my home town and I feel that I'm only a guest elsewhere," the Olympic champion says.
Interesting facts
Between themselves, Asadauskaitė and her husband Zadneprovskis share a full set of Olympic medals: Laura's gold from London, Andrejus' silver from Athens and bronze from Beijing.
Laura is a volunteer of Lithuanian national defence forces.
She has graduated from Lithuanian Educology University and is currently pursuing a master's degree in EU Policy and Administration at Mykolas Romeris University.
Several times, she has won international race up the 31st floor of the Europa building in Vilnius.
For her Olympic title, the state is rewarding Asadauskaitė with a prize of 400 thousand litas (116 thousand euros), a brand-new BMW, and a Grand Cross of Commander of the Order for Merits to Lithuania.
Jau prenumeruoji?
Prisijungti
Išsirink planą ir skaityk be ribų
Mėnesinis
planas
15min prenumerata

Kasdienis naujienlaiškis
BNS Sprintas

ŽMONĖS Cinema prenumerata
Pirmi trys mėnesiai – po 0,99 Eur,
vėliau – 4.99 Eur/mėn.
-50%
Metinis
planas
15min prenumerata

Kasdienis naujienlaiškis
BNS Sprintas

ŽMONĖS Cinema prenumerata
Apmokėti
Įvesk savo mobilųjį numerį, atsiųsime kodą
Į mobilųjį išsiuntėme kodą. Įvesk jį ir skaityk toliau
Norėdamas tęsti – prisijunk
Norėdamas tęsti – užsiregistruok