But life in Šiauliai is more prosaic than that. Industry, that flourished under the Soviets, has withered since, business is depressed by emigration and investment drought. The only hope – Latvian shoppers flooding Šiauliai malls and museums.
Grand Boulevard
Any account of Šiauliai would not be complete without a mention of Vilius Puronas – a Panevėžys-born designer who moved here four decades ago and works as a project manager for tourist information centres. It is thanks to him that a section of Vilniaus Street between Draugystės Avenue and Žemaitės Street, reserved for pedestrians, is adorned with amusing figures of a rooster, pelicans, monkeys, dwarves, cats, and a pig.
Puronas takes me on a tour along the Boulevard, as locals refer to the 1.28-kilometre pedestrian stretch of the street. We start by a crayfish (cancer) clasping a packet of Lithuanian cigarettes in its claws – probably the first social ad in the country.
The Boulevard, built in 1976 across the centre of Šiauliai, was the third of its kind in Europe. Laisvės Avenue in Kaunas was turned into a pedestrian boulevard a year later, Moscow's Arbat dates back to 1978-1979. The idea of a pedestrian street was put forward by Vilius Kazanavičius, chairman of the executive committee at the time. Architect Virginija Taujanskienė designed the project and Puronas, who was the town's senior artist, set out to give the street some visual appeal.
Troublemaker of Šiauliai
Puronas himself could be seen as a mobile monument of the Boulevard. Fewer passers-by stop to admire the sculptures than to greet him. One of them is concerned about snow on roofs, another just stops to say hi. "I can hardly leave home," he laughs. Reporters refer to him in many different designations: architect, designer, cultural historian, Šiauliai image maker, or troublemaker, crow eater.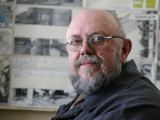 Vadimo Simutkino ("Šiaulių naujienos") nuotr./Vilius Puronas
He moved to Šiauliai after university and military service. "In Panevėžys, I would be little else than the son of Puronas – my dad was a famous pedagogue," Vilius grins in reply to whether he ever longs for his home town.
It is hard to tell when Puronas's narrative turns into plain fiction and jokes – especially when the topic is himself. He is cautious to always be on my left side. When I assure it does not matter, he retorts: "It does for me – this is how a gentleman walks." Some time later he volunteers: "Women know I am heartless."
But for what it's worth, Puronas doubtlessly loves his adopted hometown of Šiauliai. Why else would he be publishing volume after volume of "The Curious History of Šiauliai"? The volumes claim that it was here that the first conflict between cats and dogs happened; an eight-wheel vehicle was patented, which later inspired the design for the Moon Rover; and Baron Munchhausen himself once paid a visit.
On the occasion of the millenary of Lithuania's first mention, Puronas gave the town a gift – a giant tin fox, 25 metres in length, 7 metres wide, and weighing 7 tons, and bound the biggest book in the country (1.25 by 0.9 metres, 113 kg) about the Mound of Salduvė outside Šiauliai.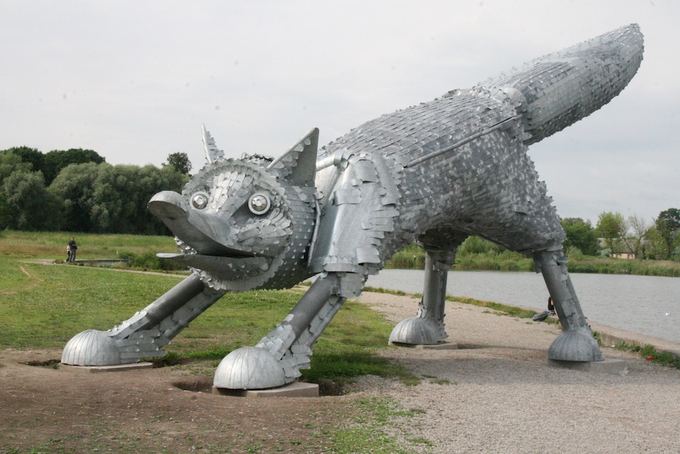 Vadimo Simutkino ("Šiaulių naujienos") nuotr./The Iron Fox
Business fuelled by exports
When Šiauliai mayor Justinas Sartauskas lists the greatest assets of the town, he starts with business, not Vilius Puronas. The town has long been a transportation hub, easily accessible via roads or rail from Vilnius, Panevėžys, Klaipėda, Riga, Kaliningrad, Tallinn, Liepaja, and Minsk. Via Baltica highway runs through it.
Some fifty years ago, an airport was built in nearby Zokniai, it is now used by the Lithuanian military and NATO troops who patrol the Baltic airspace from here.
Growth of Šiauliai as an industrial centre started in the 19th century. Chaim Frenkel, a merchant known for his patronage, built a tannery that was the biggest and most modern one in the Russian Empire, turning the ordinary currier into one of the wealthiest people in the Empire.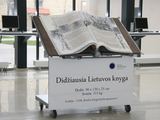 Vadimo Simutkino ("Šiaulių naujienos") nuotr./The biggest book in Lithuania
Between the wars, Šiauliai produced 85 percent of the country's leather output, 60 percent of footwear, 75 percent of flax, 35 percent of candy. In the Soviet period, a number of new factories were opened in Šiauliai: bicycle and engine plant, machine-tool plant, TV set factory, leather processing and shoe plant, a hosiery, a textile factory. Back then, Šiauliai accounted for 6 percent of Lithuania's industrial output. Now, for 4-5 percent.
"The town is not the main GDP producer, but our strength is in our diversity," Šiauliai Industrialists Association president Arūnas Rupšys tells 15min. "Businesses are dispersed but reliable, there's no one big plant that could drag the quality of life of the entire town down if it went under."
Leather and electronics industries have contracted, and the formerly prominent car market lost much of its splendour, but bicycle factory "Baltik Vairas" carries on successfully. Šiauliai develops production of plastics, packaging, nonwoven fabrics, heaters, and electric appliances, manufacturing and food industry.
Šiauliai also produces furniture for Sweden's Ikea. There are not many large companies of up to 500-million-litas annual turnover, mostly small and mid-sized businesses. Some of them, however, have made into the list of top 500 fastest-growing companies.
Šiauliai mostly feeds on local investment, not foreign. According to estimates by Swedbank experts, investment in Šiauliai County in 2011 was 4,238 litas (1,228 euros) per capita – the third-best result after Vilnius and Klaipėda Counties.
According to Rupšys, business holds on exports – some companies sell up to 90 percent of their production in foreign markets, mostly Western Europe.
Town becomes deserted
At the moment, the greatest concern for Šiauliai entrepreneurs and mayor is depopulation due to emigration.
"We're short on skilled labour. And this explains the lack of investment. Demand for labour is high, while specialists are in short supply," Rupšys explains. "We are less attractive, don't have as many pools as they do in Vilnius. Even another Baltic capital is close – Riga (128 kilometres away, while Vilnius is 210 kilometres off and Kaunas, 142). And commuting to work takes less than in Vilnius, no traffic jams."
Mayor Sartakauskas quotes merciless statistics: "In 2000, the town population was 127 thousand. Now, only 107 thousand and counting. We lose about 1.5 to 2 thousand people a year." The town was most populous in 1989, with 146 thousand people, and today's population size is what it was in the 1970s. The number of school-age children has halved over the last decade – from 23 thousand to 12 thousand.
Latvians
One thing that Šiauliai is not short on is tourists. Most come to the celebrated Hill of Crosses – up to half a million pilgrims visit it each year. The Hill of Crosses, much like the cheerful statues on the Boulevard, attract even tourists from China. It is located some 10 kilometres north of Šiauliai, so most visitors stop by in town as well.
Giedrė Brazlauskaitė, acting director of Tourism Information Centre, tells 15min that tourists are attracted to Šiauliai museums, particularly the Chocolate Museum built by Rūta candy factory and the university botanical garden.
Chaim Frenkel's villa, built in early 1900s, complete with a park, a fountain, and a restaurant, has become popular with both tourists and wedding planners. Visitors can take a tour around the mansion and have a peek into the currier's trade.
According to Brazlauksaitė, educational workshops add extra appeal to Šiauliai museums. In the Bisycle Museum, one can learn many useful cycling tricks after seeing the exhibition – the first bike in Lithuania made of wood and iron, a Czechoslovakian cycle-ball bike, a tricycle for grown-ups, a military bike, a sports bike with wooden wheel rims, and bicycles fashioned by jewellers.
The Cat Museum – supervised by its feline "director" Filomena – features over 4 thousand exhibits and organizes public readings and drawing contests. The local mill shows the process of making bread, the botanical gardens offer horseback riding and traditional spring festivals. The latter involves making tea from various herbs and is particularly popular with Latvians.
Latvian tourists mean the same for Šiauliai as Belarusians for Vilnius.
They come to shop in local malls, in Wednesday and Saturday markets, dropping by for a chocolate tasting and other museums on their way. Latvia's frontier towns like Bauska, Dobele, even Jelgava are closer to Šiauliai than Riga while goods on offer are slightly different than those at home. Local cafés and restaurants have already sensed a surge of Latvian visitors.
Šiauliai could well be called Lithuania's capital of shopping. Rupšys claims that it is number one town in terms of shopping space per capita.
Šiauliai
The town was first mentioned in historical sources in 1236, after the Battle of Saulė. It was a fortification settlement on the fringes of Samogitian and Semigallian tribes called Saulen, later – Soule, Saulia, Sovli. The settlement was built to defend against attacks of the Livonian knights. Eventually, Šiauliai, situated on a junction of several trading routes, grew. In 1445, the first wooden church was built.
Between 1864 and 1904, when the Russian Empire imposed a ban on press in Latin alphabet, Šiauliai served as an important routing hub for book smuggling. In 1904, the town hosted the first Lithuanian theatre performance – a comic play by Antanas Keturakis, "Amerika Pirtyje" ("America in a Sauna").
In 1915, retreating Russian troops set the town on fire, it was later bombed. Šiauliai was rebuilt between the wars, but two thirds of its buildings were demolished during World War Two.
Šiauliai, whose name derives from "saulė", the sun, is famous for its so-called seven solar objects: the Renaissance St. Peter and Paul's Cathedral with a sundial on its façade; the Sundial Square with the "Shooter" ( or the "Golden Boy") statue by Stanislovas Kuzma; the sculpture "Dawn"; the stained-glass piece "The Battle of Saulė"; the sculpture in Salduvė Park for the Battle of Saulė; the "Sundials" fountain; and the Rooster Dial Square.
Šiauliai is also known for its sports, it is called the Lithuanian capital of rugby, it has strong basketball and football teams. A number of celebrated athletes come from Šiauliai: coach of the national basketball team Antanas Sireika, who led the team into victory in the European championship; champion basketball players Mindaugas Žukauskas and Donatas Slanina, basketball player Robertas Javtokas, chess player Viktorija Čmilytė, cyclist Vilma Rimšaitė, marathon runner Rasa Drazdauskaitė, runner Eglė Balčiūnaitė, cyclist Gediminas Bagdonas.
Jau prenumeruoji?
Prisijungti
Išsirink planą ir skaityk be ribų
Mėnesinis
planas
15min prenumerata

Kasdienis naujienlaiškis
BNS Sprintas

ŽMONĖS Cinema prenumerata
Pirmi trys mėnesiai – po 0,99 Eur,
vėliau – 4.99 Eur/mėn.
-50%
Metinis
planas
15min prenumerata

Kasdienis naujienlaiškis
BNS Sprintas

ŽMONĖS Cinema prenumerata
Apmokėti
Įvesk savo mobilųjį numerį, atsiųsime kodą
Į mobilųjį išsiuntėme kodą. Įvesk jį ir skaityk toliau
Norėdamas tęsti – prisijunk
Norėdamas tęsti – užsiregistruok