Has Valančiūnas – who played in Aleksandar Džikić-coached Lietuvos rytas and therefore had a taste of the Eurocup and the VTB United League, but not the Euroleague – made as much progress as everyone expected of him before the season? Is Lithuania's most promising basketball player ready for challenges in the NBA?
"I do not know what progress he was expected to make, but that he did make some is doubtless. Just because he underperformed in finals, one cannot say he didn't make any progress," says Darius Maskoliūnas, one of Lietuvos rytas coaches.
"Perhaps some hoped for even more, but then remember his date of birth – he only turned 20 this year," the coach adds. "I think people expect too much from him. In terms of development, he is steadily moving forward. He has flaws, no doubt. There will certainly be room for improvement, once he moves to the NBA. It would be odd to claim that he is already completely – technically, physically, and psychologically – ready for the NBA."
Motiejūnas progressed faster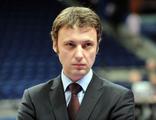 Alfredo Pliadžio nuotr./Rūtenis Paulauskas
Basketball coach Rūtenis Paulauskas disagrees with Maskoliūnas – one must struggle to see evident growth in Valančiūnas' play, he says. The coach compares him to Donatas Motiejūnas, who is joining Huston Rockets this fall, while reasons for Valančiūnas' poor performance this season are best explained by pointing to the team's strategist Džikić.
"It was sad just looking at Valančiūnas at times. I hoped the team would use him better, that he would be given more opportunities and conditions to grow. I think that was his hope too. I do not want to put the blame on the player himself, since I can see he is exceptionally talented as well as an open and honest person, eager to be loyal to his team and follow the coach's orders. Unfortunately, not all turned out as they wanted. Valančiūnas stayed in the team in order to grow as a player. Did he? In my opinion, not really," Palauskas says.
I hoped the team would use him better, that he would be given more opportunities and conditions to grow. I think that was his hope too. (Paulauskas)
"We can compare him to Motiejūnas. He was allowed to do very much in Sopot's team. He was granted some freedom and taught discipline. He was not prevented from playing in his individual style, but on condition that his teammates were not disadvantaged either. We witnessed a qualitative jump that this player accomplished. Even though, before the season, it was unanimously claimed that Valančiūnas was a much more talented and promising player than Motiejūnas, we can see now that the latter has made a bigger progress," Palauskas compares the two Lithuanians.
"I can see that Valančiūnas lacks experience in team play, ability to read situations fast, more accurate passing, etc. He is nevertheless a very capable player. He has an excellent jump, he could be used much more efficiently in defence, he's got a decent mid-range throw – he could have been allowed to do more distance attacks. He is an exceptionally good fighter, he inspires his teammates, he could, as they say, die on the court for every ball. He is a player who should have been granted the credit of faith. Sensing that he was trusted, Valančiūnas would have progressed much faster," the coach speculates.
Jasikevičius missing?
After many lifeless matches with Valančiūnas, experts often pointed to Tyrese Rice and Aleksandar Rašić. The Lietuvos rytas point guards were often reproached for failing to use Valančiūnas.
Maskoliūnas refuses to comment on the job done by his colleague Džikić, yet he is outspoken about links between Valančiūnas and the point guards. The problem is, he says, that Lithuanians compare all point guards to Šarūnas Jasikevičius.
"Jasikevičius is a unique player in Europe, and everyone uses him as a measure – what they saw in the European championship, how Valančiūnas was used in the national team – to assess Rice and Rašić. Yet, as I've said, Jasikevičius is one of the kind. Both Rice and Rašić did to the best of their ability and I think it's unproductive to blame them for anything."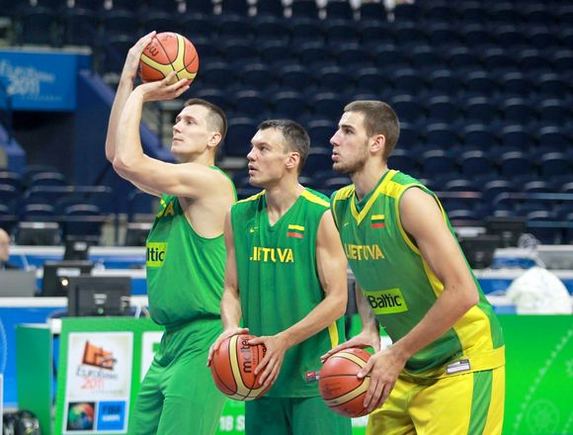 Irmanto Gelūno/15min.lt nuotr./Paulius Jankūnas, Šarūnas Jasikevičiusr and Jonas Valančiūnas
Perhaps Valančiūnas' Achilles heal is his over-dependence on point guards?
Palauskas shakes his head: "Khalid El-Amin (Lietuvos rytas point guard in 2010/2011 season) wasn't a great ball-delivering point guard either, but that did not prevent Valančiūnas from playing very efficiently. There are no good forwards who could do great without a point guard. That's a fact. Neither Mike Batiste, nor Robertas Javtokas, nor anyone else. Even if they play well, doubling for defence might bring the game down. So I don't see a great flaw of Valančiūnas here."
NBA material from day one?
And yet – is Valančiūnas ready to début in the NBA? How important will he be for the Raptors in season one?
Let's not hope for an instant superplayer. Valančiūnas is not one just yet. He is merely a supertalent. It's still a long way before he becomes a superplayer.
"It will largely depend on the role he'll be given to play. Will much of the game  be done through him or will he be given an episodic role. It's hard to predict anything, but I've a hunch that in the NBA, he'll blend in from day one," Maskoliūnas says.
"70 percent of MBA forwards have certain tasks and are limited in their capacities. They defend well and are sent to the court to defend. If they are good at steals, that's what they do. Meanwhile, Europeans, like Valančiūnas, Darko Milčić, or Nikola Peković, in addition to their primary forte, do quite well at other tasks too. Therefore these players are expensive, they are valued and sought for by the NBA market," Palauskas maintains.
He thinks it is hard to say whether Valančiūnas ir ready for the NBA. However, Palauskas says, he has plenty of time to prepare.
Fast results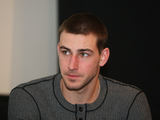 Juliaus Kalinsko/"15 minučių" nuotr./Jonas Valančiūnas
So far, the Raptors are not too demanding of Valančiūnas. The Lithuanian player is seen as a long-term project and no one in Toronto will panic if he needs some time to warm up. On the other hand, it is no secret that Valančiūnas is counted on to be a major factor in the team's bid for a place in the upcoming season's playoffs.
"A problem: Rookies rarely blossom right away, especially rookie big men," says basketball reviewer for the National Post Eric Koreen. "Some exceptions, to varying degrees: Tim Duncan, Amar'e Stoudemire and Pau Gasol. Beyond Gasol, it has proven very difficult for European big men to get acclimated immediately to the NBA game, especially if they are expected to patrol the paint instead of operating on the perimeter."
I truly believe his experience is going to have him a step ahead of any rookie we bring in. (Dwane Casey)
"Valančiūnas is a different story. I truly believe his experience is going to have him a step ahead of any rookie we bring in. I really think he's played against men in Europe. He's going to be a step ahead," Raptors' strategist Dwane Casey has lately commented on Valančiūnas.
Commentators point to Ed Davis and Amir Johnson as Valančiūnas' main competitors for playtime. Davis, 23, has spent his last season in the NBA. The 2.08-metre-high player played 66 games this year (9 in the starter), scoring on average 6.3 points in 23.2 minutes, with 6.9 rebounds. 2.06-metre-high Johnson, 25, has played his seventh season. He played 64 games (started 43), scored on average 7.1 points in 24.3 minutes and 6.4 rebounds.
"Young players take time to figure it all out, what the nuances of the NBA are all about. Jonas will be fine. But we're not going to force feed anything. I'm not going to tell coach he's got to play him so many minutes, not going to say he's got to start," Raptors president Bryan Colangelo says.
Maskoliūnas summarizes: "Let's not hope for an instant superplayer. Valančiūnas is not one just yet. He is merely a supertalent. It's still a long way before he becomes a superplayer."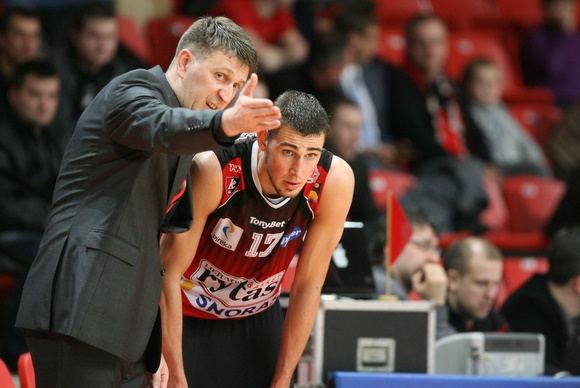 Juliaus Kalinsko/"15 minučių" nuotr./Darius Maskoliūnas and Jonas Valančiūnas
Facts
- Eurocup Rising Star and Lithuanian Basketball League's MVP award – these are the only titles Valančiūnas pocketed this season. No team trophies.
- Lietuvos rytas has played 73 official games in various tournaments this season. In 31 of them, Valančiūnas was the most valuable player. For comparison, Renaldas Seibutis was Lietuvos rytas' MVP in only 10 games.
Jonas Valančiūnas: Tough season made me stronger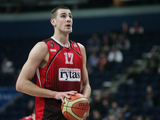 BFL nuotr./Jonas Valančiūnas
"This season was very hard for me both physically and psychologically, but I'm happy that it was that way. Every difficulty makes me stronger. Whatever the challenges, our team remained united. Despite all odds. Personally, I am always aware of the support from my teammates. The team did not win and I am always critical of my own performance. Very critical. I think that everything could be improved, as there are no limits to perfection. It depends on how much work you put into it and how much you want to squeeze out of yourself. I'm always going for the maximum. There's the whole summer before the NBA season. I'll work hard, I'll try to increase my physical strength. I'm not afraid of challenges. If I run away from them, trying to evade, it won't do any good. I'll be going there with a positive attitude. I'll be going with a hunger."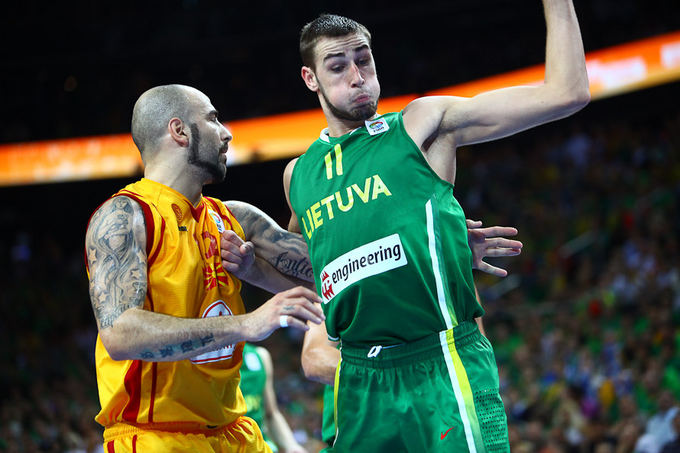 litnews.lt/Jonas Valančiūnas
Comments from international experts
We asked international basketball experts to share their opinions on Valančiūnas' progress and his readiness to dive into the NBA. We gave them two questions: Has Valančiūnas' progress over the last season met your expectations and whether the tall man of Lietuvos rytas is ready to début in the NBA?
Rafael Uehara | Thebasketballpost.com reporter:
Valančiūnas did not improve as I expected. Playing time wasn't an issue, so the lack of glaring progress is a head-scratcher. It's hard to know, however, how much is on him and how much is on the coach.
I feel like he is ready for the NBA physically. Upper body strength still projects to be an issue but Valančiūnas seems massive enough to keep up with the NBA's enforcers immediately. Defensively, Jonas is expected to impact right away with his legit length and mobility, which Raptors' head-coach Dwane Casey should take full advantage of, attempting to drill him into an emulation of Tyson Chandler.
Cagri Turhan | Yazihaneden.com basketball reporter:
He didn't develop his offensibe skills as much as I expected. However, It takes longer for big men to improve their game with respect to the players at other positions. Therefore, even if I don't find his development satisfactory, it's understandable at some point. Also, he had significantly bigger role this season comparing to the previous one. Even if he needs to improve at low-post play and mid range jumpers to become a more consistent player at offense, he added a valuable experience at the mental side of the game. On the other hand, he has become a more effective defender under the rim. His effect is not something you can see with the numbers.
Is he ready for the NBA? This is probably going to be more related with how the Raptors is going to use him. He needs a more reliable mid-range jumper and a larger portfolio of low-post plays in order to take consistent minutes and produce satisfactory number. On the other hand, he does really well at some areas to contribute his team at least for 15-20 mins per game. He is quite focused on rebounds and knows how to finish near the rim. He could prove himself as a solid rebounder in the first place before proving himself as a good center.
But the team concept and coach are probably more decisive than any other thing. His performance can significantly increase with good play-maker, especially good at pick and roll. We have seen how his performance elevated last year during short Šaras stint. He's getting Jose Calderon in Canada and this may not be the thing he would like to have there. Overall, this depends on Raptors as much as on him but if he can handle the pressure of expectations, he could become an above-average center, which is quite valuable in the NBA.
Simon Jatsch | In-the-game.org basketball reporter:
Has he made progress? Absolutely. Here's the thing: I understand there's a certain impatience in Lithuania (and Toronto, probably) with such a highly-touted prospect, that is only natural. But Jonas turned 20 only recently, you cannot expect him to be a complete basketball player this early in his career. Playing with a less creative backcourt probably accelerated his development a little. Last season, he was getting easy layups and dunks delivered by Jasikevičius and El-Amin, this season he has to create his own shot a little more, is actually getting touches in the post. That is also the reason for his slight drop in field goal percentages. From what I've seen, his post play is pretty promising for a 20-year-old. His passing is also improving, helped by the fact that Rytas has been using a lot of handoff plays on the wing in the last couple of years. So he constantly has to read the defense, and make decisions between simple handoff and backdoor feed.
There's obviously a certain adjustment period even for veteran centers like Splitter. Jonas will go through the same stuff, but once he has left it behind, he'll be fine. He obviously has the motor and work-ethic. Euroleague rebounding numbers also translate extremely well to the NBA – not only in average, but consistently, player for player – so there's good reason for confidence in that area. The biggest question is how good his offense is going to be, but he'll be a solid NBA player long before having developed a fully balanced and effective offensive arsenal.
Ryan Wolstat |  "Toronto Sun" basketball reporter:
Not the easiest question to answer, since I did not see him play live, only catching a handful of games this season on-line. From what I did see, he certainly did not look out of place competing against men. He needs to get stronger, but he was still quite productive and was particularly strong defensively. I'll defer to the experts who named him top player and top centre in the Lithuanian league, even though he was way younger than most of the guys he was competing against. That indicates to me he did just fine and improved quite a lot. I know Sonny Weems and other former NBA players playing in Lithuania were quite impressed with him. The Raptors were happy with his progress and were pleased he was working under a coach Dwane Casey knows quite well. That will help him adapt to what Casey asks of him.
Is he ready for the NBA? Yes. Do I think he's ready to be a star from Day 1? No, big men take time. But he has a big advantage over most big men entering the league from the NCAA in that he has already competed for multiple years against grown men. The NBA is different, the players are bigger and stronger, but the jump won't be as extreme as it is for college athletes. Add in the experience he will get again playing against the best in the world at the Olympics (I just can't see Lithuania not qualifying) and I fully expect him to be in the rotation as soon as he arrives in Toronto.
He will be playing with an excellent pick-and-roll point guard (either Jose Calderon, or Steve Nash if they can sign him or possibly Jeremy Lin or Goran Dragic if they can't land Nash) so that will be very good for Valančiūnas since he is quite good on the P & R.
I expect the Raptors to work him in slowly, playing him off the bench behind somebody like Aaron Gray for the first few months of the season as he gradually proves he is worth more time. I expect him to be a productive backup NBA centre right away, I just think it will take some time before he is an above-average/star-level starting centre.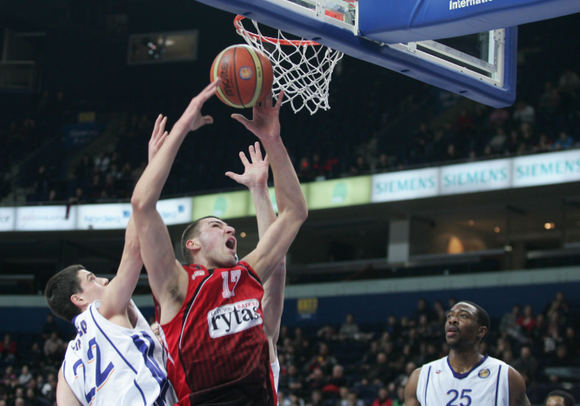 BFL nuotr./Jonas Valančiūnas
Jau prenumeruoji?
Prisijungti
Išsirink planą ir skaityk be ribų
Mėnesinis
planas
15min prenumerata

Kasdienis naujienlaiškis
BNS Sprintas

ŽMONĖS Cinema prenumerata
Pirmi trys mėnesiai – po 0,99 Eur,
vėliau – 4.99 Eur/mėn.
-50%
Metinis
planas
15min prenumerata

Kasdienis naujienlaiškis
BNS Sprintas

ŽMONĖS Cinema prenumerata
Apmokėti
Įvesk savo mobilųjį numerį, atsiųsime kodą
Į mobilųjį išsiuntėme kodą. Įvesk jį ir skaityk toliau
Norėdamas tęsti – prisijunk
Norėdamas tęsti – užsiregistruok