The first-place winner of this competition will be awarded a trip for two to the USA, during which they will be able to visit the most famous technology museums and interact face to face with world-class tech experts. The other finalists will receive valuable prizes as well.
Video clips introducing performed research may be submitted by July 15th and will be evaluated by a commission of professionals from seven different subject areas. The commission will include Shift4 Payments Lithuania head Tadas Vizgirda, well-known businessman and Dr.Vladas Lašas, science journalist Goda Raibytė, deputy director of the Science, Innovation and Technology Agency (MITA) Gintas Kimtys, digitalisation project head and advisor to the Minister of Education, Science and Sports Justina Kugytė, and others. Five finalists will be selected from the submissions. Visitors of the project's website will also be able to vote for their favourite finalist on July 21. The competition will be won by the video clip author who receives the highest evaluation from the commission (50%) and the viewers (50%).
The head of the competition's organiser Shift4 Payments Lithuania, Tadas Vizgirda, states that spotting youth talents at school, inspiring them and motivating them to aim for more is the main mission for this project. The competition is to be held annually.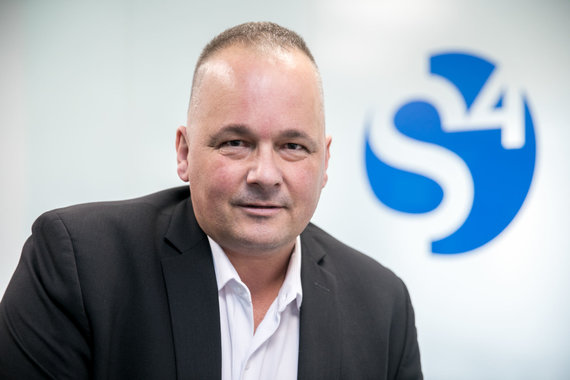 Tadas Vizgirda - Julius Kalinskas / 15min photo.
"The way we live and the footprint we leave on this planet is a choice for each one of us. However, we often don't even give thought to how our habits and consumer culture impact our environment. We believe that the young generation will begin viewing critically the everyday needs and habits that surround us and will propose stunning ideas on how each one of us could become a more sustainable and responsible inhabitant of this planet," Vizgirda says.
The Ministry of Education, Science and Sports commends this initiative and urges teachers for children in grades 8 through 12 to actively engage with the competition, inform students about the initiative and assist them with participation in the competition.
"Teachers are some of the most important individuals in a child's life. We believe that alongside the support of teachers and their encouragement, all tasks become easier to tackle," Justina Kugytė, head of the digital education transformation project EdTech, says.
The company will award the most actively engaged work supervisors and teachers with incentivising prizes. More about the project and the competition rules can be found on the website www.shift4future.com and the project's social media profiles on Facebook and Instagram.
Prenumeruoji MAX?
Prisijungti
Išsirink planą ir skaityk be ribų
Mėnesinis
planas
Pirma savaitė - 0,01€,
vėliau po 3,5 €/mėn.
Apsimoka
Metinis
planas
Mokant iš karto
už 12 mėn. – 33,50 €
Apmokėti
Įvesk savo mobilųjį numerį, atsiųsime kodą
Į mobilųjį išsiuntėme kodą. Įvesk jį ir skaityk toliau