"This painting has brought new life to the wall. The market seems to be full of life and energy and has become more attractive. I can only hope that the future market visitors will enjoy it as well," says artist Jurgis Tarabilda, the author of the project initiated by Darnu Group and the one responsible for the splash of creativity on the building's walls.
More focus on art projects
This project by Jurgis Tarabilda is not the first collaboration he has had with Darnu Group real estate developer. Several years ago, the artist painted the main wall of Artagonistas Hotel in the Old Town of Vilnius.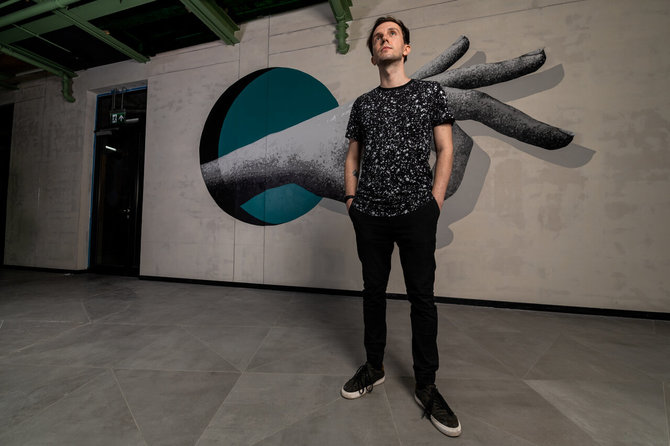 Jurgis Tarabilda
"I am very glad to be able to participate in this initiative. Seeing business initiate similar projects is always a great joy to me. Even though artists can express their creativity and contribute to the appeal of the buildings deemed important to the society, I find this field still lacking in Lithuania. People like spaces that are not boring and have been designed with creativity, making them a center of attraction," says Jurgis Tarabilda.
Akvilė Liaudanskienė, Corporate Affairs and Marketing Director at Darnu Group agrees with the artist. According to her, the idea behind the drawing at Paupys Market was to grant the space more coziness and to make it a bit more intriguing. The market is going to open relatively soon and is expected to become a favorite spot among the residents of Vilnius for shopping, meetings and eating out. "We always focus on designing artistic spaces. Various art projects have always been and will remain an important element of our project portfolio as they create great added value to both the city and separate real estate objects," says Akvilė Liaudanskienė.
Hands as a reflection of community
The artist had many ideas how to paint the wall of Paupys Market. The projects ranged from abstract drawings of colorful spots and lines to realistic paintings on specific topics.
"The drawing can be seen on all floors of the building, I have drawn a hand on every floor, but it's up to the viewers to decide what each hand is pointing at. My message was that the market is firstly and foremostly a community," explains the artist Jurgis Tarabilda.
Gabija Tarabilda, Art Project Coordinator and the wife of Jurgis Tarabilda, also contributed to the creative process. The couple have collaborated on several projects and have worked together in certain stages of the market drawing.
"Four eyes are way better than two when the drawing is this large. When I am working on the wall, I cannot see how it looks from further away. This is why we constantly kept in touch and called one another to discuss the drawing. My wife would often make suggestions how I should turn and which direction to take when drawing," says Jurgis Tarabilda.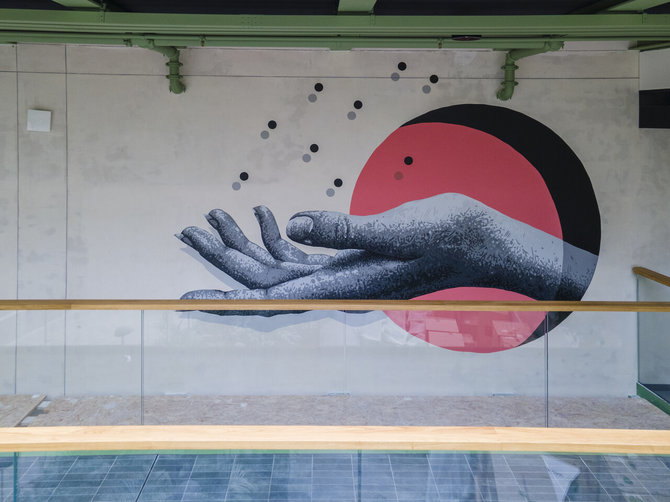 Jurgis Tarabilda's artwork in Paupys Market
The importance of discussions
Managing projects of a large scope is always a certain challenge. Such drawings require great attention to detail, high spatial awareness and experience. Though he rarely takes on wall drawings and prefers only the projects that are of personal interest to him, the artist assures that this has been an interesting one.
"My creations are usually abstract and have no specific illustrative idea. I prefer visual solutions and expect for the audience to interpret my works as they wish," says Jurgis Tarabilda.
Paupys Market is planning to have its grand opening this spring.
Translated by MP Translations Agency in Kaunas.
Šis turinys skirtas
tik prenumeratoriams
Prisijungti
Mėnesinis
planas
Pirmas mėnesis – tik 0,99 Eur,
vėliau – 4.99 Eur/mėn.
Pirmas mėnesis – nuo 0,99 Eur,
vėliau – nuo 4.99 Eur/mėn.
Geriausias
pasiūlymas
-40%
Metinis
planas
Jūs gausite:
15min prenumeratą
Filmus ir serialus ŽMONĖS Cinema
Naujienlaiškį BNS Sprintas
Išsirinkite mokėjimo būdą
*Mokant telefonu yra įskaičiuojamas papildomas operatoriaus paslaugos mokestis. Tuo tarpu mokėjimas banko kortele – jums nieko papildomai nekainuos.
Apmokėti
Nutraukti prenumeratą galėsite bet kada.
Įvesk savo mobilųjį numerį, atsiųsime kodą
Į mobilųjį telefono numerį išsiuntėme kodą. Įveskite jį
Norėdamas tęsti – prisijunk
Norėdamas tęsti – užsiregistruok