"This project is one of the largest in terms of its scale in the company's history, so we are eagerly accepting the responsibility of reviving a legendary part of the Lithuanian capital while maintaining respect to heritage and historical values," says Naresta CEO Arūnas Šlenys.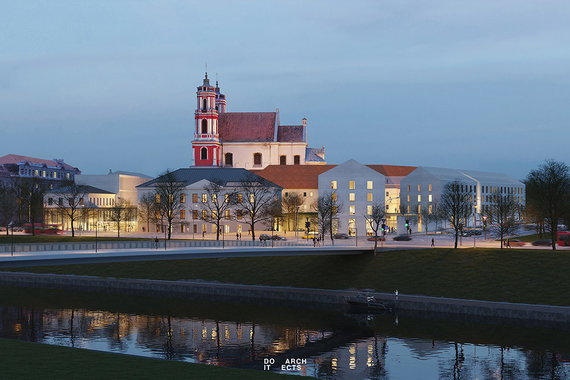 DO Architects/February 16 complex
As per the general contracting agreement, an A+ energy efficiency class hotel purpose complex is to emerge in Vilnius in the territory of the former St. Jacob's Hospital, as well as a conference centre with a spacious underground car parking lot, and all within 27 months. The former hospital buildings will be reconstructed and connected with the aim of adapting them for educational purposes. The project, symbolically named the February 16th Complex, is due to be completed in the fourth quarter of 2023.
According to Šlenys, the project is unique in that it will feature three types of construction work: new construction alongside the reconstruction and capital repair of four existing buildings. Furthermore, the project outlines how the church and monastery spaces will remain protected.
DO Architects/February 16 complex
"Our existing experience and a strong team of specialists expect that the project will be completed in time and will satisfy the expectations of the client and the residents of Vilnius," Šlenys says, revealing that this is now the fifth construction project Naresta is implementing together with Lords LB Asset Management. Several months ago, Naresta completed the construction work on the business centre Lvovas, which, despite the pandemic, were completed in time while containing all potential risks.
"Based on the project, local urbanist tradition will be developed between river Neris and Lukiškės Square, as well as the formation of a unified and vibrant block, which will be appealing to both city residents and investors as well as tourists," says Karolis Tuinyla, the head of the fund LB Special Fund IV, which Lords LB Asset Management manages, and an invitational tender was launched for the project's implementation which Naresta won through its offer of an attractive price and innovative engineering solutions. The expected combined project value is to exceed 55 million euros.
Other than transforming a historical space in Vilnius, a greener and more appealing surrounding environment is to be formed based on a project by the studio DO Architects, and from the direction of A. Goštauto Street, the new Ferryman Monk's Square is to be created.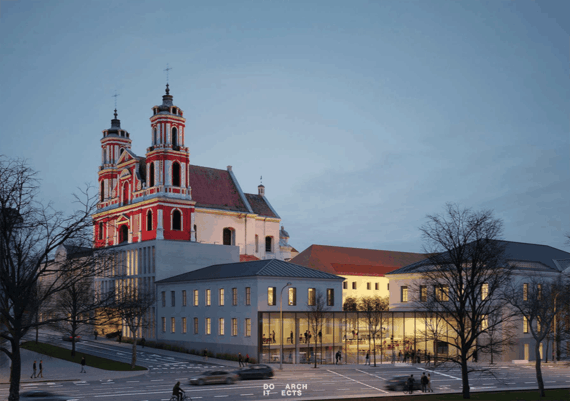 DO Architects/February 16 complex
The general contractor Naresta has restored and built numerous significant objects in Vilnius, including MO Museum, Juozas Kazickas Palace, and it is also constructing a new scientific research and experimental development (MTEPI) centre at the Visoriai Information Technology Park, where it is reconstructing the Dignitary Protection Service building on T. Ševčenkos Street as well as building the sixth block of Paupys. In 2020, Naresta saw its income grow by more than 20 per cent, reaching 45 million euros with a further 10 per cent income growth planned for 2021.
Jau prenumeruoji?
Prisijungti
Išsirink planą ir skaityk be ribų
Mėnesinis
planas
15min prenumerata

Kasdienis naujienlaiškis
BNS Sprintas

ŽMONĖS Cinema prenumerata
Pirmi trys mėnesiai – po 0,99 Eur,
vėliau – 4.99 Eur/mėn.
-50%
Metinis
planas
15min prenumerata

Kasdienis naujienlaiškis
BNS Sprintas

ŽMONĖS Cinema prenumerata
Apmokėti
Įvesk savo mobilųjį numerį, atsiųsime kodą
Į mobilųjį išsiuntėme kodą. Įvesk jį ir skaityk toliau
Norėdamas tęsti – prisijunk
Norėdamas tęsti – užsiregistruok