Working as a well-paid carpenter is much more preferable to being a mediocre manager, they have learnt.
Tragic shortage of specialists
Recently, more and more economists as well state officials have been deploring the fact that vocational training has lost esteem in the Lithuanian education system. The debate is rekindled every spring, when university application deadlines approach. Esteem for crafts is extremely low, the argument goes, and everyone who has the slightest hope of graduating from school wishes to go to a university or a college.
Meanwhile employers are sounding the alarm – the country is facing a tragic shortage of craftsmen with practical skills and not just theoretical knowledge.
Unfortunately, rehabilitating the lost esteem of vocational training is a much more challenging task than educational strategists would like.
Diploma – a matter of fashion
When discussions turn to vocational training, Germany is often presented as a case in point. The German economy is in many ways structurally similar to Lithuania's – manufacturing is an important sector in both countries. At a glance, vocational education systems are similar too. Except for one essential feature – the German pyramid stands on its head in Lithuania.
After graduating from secondary schools, most Germans go into the vocational training network – which by no means close the door for getting a university degree later on. Meanwhile in Lithuania, universities and colleges accept almost as many youngsters as there are school graduates. Why would a boy or a girl with a passion and ability of a car mechanic need a university degree? Because it is fashionable?
Rita Pečiukaitytė, director of Vilnius Service Employees' Professional Training Centre, notes that vocational training in Lithuania lost prestige back under the Soviets. The prevailing opinion was that vocational school students were those who were too lazy to get into a university, who had some addictions or health problems.
Surprising experiment
It has been noted that a university diploma today is less a certificate of specific skills and qualifications than an illustration of one's personal features. If one is able to graduate from a university, one must be hard-working, reliable, and well-organized.
But being a good person is not a profession. Therefore a reverse tendency can be observed in Lithuania: youths with university or college degrees, failing to get a job in line with their qualifications, go to vocational schools to learn a second profession.
Vilnius Service Employees' Professional Training Centre currently has 850 students and 75 of them already have academic degrees.
"For instance, there are people with law degrees from Mykolas Romeris University," Pečiukaitytė says. "Last year, we conducted an experiment and unexpectedly formed as many as three groups of pupils who came to us after having graduated from universities.
"But we will probably not be repeating this experiment this year – the Ministry of Education and Science frowns on that. Quite understandably, the state, after all, has already paid for their education once. Meanwhile vocational training in Lithuania is free and best students can even qualify for monthly grants of 96 litas.
"If you told an outsider that Lithuanian youths go to vocational schools after graduating from university, this would give a very bad image to our educational system, attesting to its inefficiency – it is an unpardonable waste of funds."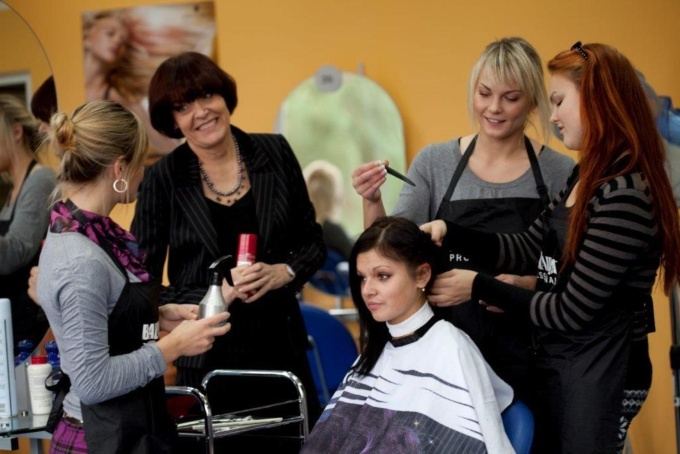 Asmeninio archyvo nuotr. /Rita Pečiukaitytė (second on the left).
Rehabilitating crafts with EU money
Pečiukaitytė commends high state officials and economics specialists who have been singing praise to vocational training lately. She believes that secondary school teachers should follow suit – as well as parents, many of whom still shiver at the thought of their offspring not getting into a proper university.
"Our schools are in great want of career guidance to observe children's skills and inclinations. It is imperative that teachers understand they must not scare their pupils. Nowadays, they often threaten: unless you study and listen to what I say, you'll end up in a "profkė" (derogatory term for vocational school). The assumption here is that it is a great disgrace. Children are led to believe that vocational schools are shabby places, housed in dark basements, where students are taught trade on antiquated machines," Pečiukaitytė regrets the prevailing image of vocational training.
Some trades are given a new lease on life by EU structural funds. For instance, the 2.5 million litas (over 0.7 million euros) of EU money were invested into training programmes for hairdressers, make-up artists, and nannies, which subsequently brought the number of applicants up significantly.
"Over recent years, big EU money has been given to vocational training. But we should talk about it more loudly, parents of potential students are still practically unaware about the opportunities. Whereas in fact, most vocational schools are in a better shape than secondary schools: the buildings are renovated, cosy, and sparkling new," Pečiukaitytė notes.
Discovering oneself
Very recently, Pečiukaitytė closed a deal on purchasing new equipment. The school has been granted 7 million litas (2 million euros) of additional EU support to be used for improving material base of teaching photographers, florists, event organizers, leather artists.
"In a gymnasium or a lyceum, pupils are motivated to study, while we must inspire our pupils' motivation. But we observe children coming here and flowering, revealing what they can. At school, they may have been written off, whereas here they discover themselves and even become leaders," Pečiukaitytė says.
Vilnius Service Employees' Professional Training Centre has recently hosted a dinner party for parents of the school's best students.
"Pupils were thanking their parents for allowing them to go to a vocational school, even though they might have preferred their offspring to study law or management. But they gave up their expectations and did not object their kid becoming a photographer. One girl wanted very much to be a designer because she loved painting. Her parents had a different plan for her future, but they did not object her training as a tailor with us," Pečiukaitytė shares.
First rather than last step
"We still haven't realized that vocational school is the very first rather than the last step in one's education. Once you've got some practical skill, you can go on and apply for a university – this will make you the best specialist you can be, a professional of your respective field," she assures.
She can quote many examples of graduates from her school going on to acquire university degrees.
"One female graduate of ours is now doing an MA in Vilnius Art Academy. We still keep in touch – she designs collections for us. We are happy when she tells us about how easy it was for her in the Academy, since she already knew sewing techniques. For instance, when university students need to sew something, they hire tailors. Then the students present the final design as their own work. Whereas a graduate of our school already knows how to do it himself. He is a truly good specialist, a master," Pečiukaitytė compares.
She notes that pupils at her centre are taught the same programme as kids in proper schools and gymnasiums and take national graduation exams. "About 10 percent of our pupils go to universities right away and when you meet them a decade later, it turns out most have even more degrees."
Pečiukaitytė is happy to say that her graduates enter the job market particularly easily: "Cosmetologists, hairdressers can find a job easily enough. There is a massive demand for nannies. Demand for tailors has no bounds, we could train ten times as many students as we do now. But kids are reluctant to choose this trade because there is a preconception that the garment industry is very exploitative."
15min.lt archyvo nuotr. /Profesinė mokykla
Decent pay
Danas Arlauskas, head of the Lithuanian Business Employers' Association, quotes a line from the Bible which says that a man with skills in trade will serve the king: "That means that even thousands of years ago, people knew that everyone who is good at what he does will be valued."
He has recently made a trip to Germany and saw that career counselling there starts in secondary school.
"Company representatives visit schools, talk to teachers and kids. Students are taken on trips to various factories, where they learn specifics of various trades," Arlauskas shares his impressions.
He notes that, in Western countries, engineers and skilled tailors, masons, blacksmiths, electricians, etc., earn decent salaries.
Similar tendencies, he says, are reaching Lithuania, too.
"Before, there was little demand for specialists in crafts, our economy was based on the buy-and-sell scheme – so everyone wanted to be managers, lawyers, or social workers. But now, foreign investors enter the market, setting up companies, bringing in new technologies, people are building houses, they buy good appliances, new cars, they want to dress in designer clothes, sport fashionable coiffures – and they are ready to pay," Arlauskas says.
He recalls how once he needed a worker to pave his backyard: "I started exploring the market, someone recommended me a freelancer. I hired him and he did the job better than any firm would have. Sure, I paid accordingly. But people like that are in high demand, you have to wait in line to hire them. As far as I know, good carpenters, too, get amazing pay."
In Lithuania, there are 69 public and 3 private vocational schools, offering about 480 various beginner-level vocational training programmes. The schools are open to people without any professional training or even secondary education. While learning a trade, they can also get a school graduation diploma.
This year, Lithuania's vocational schools will accept 193 thousand new students.