Gilužio Rivjera is one of the largest projects we are developing. It is a settlement next to the lakeside, notable for its location, green spaces and for the welfare of its future residents. As we designed it, we were thinking of the link between humans and nature and convenience. We imagined living in an oasis – greeting the sun as you meditate on fragrant grass and seeing it off as you walk along the edge of the lake.
Thus, this bloc hosts numerous children's playgrounds, active leisure spaces, reading locations, modern sports equipment and a restored lakeside, all of which will provide space to nurture the link between humans and nature," one of Homa's founders and its executive director Jurgita Kveselaitė explains. According to her, green spaces comprise an entire 30% of the project's territory.
The new bloc also has apartments intended for long-term letting. For example, students or young specialists who arrive from other cities or countries value the calm more than city noise.
"When the design process began, perhaps around 2011, no one was yet thinking about IT specialists from Belarus moving to Lithuania. But we now see that this would be an excellent place for them and their families. Particularly those who have small children and want to ensure a safe environment for them, living closer to nature. We also think about families who choose to rent a home rather than buy one, as well as older persons who might want to be closer to their children or grandchildren," Jurgita Kveselaitė states.
Two buildings in the Gilužio Rivjera project are intended for rent, being designed as guest homes. The company describes these as the eighth and ninth stages of the project. That said, J. Kveselaitė emphasises that the buildings mentioned above are outlined in the same detailed plan as the entire Gilužio Rivjera project.
The first floors of both buildings are to hold five 1-3 room apartments each. The guest homes established on the second and third floors have six 1-3 room apartments planned in each.
This is a total of 12 guest apartments and five residential apartments per building. The project has planned spaces for commercial operations as well. Potential tenants will be offered premises on the first floors of the buildings.
The project Gilužio Rivjera also has a seventh stage planned out. "It's as if it's a continuation of the Gilužio Rivjera project. We view it as being a new stage of the same project's construction work despite the building rising next to Villa Alicante being different in its form," the co-founder of Homa says.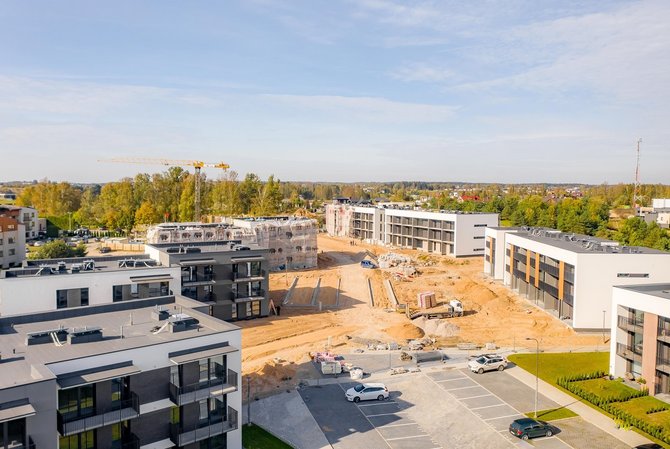 Gilužio Rivjera by the real estate company Homa
The three-storey building will offer 39 1-3 room apartments, ranging from 30.8 to 74.8 square metres in size. Construction work has already begun on this building and is planned to conclude by summer next year.
Around 440 apartments are planned across the entire Gilužio Rivjera project. Each one is to have individual underfloor gas heating and showcase windows. The first floors have their own terraces of up to 100 square metres, while the remaining apartments have balconies of up to 14 square metres in size. In addition, there will be two driveways into the territory, and it will be possible to reach the city's Western Bypass by car in under ten minutes.
Parking space for around 600 cars is planned next to the apartment buildings and a charging station for electric vehicles. New residents are also offered spacious storage rooms.
The company has invested more than 22 million euros into this project. According to the developer, the price of an A+ energy efficiency class apartment currently fluctuates between 85 and 144 thousand euros. That said, almost all the apartments built in previous stages have already been sold out.
About Homa
Operating since 2007, the real estate developer combined all its projects, experience and philosophy under the singular brand Homa last year. The company is among the top five largest residential developers in Vilnius. The company has already developed nine apartment and terraced house projects across Vilnius's residential and central districts, which are now home to over 1,000 new residents and their families. Homa is currently selling real estate in five projects it is developing in Vilnius: the low-rise construction settlement Lazdynėlių Vingis in the Lazdynai eldership and Gilužio Rivjera in Pilaitė, as well as the terraced house complex 24 Terasos in Tarandė and the prestigious apartment building Vytenio 4 in Naujamiestis.