Representatives of international IT companies and European universities that teach software engineers discussed how all this relates to the development of IT talents at the Erasmus+ SoftAware project conference, "Creating IT Talents in Software Engineering," which took place at Kaunas Science and Technology Park (Kaunas STP) on 15 October 2021. So, what helps and hinders the development of competencies in software engineers?
Learning the principles of project management by playing
"Most IT companies chose methods such as scrum or agile for managing software creation processes. While we have many theories and teachings on how to integrate these methods into IT teams, theory as presented in diagrams and real-life are vastly different. In situations where we do not know that we do not know, games that engage the team can prove very useful," Rasa Mažutienė, director of quality assurance at JSC Juvare, observes.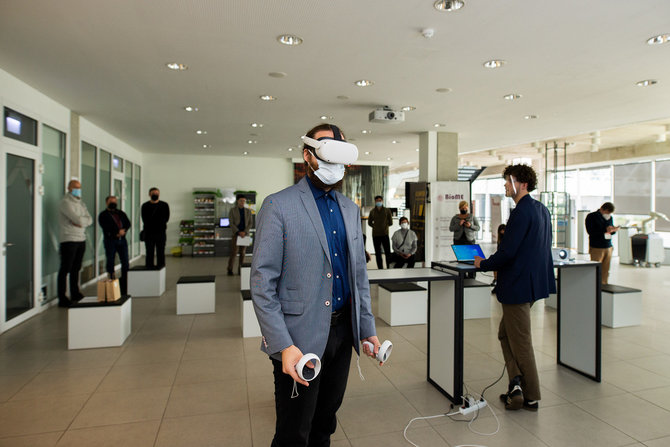 At the technology demonstration centre
While games might not replace theory and they shouldn't be used excessively, they create an environment that supports learning, encourages involvement and helps participants absorb new knowledge. "It is crucial to allow playing teams to be wrong and make mistakes. I would advise team mentors and training instructors not to resolve the problems laid out by the game. If the team is able to overcome the challenge in its first attempt, the members will not see any meaning in improvising further and seeking what could be improved," R. Mažutienė shared.
Increased importance of creativity and high self-control
The US programming service company Devbridge, which is among the country's topmost desirable employers, does not hide that it greatly focuses on technical skills and soft skills during employee selection. "While soft skills might sound rather light, assessing them is particularly crucial when preparing an invitation to join the team. We seek colleagues who would be empathetic team members and be able to find solutions in situations that demand creativity, efficiency, and quality. Therefore, candidates with T-shaped skills are particularly needed, where they are able to make use of their expert technical skills while successfully cooperating with colleagues from other domains," Gintarė Dzindzelėtaitė, social project manager at JSC Devbridge, explained during her presentation at the conference.
The reality of distance learning greatly changed the learning experience during the pandemic. Kaunas University of Technology scientists who analysed student engagement concluded that with students adapting to the new learning routine, something of a lack of will and motivation emerges during lectures. A teaching method that combines hybrid, remote and live meetings remains one of the most effective means of overcoming this.
Students depart to virtual reality to study
"While we nurture IT talents, we observe that it is precisely human skills that become a decisive factor for their professional success. An international expert group, which also includes Lithuanian representatives from KTU and the Kaunas Science and Technology Park, drafted soft skills manual for university lecturers working in the computer science sphere," says Dr Tomas Blažauskas, a member of the international Erasmus+ project SoftAware team in Lithuania and professor at Kaunas University of Technology, Faculty of Information Technologies.
In his overview of the training of software engineers, Dr T. Blažauskas emphasises the opportunities offered by smart devices and virtual reality. What previously might have appeared as only a testing field is now becoming an effective instrument in nurturing specialists in various fields. "Students looking to study Synthesis and Analysis of Algorithms, design and software testing, software project management can install a special app we've created, even onto a smart TV. By the way, students can also turn to virtual reality devices, where they will be assisted by a virtual assistant – a personified owl," the professor observes.
Virtual reality is now increasingly being adopted in other speciality areas – where specific physical actions are required, for example, in medicine or the service sector. During the conference, the KTU VR lab team demonstrated a variety of educational virtual reality games at the Kaunas STP Technology Demonstration Centre. In addition, the conference's participants witnessed the process of preparing for surgery, analysis of historical object reconstruction and an educational trip to mountain mines rich in various chemical elements.
The nurturing of soft skills, interactive teaching methods and measures such as virtual reality practice, as well as applying them while preparing modern training materials, are key aspects in preparing IT specialists not only for the national labour market but also the international one. "In this process, close and responsible cooperation between businesses and universities is crucial in discovering and developing IT talents, orienting them toward the long-term competitive labour market prospects," Živilė Paužaitė, head of quality at Kaunas Science and Technology Park, summarises.