Their ambition to traverse the Atlantic on a small plane astonished the world as well as their compatriots in Lithuania. The international media, covering Lituanica's take-off, said it was the most risky and bold adventure in the history of transatlantic aviation – never before had anyone attempted to cover the distance in such a small aircraft.
The driving force behind Darius and Girėnas's feat was their wish to make their home country, a young nation state that had emerged from the ruins of the Russian Empire only 15 years prior, known to the world. In a testament written shortly before the take-off, they dedicated their flight to future generations and the future of aeronautics.
Lithuanians at home were waiting eagerly for Darius and Girėnas to finish their journey in Kaunas. Aware that Lituanica was scheduled to land sometime after midnight on 17 July, people started flocking to Kaunas Aleksotas Airport on the eve of that day. The crowd kept glancing up to the cloudy sky and listened attentively lest they hear roars of an approaching airplane.
Lituanica, however, was not to be seen that day. Cold and rain-soaked, people did not lose hope, but the crowd was beginning to thin out. As time went by, faces got increasingly gloom, like the empty sky above. By 7 AM, even the most persistent fans had gone home.
Meanwhile the Reuter news agency had already released a brief report about an unidentified plane that was discovered crashed in East Prussia, near the town of Soldin (now Pszczelnik, near Myślibórz, Poland).
Three hours to destination
The sad news spread instantly – by midday, it had reached Kaunas, the then capital city of the country, and soon became the main topic of discussions in streets throughout Lithuania's towns and villages. Neighbours discussed the sad news with tears in their eyes.
The following day, 18 July, members of the reception committee from Kaunas went to the accident site to inspect the remains Lituanica. They were charged with bringing Darius and Girėnas, the new national heroes, back home for proper burial.
On the afternoon of 19 July, even more people came to Kaunas airfield than two days before. As the big plane from Germany, accompanied by an escort, began circling the city, all factory sirens and church bells sounded in sign of mourning.
The death of two young pilots became a national tragedy. Darius and Girėnas came very close to accomplishing their bold quest and died very close to home, having flown for 37 hours and 11 minutes – just three hours short of their destination.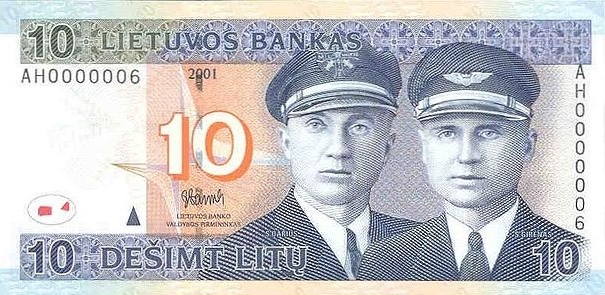 "Wikipedia" nuotr./Steponas Darius and Stasys Girėnas on 10 litas note
Contribution to national self-esteem
"As a nationalist, I have no doubt that Darius and Girėnas will always remain our heroes. I am sure that as long as the Lithuanian nation lives, the two men will be associated with our national accomplishments, because both historically and culturally, their flight was very significant," historian Česlovas Laurinavičius tells 15min.
Indeed, Darius and Girėnas, who came within arm's reach to accomplishing their quest, made a massive contribution to the young nation state's identity, still very much in the making, and national self-esteem.
The importance of Darius and Girėnas in Lithuania's modern national identity is well indicated in the prevalence of the two pilots' images. Monuments for Lituanica's flight have been erected both in Lithuania and abroad. Sculptor Bronius Pundzius carved Darius and Girėnas's portraits on the country's biggest boulder, Puntukas Stone, near Anykščiai. Almost all towns in Lithuania have a street named after Darius and Girėnas. And perhaps most importantly, an image of the two pilots as well as their plane grace 10-litas notes, putting them in the company of Lithuania's "founding fathers," the likes of Jonas Basanavičius or Vincas Kudirka.
"Today's youth is very diverse, full of scepticism, but when they take over responsibility for their generation, they will turn back to values and see the pilots' deed as one of the key historic moments. Their image on 10 litas notes pass our hands almost daily. There is no shortage of reminders in our lives, yet everyone chooses their individual ways to reflect on Darius and Girėnas," Laurinavičius thinks.
Monument for Darius and Girėnas in Kaunas
"Brave men they were, in Germany did they die"
Today, Darius and Girėnas's ambition to cross the Atlantic sounds like a romantic fairy tale, albeit one with a sad ending. In 1933, though, it was a nation-building event.
"Great expectations and euphoria suddenly turned into tragedy that traumatized people – the disaster stroke when the goal was so close, so Lituanica's flight failed to deliver a full catharsis. Pride was overshadowed by grief and a hint of hopelessness," Laurinavičius observes.
The society was greatly shocked by the crash. At the same time, "this event provided for a deep shared national experience," the historian says. "Pride in the flight, even though it failed, was immense."
"Later, though," he continues, "it acquired a political subtext. There appeared speculations as to why the plane crashed. I remember my parents repeating this chant: 'Narsūs vyrai buvo, per Atlantą skridę Vokietijoj žuvo." ("Brave men they were and flying over the Atlantic, in Germany did they die") Officially, they announced that the cause of the accident was unclear, but, in the minds of the people, a theory prevailed that the plane was shot down. This is how the national psychology, the collective mind worked," Laurinavičius explains.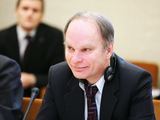 Historian Česlovas Laurinavičius
He believes that the incident encouraged the government to take more decisive action in 1933 to suppress burgeoning pro-Nazi movement in Klaipėda region, or Memelland which had been part of Prussia until 1918 and was annexed by Lithuania in 1923.
"The death of Darius and Girėnas in Germany became an emotional justification for Lithuania's actions. It was a response of sorts, a moral and political satisfaction," he believes.
Prophetic testament
However, Laurinavičius is inclined to leave political speculations aside and instead take a look at the goals of Lituanica's flight.
"The ambition of the two pilots goes well beyond a desire for personal fame. Sure, they wouldn't have signed up for anything like that without some recklessness, especially Darius, who was known for his daredevil character, impulsiveness, even radicalism. But these traits were just a means, while their goal was truly idealistic and national in scope. Their flight was a way to put the Lithuanians on a par with other nations. It was also a symbolic bridge-building over the Atlantic, striking a link between Lithuania and America, a contact with US Lithuanians who played a major role between the wars and during the Soviet occupation," Laurinavičius says.
To clarify all doubts about their goals, Darius and Girėnas even wrote a testament to the Lithuanian nation. Lofty and not without a dose of pathos, the declaration well captures the moods and aspirations of the two young pilots as well as their nation at the time:
"Young Lithuania! Inspired by Your spirit, we embark on a mission we have chosen. May our success strengthen Your spirit and confidence in Your own powers and talents! But should Neptune and the mighty ruler of storms Perkūnas unleash their wrath upon us, should they stop our way to Young Lithuania and call Lituanica to their realm – then You, Young Lithuania, will have to resolve anew, make sacrifice and prepare for a new quest, so that gods of stormy oceans be pleased with Your effort, resolution, and do not summon You for the Great Judgement.
"May Lituanica's victory strengthen the spirit of young sons of Lithuania, inspire them for new quests.
"May Lituanica's defeat and sinking into the depths of the Atlantic nurture perseverance and resoluteness in young Lithuanians, so that a Winged Lithuanian conquers the treacherous Atlantic for the glory of Mother Lithuania! We therefore dedicate and sacrifice our flight for You, Young Lithuania!" Darius and Girėnas wrote in their testament.
Šis turinys skirtas
tik prenumeratoriams
Prisijungti
Mėnesinis
planas
Pirmas mėnesis – tik 0,99 Eur,
vėliau – 4.99 Eur/mėn.
Pirmas mėnesis – nuo 0,99 Eur,
vėliau – nuo 4.99 Eur/mėn.
Geriausias
pasiūlymas
-40%
Metinis
planas
Jūs gausite:
15min prenumeratą
Filmus ir serialus ŽMONĖS Cinema
Naujienlaiškį BNS Sprintas
Išsirinkite mokėjimo būdą
*Mokant telefonu yra įskaičiuojamas papildomas operatoriaus paslaugos mokestis. Tuo tarpu mokėjimas banko kortele – jums nieko papildomai nekainuos.
Apmokėti
Nutraukti prenumeratą galėsite bet kada.
Įvesk savo mobilųjį numerį, atsiųsime kodą
Į mobilųjį telefono numerį išsiuntėme kodą. Įveskite jį
Norėdamas tęsti – prisijunk
Norėdamas tęsti – užsiregistruok