Point guard Čižauskas is part of a phenomenal generation of Lithuanian basketball players. Only him and two of his teammates (Dovydas Redikas and Edgaras Ulanovas) were part of the golden team of junior basketball players for all six years and held champions' cup in his hand five summers in a row.
The team of 20-year-olds proved they are born champions even without a team leader Jonas Valančiūnas.
"We were very motivated. Not only because we didn't have Jonas [Valančiūnas] in the team this year. We were motivated by the critics who said we were worthless. When we had a spell of bad luck in the European tournament, our critics would say that we couldn't do anything. This mobilized us. We were tired during the final match, but we kept believing until the very last second that we could do everything," Čižauskas told 15min, holding the champions' cup and awards from the president in his hands.
It is not the awards, however, that brings him the greatest joy. More than certificates or the cup, it is the attention shown to the team on Tuesday that best rewards the efforts. "Greetings and appreciation of our work are very important to us. Awards are awards, but attention and respect shown to us is what's most important," the European and world champion grins.
- You were playing in full arenas in Latvia last year and Lithuania two years ago, receiving much support. How did the team feel in Slovenia?
- It was strange. Before that, we played to full arenas, the audiences were cheering us, while in Slovenia, everyone was booing against us. Even when we were not playing against the hosting team. We felt little support, just pressure, but it all turned out great in the end.
- It is the fifth gold medal in your collection. How will this one be special?
- It will definitely be special. Exceptional because it's the last one, result of the greatest effort and teamwork.
- It was your last summer with this team. Now you'll be facing challenges in grown-ups' basketball.
- I would like very much to join men's basketball and bring equally good results. We will see.
- Has anyone of you received a call from Kęstutis Kemzūra [coach of the Lithuanian national basketball team]?
- No, no (smiles). I haven't heard about anyone speaking to the national team's coach.
- You spent last season in Baltai Kaunas club. Where is your career taking you next season?
- I wish I knew the answer to that. I do not know where I'm playing next season, I don't have a team, I don't even know when I'm starting. No one cares where I'll be playing or with what team. It seems so far that no one's interested in me. We'll see...
- So now you're up for some recreation and uncertainty?
- I will rest for at least a week and after that, I'll have to resume training.
- In a week, the Lithuanian national team is starting in the Olympic Games. How closely are you following our team's performance?
- The coach would order us to go to sleep, he wouldn't let us watch the game at night, but we didn't listen to him (laughs). Everyone here is very interested in how the national team is doing. I will definitely be watching the Olympics and our team's matches. We expect the best results.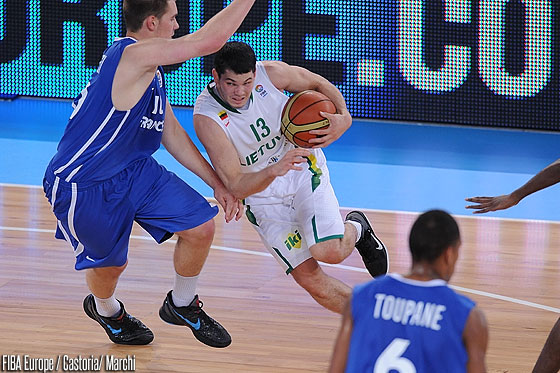 FIBA nuotr./Vytenis Čižauskas
Išsirink planą ir skaityk be ribų
Mėnesinis
planas
Pirmas mėnuo – 1€,
vėliau po 3,5 €/mėn.
Apsimoka
Metinis
planas
Mokant iš karto
už 12 mėn. – 33,50 €
Apmokėti
Įvesk savo mobilųjį numerį, atsiųsime kodą
Į mobilųjį išsiuntėme kodą. Įvesk jį ir skaityk toliau