15min.lt has organized a press conference where Montvydas and his producer Martynas Tyla answered questions from the readers. Donatas discusses, among other things, his plans on improving the performance, his thoughts on computer games and religion, psychological tricks to fight stage fright. Also, he addresses recent accusations of plagiarism and lack of fashion sense.
- Dear Donatas, thank you for your performance and for representing Lithuania in the Eurovision Song Contest with a truly professional song. Are you intending to make even better use of your plasticity on stage?
- My comment on all future changes to my Eurovision performance is this: We essentially want to leave it as it is, since this is what people voted for. There's proper time and place for everything, if there's a need (for example, acrobats, etc.), but the essence and cachet of my performance is that I'm alone on the stage. I think we're gonna stick to this, putting all our efforts instead into perfecting the vocals. We are cautious about all those tricks. We are thinking of replacing the one acrobatic stunt by something even more impressive, but I shall not say what it is just yet.
- There were some critical remarks on your stage costume from some fashion designers. Would you think of changing into something more conspicuous? A red eye band perhaps?
- Even those who finally won Eurovision – Dima Bilan, Lena – had had negative comments. Victory does not protect from snarls. People who comment usually do it for their own benefit. And as for designers – they support us, as far as I know. We keep in touch.
- This wasn't your first bid to go to Eurovision. Do you want to perform in it so much or are you simply keen on any contests?
- If I hadn't won this time, I would have probably wanted to try out next year. It is the only event that allows you to showcase your songs. It puts no stylistic constraints. And no limitations in terms of the visuals – you can bring lions on the stage if you want. You perform your song that then gets aired for an entire year. It's a great incentive.
- Are you planning to shoot a video for your song?
- There are some ideas, but it all gets down to money. I want to do it properly.
- Do you use any psychological assistance to help prepare for the competition?
- I do martial arts. That includes breathing and physical exercise based on a particular discipline. It all has much to do with psychology.
- What do you think about singers from Russia? They are said to be strong contestants.
- They do not compete with anyone. Their style and motivation is completely different from everyone else's. It's a show. I will not be competing with them as we represent two completely distinct musical realms. I listened to their performance smiling. When you go to such extremes, you either end up on the top or on the bottom. We'll see.
- Many of this year's Eurovision contestants will perform in their national languages. Do you think that singing in English will give you an edge or on the contrary?
- If I sang in Lithuanian, most people wouldn't understand me. I think, English is preferable so people can understand the lyrics. It's a tribute you have to concede to Europe. There are occasions and songs that require performing in Lithuanian, but in this case, I think, we'll choose to do a version in English.
- You have participated in many international festivals so your name will be familiar to some people. Will this have any bearing on the voting results?
- I am not a Slav star. I've participated in the "New Wave" and "Slavyanskiy Bazar." It takes many years before people start to remember you, but we have already left a trace.
- Have you listened to songs by other Eurovision performers? If so, which ones are your favourite?
- I surely didn't watch all the performances. I have been focusing on my own. Even after rehearsals, other work and concerts leave no time for watching them. I've seen some performances – by the French, German representatives. I try to concentrate on my own show in order to avoid clichés.
- Are you planning to change graphic effects of your performance?
Martynas Tyla, producer: From now on, the Eurovision regulations prohibit using graphic effects. Nor can performers dictate the lighting – we can only give our requests. One needs to know how to talk to stage staff. Sometimes, of course, a stronger word is in order.
- There have been talks about some foul play behind your victory. That, for example, reports about your car robbery (before the deadline for submitting entries for Lithuanian national pick, it was reported that robbers took the only copy of Montvydas' song) were merely a publicity stunt.
- Such talks are inevitable. However, the jury and the people voted unanimously. I think, even people I don't personally know had a unanimous opinion. Unanimous – both professionals and the people. Allegations that we bought votes are absurd. As for plagiarism, the author (of the song that Montvydas' entry allegedly resembled) himself said my song was not lifted and wished us luck.
Martynas Tyla: It is more likely that people voted because they liked the song. I'll tell you a little secret: none of the contestants in Lithuania were buying telephone cards or voting for themselves in order to go to Eurovision. It is unproductive in the long run. There might be talks that we paid Norwegians to clear us of plagiarism accusations, but we surely do not have enough money for that.
- It is no secret that Eurovision is very popular with queer performers and audiences. What do you think about discrimination of homosexual and transgender people in Lithuania?
- I am a peaceful man. That's how I see it: if they don't bother me, don't bother our children or my relatives, then it's simple. I have many acquaintances who are homosexual, I socialize with them just fine and I don't pigeonhole people.
Martynas Tyla: In fact, there are very few gays in Eurovision. I can safely confirm that it is not a "Gayvision."
- How do you prepare psychologically before climbing on the stage? Do you feel stage fright?
- First of all, I try to distance myself from other people. When you walk down the corridor, their energies stick to you. I'd rather stay quietly alone in my room. I need to reflect on what's the message I want to convey, where to look. It takes time.
- What are your favourite Lithuanian and foreign musicians?
- I play basketball but I don't like watching it, unless it's the Olympics. I see more point in playing it myself. The same goes for music. I don't go to concerts. Certainly, I have great regard for my colleagues. I can't think of anyone I could single out. I wouldn't dare to. There are simply too many of good performers.
- Do you play computer games?
- I do not at all. To be honest, I hardly watch any television and I hate googling. I only check my email. I'm probably a man of nature, not technologies.
- Do you believe in god and do you go to church?
- Everyone probably has some form of faith. I do believe in something but I don't know what. I have my own god inside me. When I'm having a difficult time, when I'm alone, my thoughts go somewhere beyond me. I do have faith in a higher entity. I used to go to church every Sunday as a kid. Now I'm probably in the period of my life where work trumps everything else. I rarely go to church now. But I carry the church with me.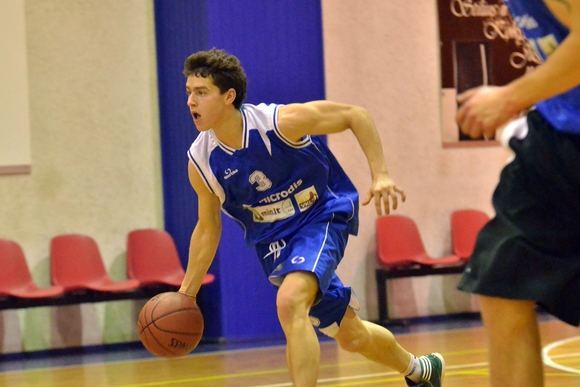 Sportoakimirka.lt nuotr./Donatas Montvydas